« AUSTRALIA • Tours & Travel
Australia Tours, Travel & Activities
Tourism in Australia is a very large sector of the economy. Australia's international tourism campaigns have largely centred around the image of Australia as a wild, expansive, almost uninhabited continent, with all manner of exotic scenery and wildlife, endless beaches, large coastal cities and friendly, relaxed locals..
• Sydney
Home to the largest population in Australia, the capital of the state of New South Wales has come a long way since its 18th-century days as a British penal colony. Sparkling clean and beautifully manicured, the modern-day city takes pride in its lush parks and botanic gardens, wide beaches and 1800s architecture. And with the distinctive Opera House as its icon, Sydney serves as the cultural center of the entire continent …
» all Sydney Tours, Travel & Activities
• Melbourne
Melbourne is the second-largest city in Australia and the capital of the state of Victoria. Located on the southern coast of Australia's eastern seaboard, it is perhaps Australia's most cultured city. The city's features include Victorian-era architecture, many cultural institutions such as museums, galleries and theaters, and large parks and gardens …
» all Melbourne Tours, Travel & Activities
• More Destinations in magical Australia
» Adelaide
With its grandly proportioned streets, city squares and lush green boundaries, Adelaide is an enchanting city to explore. And if you think that's all there is to the South Australian capital, think again. This city's pleasure-seeking spirit flows from its vibrant dining scene and magnificent wines through to the numerous galas celebrating a thriving arts community. Adelaide makes an excellent base for trips into the nearby wine regions, surf lessons or wildlife hikes …
» see all Adelaide Tours, Travel & Activities
» Alice Springs
The thriving outback town of Alice Springs rises out of an endless expanse of red dirt and rugged ranges. What began 135 years ago as a simple telegraph station has developed into a modern low-rise metropolis. Along the way, "the Alice" has built a reputation as the regional base for hordes of visitors touring Australia's Top End and the Red Centre, from Uluru (Ayers Rock) to the Olgas …
» see all Alice Springs Tours, Travel & Activities
» Ayers Rock
Nothing in Australia is as readily identifiable as Uluru (Ayers Rock). If you travel to Ayers Rock during the afternoon, it appears as an ocher-brown color, scored and pitted by dark shadows. As the sun sets, it illuminates the rock in burnished orange, then a series of deeper and darker reds before it fades into charcoal. Don't assume, however, that a distant glimpse of this geological marvel will suffice - a close-up, extended viewing of the rock's contours is a must …
» see all Ayers Rock Tours, Travel & Activities
» Blue Mountains
Travelers are drawn to Australia's Blue Mountains National Park for the incredible views of open country, scenic cliffs and iconic bushwalks that make it an unforgettable destination for anyone traveling "down under". Close proximity to Sydney and quaint nearby towns make it an easy day trip or even a weekend stay …
» all Blue Mountains Tours, Travel & Activities
» Brisbane
Brisbane has shucked its reputation as a backwater and emerged as one of the country's most progressive centers. It has several interesting districts, a good street cafe scene, a great riverside park, a busy cultural calendar and a thriving nightlife. Known locally as Bris Vegas, the city is renowned for its sun and the brash, glitzy hordes that follow it, but it's also a thriving arts capital, with dozens of theatres, cinemas, concert halls, galleries and museums …
» see all Brisbane Tours, Travel & Activities
» Broome
Although a mere pinprick on the colossal north Western Australian coast, Broome looms large in the Australian psyche. Broome is synonymous with exotic, tropical beaches and the outdoors. Western Australia's isolation has served it well in the case of the north's largest town, helping to preserve Broome's frontier feel despite a well-developed local tourist industry …
» see all Broome Tours, Travel & Activities
» Byron Bay
Byron Bay, although referred to historically as Cavvanbah ("meeting place") by local Aboriginals, received its modern name from the famous Captain Cook who passed through the area back in 1770. Upon harboring near Cape Byron, the captain bestowed the name on the cape specifically in honor of John Byron, a Vice Admiral in the Royal Navy. However, it wasn't until 1894 that Cavvanbah officially became known as Byron Bay …
» see all Byron Bay Tours, Travel & Activities
» Cairns & the Tropical North
In addition to the unspoiled islands and luxury resorts of the Great Barrier Reef, Cairns is relatively close, for widespread Australia, to some uniquely Australian attractions. About 100 miles to the north, Daintree Rainforest Park is full of indigenous species of marsupials, bats, birds, frogs and more. A half-hour from the city, an antique railway takes you through the lush mountains of the Atherton Tableland, and just an hour's drive away the Outback begins …
» see all Cairns Tours, Travel & Activities
» Canberra (A.C.T.)
One of only two capital cities in the world that have been built to a premeditated design, Canberra is rather eerily symmetrical. Placed about its nice, planned combinations of straight and curving streets are the old and new Parliament Houses, the National Gallery, and the National Museum. Those who visit Canberra find beautiful galleries and museums clustered around a lake and cupped in bushland …
» see all Canberra Tours & Activities
» Darwin
Darwin, the capital of northern Australia, is closer to Jakarta than it is to Sydney, and closer to Singapore than it is to Melbourne, so it should come as no surprise that it looks outward to Asia as much as it looks inland to the rest of Australia. This proximity and familiarity with Australia's northern neighbors is reflected in Darwin's relaxed, cosmopolitan, tropical atmosphere. In a country that prides itself on its ethnic diversity, Darwin may be the most multicultural city of all …
» see all Darwin Tours, Travel & Activities
» Fraser Island
It is said that all the sand from the eastern coast of Australia eventually ends up at Fraser Island, a gigantic sandbar measuring 74 miles by 9 miles (120km by 15km) and created by thousands of years of along-shore drift. Seen from the coast this beautiful enigma appears to be too lush to be the world's biggest sand island, but the island's diverse ecology is one of the many wonders of the place …
» see all Fraser Island Tours, Travel & Activities
» Gold Coast
The Gold Coast's bright neon lights bring the glitz and glam of Miami and Las Vegas to Australia. This heady mix of high-rise apartment blocks, airport-sized shopping malls and million-dollar theme parks is one of the most popular holiday destinations in the country, with more than two million visitors soaking up the Queensland sun here every year. Sand, surf and nightlife sure have their appeal, but there's more to the Gold Coast than the beach …
» see all Gold Coast Tours, Travel & Activities
» Kangaroo Island
Kangaroo Island Located in South Australia, Kangaroo Island is the third largest island in Australia and home to the famous Flinders Chase National Park. Visitors come from all over to experience all that nature has to offer, including the vast range of flora and fauna, and most especially the sea lion colonies and some of Australia's most adorable nocturnal creatures …
» see all Kangaroo Island Tours, Travel & Activities
» Noosa & Sunshine Coast
Another weekend getaway from the Queensland capital, the coast north of Brisbane lives up to the tourist brochure images of euphoric families frolicking in the sand, couples engaged in romantic scenarios and singles wallowing in sun-kissed bliss. Filling the space between the beach and the vast empty of Queensland's interior is the Sunshine Coast's undulating hinterland, where charming villages linger on the outskirts of national parks …
» see all Noosa & Sunshine Coast Tours, Travel & Activities
» Palm Cove
Since the mid-1980s, Palm Cove has developed from a sleepy, little beach community into a wannabe-chic resort town, and still manages to be a pretty spot despite all the development. The beach has a stinger net in summer, plenty of shady melaleuca trees, and views of the small, privately owned Double Island. Palm Cove's jetty is regarded by local anglers as the area's best fishing spot and is a great place for a stroll …
» see all Palm Cove Tours, Travel & Activities
» Perth
Perth is a vibrant and modern city nestled between the Indian Ocean and the ancient Darling Ranges. It claims to be the sunniest state capital in Australia, though more striking is its isolation from the rest of the country - Perth is over 2,750 miles (4,400km) from Sydney by road. The recent resources boom has seen Perth blossom into a sophisticated, cosmopolitan city with bars, restaurants, cultural activities and myriad things to do …
» see all Perth Tours, Travel & Activities
» Phillip Island
Only 90 minutes from the urban hustle of cosmopolitan Melbourne, Phillip Island is a coastal escape that is literally crawling with wildlife. You'll find Australia's largest fur seal colony off the rocky coast of The Nobbies, and the sky is alive with thousands of shearwaters and seagoing gulls and terns. Koalas nap in notches in the treetops, whales spout offshore and hundreds of waddling little penguins storm the shores each night …
» all Phillip Island Tours, Travel & Activities
» Port Douglas
Port Douglas certainly outclasses Cairns in the hip stakes. Its a genuine reef resort with a long stretch of beach backed by palm trees, and an atmosphere far different from its southern rival Cairns. Its streets are lined with expensive eateries and clothes shops, and exclusive resorts. Despite its development and upmarket allegiances, the town has a relaxed village feel about it, especially on the weekend when the down-at-heel beer gardens of its pubs fill up with drinkers and its outdoor Sunday markets take over Anzac Park …
» see all Port Douglas Tours, Travel & Activities
» Tasmania
You haven't fully experienced Tasmania until you've ventured into the mountains and onto the rivers, oceans and cliffs that are this beautiful island's greatest attractions. Tasmania has slowly come to realize that it has a certain rarity in abundance: huge, undeveloped areas that are empty, wild and beautiful. Although Tasmania provides plenty of excuses to sit back and roll your eyes across such fine landscape, that same landscape lends itself to any number of outdoor pursuits, from bushwalking to white-water rafting …
» see all Tasmania Tours, Travel & Activities
» The Whitsundays & Hamilton Island
The Whitsunday Coast is the stuff postcard dreams are made of - cloudless skies, glossy azure seas and a magnificent smear of flawless isles. This half-drowned mountain range plays host to coral gardens, sea turtles and myriad fishes. Much of the archipelago and the surrounding turquoise water belongs to the Great Barrier Reef Marine Park, ensuring that this huge adventure playground stays as pristine as possible …
» see all Whitsundays Tours, Travel & Activities
• All Australia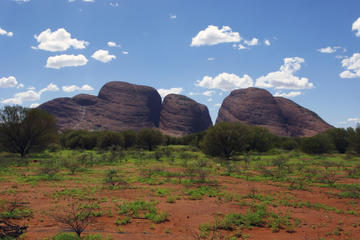 If you would like to view a complete list of Australia Wine Tasting & Winery Tours, you can search for great things to do by category, location, traveller reviews or price to plan the perfect magical journey.
Click here for Australia Tours, Travel & Activities