RIO DE JANEIRO SHORE EXCURSIONS
Be warned: Rio's powers of seduction can leave you with a bad case of saudade (indescribable longing). Planted between lush, forest-covered mountains and breathtaking beaches, the Cidade Maravilhosa (Marvelous City) has many charms at her disposal.
Top Picks: RIO DE JANEIRO SHORE EXCURSIONS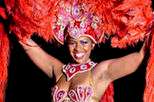 PLATAFORMA SAMBA SHOW


No visit to Rio de Janeiro is complete without experiencing the glamor and rhythm of a colorful samba show. Enjoy an evening at the Plataforma Show and you'll be entertained by brilliantly costumed dancers and musicians, with the option to enjoy a delicious buffet dinner at a Brazilian steakhouse ...

---

CORCOVADO & CHRIST REDEEMER


Take an afternoon tour to Corcovado Mountain topped with the iconic statue of Christ the Redeemer. You'll travel through the Tijuca Rain Forest by cog train to Corcovado Mountain for breathtaking views of one of the world's most beautiful cities. This afternoon tour takes you to Rio's most famous attraction, leaving you with time in the day free to explore Rio ...

---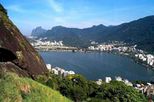 TIJUCA RAIN FOREST JEEP TOUR


Take a morning or afternoon tour from Rio to the Tijuca Rain Forest, in an open jeep. The four-hour jeep tour includes an easy one-hour hike, giving you the chance to spot monkeys, birds, butterflies and tropical flora. You'll be amazed by the remarkable contrast of a tropical rain forest right in the middle of a big city ...

---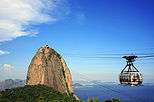 SUGAR LOAF MOUNTAIN HALF-DAY TOUR


Spend the morning at Sugar Loaf Mountain, one of Rio de Janeiro's most famous icons. You'll take a breathtaking ride in a cable car to the top of the Sugar Loaf for panoramic views of one of the world's most beautiful cities. This afternoon tour takes you to one of Rio's most famous attractions, leaving you with the morning free to explore Rio on your own ...

---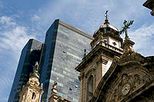 RIO DE JANEIRO WALKING TOUR


Take an afternoon sightseeing tour of Old Rio on foot, and get a feeling for the legends and history woven around the narrow streets and superb baroque buildings of downtown Rio de Janeiro. While you walk, your knowledgeable and entertaining guide will bring the city and its stories alive. You'll gain unforgettable insights into Rio's history ...

---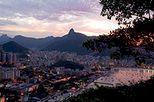 RIO DE JANEIRO HELICOPTER TOUR


What could be better than a sightseeing tour of Rio de Janeiro from the air? From the vantage point of a helicopter, you'll have unforgettable views of this beautiful city nestled against the backdrop of granite mountains and the Atlantic Ocean. While enjoying the incredible views, you'll take some of the most spectacular photos of your visit to Rio imaginable ...

---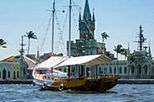 GUANABARA BAY CRUISE


Spend half a day sailing on Guanabara Bay, for the most beautiful views of Rio de Janeiro with Sugar Loaf Mountain towering in the distance. Pass the bay's islands and forts as you cruise the idylic waters. The Guanabara Bay Cruise includes roundtrip transportation from your Rio de Janeiro hotel. An optional buffet seafood lunch is also available ...

---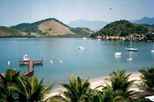 ANGRA DOS REIS & SCHOONER TRIP


Head out of Rio for the day, where a schooner awaits to take you on a cruise of the turquoise blue waters and islands of Angra dos Reis. With roundtrip hotel transportation and a buffet lunch included, a day of relaxation lies ahead. The town of Angra dos Reis lies in the heart of an archipelago of more than 300 islands ...

---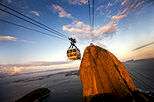 CORCOVADO, CHRIST REDEEMER & SUGAR LOAF


Combine two of Rio's most popular tours on a full-day excursion packed with breathtaking views. You'll travel through the Tijuca Rain Forest by cog train to the statue of Christ the Redeemer on top of Corcovado Mountain. After lunch, you'll ride a cable car to the top of Sugar Loaf Mountain. This tour is an excellent option if your time in Rio de Janeiro is limited ...

---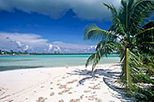 TROPICAL ISLANDS & SEPETIBA BAY CRUISE


Cruise beautiful Sepetiba Bay on a day trip from Rio de Janeiro. You'll travel from Rio de Janeiro to Itacuruca, where you'll board a schooner to cruise the wildlife-filled waters of Sepetiba Bay. After lunch on a tropical Brazilian island, you'll have time to explore and relax before your return to Rio via the city's residential neighborhoods and exciting night life hubs ...

---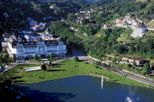 PETROPOLIS, IMPERIAL MUSEUM & CRYSTAL PALACE


Escape the crowds of Rio de Janiero at Petropolis, the beautiful mountain retreat of Brazil's only two emperors. Wander through the Imperial Museum. Pay your respects at Catedral Sao Pedro de Alcantara, the burial place of Brazil's last imperial family. See the stunning glass Crystal Palace built by the French in 1879 ...

---
More Resources for Rio de Janeiro Tours
---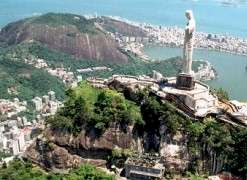 Rio de Janeiro Tours & Activities with Isango!

Isango! a the leading provider of destination experiences and experience-driven holidays - historic tours, sightseeing trips, romantic activities, family holidays, activity holidays, theme park visits, guided historical attractions and much more. 5000+ things to do in more than 60 countries ...

---

RIO DE JANEIRO HOTELS & ACCOMMODATION

BRAZIL TOURS, TRAVEL & ACTIVITIES
---
---
HOME • BRAZIL • BRAZIL TOURS & TRAVEL • RIO DE JANEIRO • Shore Excursions
Looking for something specific?
IN THIS SECTION:
... BRAZIL TOURS & TRAVEL
... RIO DE JANEIRO TOURS
Air & Helicopter Tours,
Cruises, Sailing & Water Tours,
Cultural Tours, Day Trips & Excursions,
Outdoor Activities,

Shore Excursions

, Sightseeing Tours,
Shows & Events, Transfers,
Walking & Biking Tours, Water Sports,


KEY SECTIONS you may also like:
Discover
Brazil
Brazil
Hotels
Discover
Rio de Janeiro
Rio de Janeiro
Hotels
---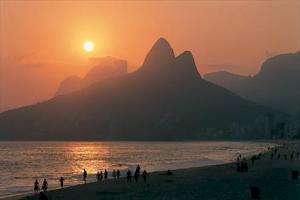 PLACES TO STAY IN RIO DE JANEIRO
---
---
---