---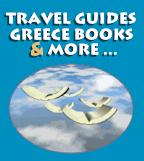 Corfu
The island of Corfu in the northwestern corner of Greece is the greenest and in the eyes of many, the most beautiful island in the country, if not the world.

With more rainfall than any other island there is a variety and abundance of plant life that makes the Ionian islands look like moonscapes.

The island is a few hours by ferry from Brindisi Italy and for many tourists is the only part of Greece they see. Well, if you are only going to see one place in Greece, Corfu (also called Kerkyra) is not a bad choice. Some of the most amazing beaches in the world are in Corfu and though tourism has completely taken over most of the coastal areas, the mountain villages are as unspoiled as the most remote in Greece.

On the Eastern side of the island, facing Albania, the land slopes gently to the sea and there are long beaches and bays. But the western side is much more dramatic, steep and rocky with deep coves and beaches. Corfu has many small islands around it like satellites around a planet.

The land to the north is mountainous and gradually descends until you come to Lake Korission, separated from the sea by a narrow piece of land.


Cooler than most islands in the summer and with mild winters, Corfu is a nice choice for people who are afraid they may not be able to handle the heat of southern Greece. It is also one of the most popular islands in Greece and if you want to experience its natural beauty without the people you need to come between October and May. But if you like people then you will find them in some of the most beautiful resorts and hotels in Greece.

Corfu's six-month olive season is the longest of any island in Greece and lush vineyards cover the island. They also grow many other fruits and vegetables because of its climate and extremely fertile soil.

Those of you who have read Homer will remember that this was his last stop before getting back to Ithaka a couple hundred miles south, and he could not wait to get home. But for some people Corfu is heaven.

Corfu is one of the bigger islands - 33 miles long and 15 miles across at the widest point - and provided you stay away from the tourist hotspots like Kavos, Benitses, Gouvia and Ipsos, it's easy to find parts of the island which are virtually untouched by the tackier side of tourism. There are many boats to and from Italy, Patras, Igoumounitsa and the other islands in the chain. There is also an international airport.



Head north out of Corfu town and within about half an hour's drive along the east coast you're at the foot of Mount Pantokrator, whose steep slopes and winding roads have made it unviable as a mass market development area and the coastline here is dotted with tiny turquoise coves and inlets. This part of the island is the closest Corfu comes to Albania - at one point you feel you could almost swim across - and it's almost impossible not to be touched by an eerie kind of sensation when you realise just how close you are to what was so recently an Eastern bloc country.

It's also along this stretch of coastline that Lawrence Durrell lived while he was writing Prospero's Cell. The house is still there at Kalami but it's now been turned into a taverna. Over on the western coast is a beach-lover's paradise with such long sandy stretches of beach that even in the height of the summer season it's still possible to find a quiet spot.

Look for Halikounas, Ermones and Pelekas, but if you want to avoid the crowds, stay away from Paleokastritsa, where the "film set" scenery inevitably attracts a regular influx of daytrippers. Inland is where you can discover a more untouched Corfu of fertile valleys, citrus and olive groves, where the most common form of transport for the local farmers is still a donkey.

For those seeking tranquility and a place to commune with nature, there's even a wetland nature reserve (Lake Korisson) hidden away behind the south west coast - perfect for twitchers in the migratory season, or for lovers at anytime! Recommended background reading: "My Family and Other Animals" by Gerald Durrell for a glimpse of how Corfu was 50 years ago