« ENGLAND • Tours & Travel • London
London Tours, Travel & Activities
If you want big, you'll go no bigger than London. The world's tenacious financial center, London is known for its chaotic walkways, historic relics plundered from afar, ancient pubs, regal palaces, myriad accents, and endless nightlife. Whatever your tastes are, you can satisfy them here, in London.
» London Air & Helicopter Tours
Charter a private 20-minute helicopter flight over London and enjoy bird's-eye views of landmarks such as Buckingham Palace, Big Ben, The Shard, Houses of Parliament and more! Glide above the Thames River as the pilot points out sites of interest and have your camera ready to capture some of the city's finest panoramas. The helicopter seats a maximum of six people plus the pilot, making the experience perfect for couples, and small groups of families and friends …
» see all London Air & Helicopter Tours
» London Cruises, Sailing & Water Tours
The best way to see London's sights and splendor is from the deck of a boat. With this hop-on hop-off pass you can cruise up and down the Thames, alighting at your leisure, for a whole day. The Thames weaves its way through London, with history around every bend. Aboard the hop-on hop-off River Red Rover you'll cruise in comfort and style past London's world-famous landmarks …
» see all London Cruises & Water Tours
» London Cultural & Theme Tours
Visit Highclere Castle, the Cotswolds village of Bampton and other sites on a full-day 'Downton Abbey' tour from London! After traveling to Oxfordshire with an expert guide, knowledgeable about the hit British TV series, visit a farm near the village of Cogges, and then continue to Bampton - the setting of Downton village. See the church and the popular Grantham Arms pub, and then spend the afternoon at Highclere Castle aka the Grantham family home …
» see all London Cultural & Theme Tours
» London Day Trips & Excursions
Go back in time as you travel through the rolling green Wiltshire landscape to Stonehenge, a collection of stones dragged to this lonely plain near Salisbury 5,000 years ago. Who built it? Why? These questions have haunted the minds of centuries of scholars. Set in a landscape dotted with prehistoric mounds and carvings, Stonehenge continues to enthrall the imagination and captivate the heart of every visitor. Follow the footsteps of British royalty with a tour of Windsor Castle, just over an hour's drive from London …
» see all London Day Trips & Excursions
» Extended & Multi-Day Tours from London
Discover the best of England and north Wales on a 4-day small-group tour from London! Spending nights Chester and Lincoln, the tour showcases all the history-steeped market towns, cities and breathtaking national parks in between. Walk in the footsteps of Shakespeare at Stratford-upon-Avon, visit the UNESCO site of Ironbridge Gorge, and combine history and nature in north Wales with visits to Conwy Castle and the national park of Snowdonia …
» see all London Multi-Day & Extended Tours
» London Family Friendly Tours
Step into the real Diagon Alley and other magical locations with the Harry Potter Walking Tour. See the London of Harry Potter's magical world, as your expert guide introduces you to many of the locations used in the films about the famous fictional wizard. Stand on the bridge which was destroyed in the 'Half Blood Prince' and shudder as you imagine Lord Voldemort's Death Eaters swooping towards you! …
» see all London Family Friendly Tours
» London Food, Wine & Nightlife Tours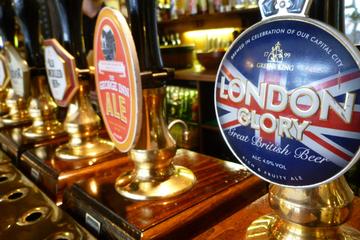 Discover ancient ale houses and literary drinking dens on a 4-hour afternoon pub tour of London! Centered on the area in and around the City of London, the tour visits at least four of London's finest historical pubs, your guide will recommend different ales in each (not included). Hear the history of the pubs, learn the differences between Elizabethan coaching inns and Victorian gin palaces, and visit the watering holes frequented by legendary British novelist Charles Dickens …
» see all London Food, Wine & Nightlife Tours
» London Holiday & Seasonal Tours
Do something different on Christmas Day and spend some time exploring the ancient sites of England. Start at the royal residence of Windsor Castle before exploring the mysterious Stonehenge circle - now listed as a UNESCO World Heritage Site. After a traditional Christmas lunch, end your day discovering the beautiful Georgian City of Bath …
» see all London Holiday & Seasonal Tours
» London Luxury & Special Occasion Tours
No visit to London is complete without a trip on the London Eye! Indulge yourself with this breathtaking experience. Book a flight and add a glass of Pommery Brut Royal champagne as you absorb beautiful views of London. Champagne will be served by your host who can also answer questions. You'll also enjoy skip the line access, priority boarding …
» see all London Luxury & Special Occasion
» London Movie & TV Tours
See the sci-fi sights of London on a 'Doctor Who' TV locations tour, led by a local guide. While exploring central London neighborhoods such as Borough and the Southbank, listen to anecdotes and stories about the ever-popular series and, of course, about the Doctor himself! See Shakespeare's Globe Theatre alongside with other top London attractions used as filming sites. Learn about his TARDIS and hear about key characters such as Clara Oswald and Madam Vastra. …
» see all London Movie & TV Tours
» London Outdoor Activities
Charles Darwin was a fellow of ZSL London Zoo and visited regularly. Now you can follow in his footsteps with skip-the-line entry to ZSL London Zoo. Even better, by purchasing your ticket ahead of time you'll jump the queue. Head inside to see exciting sites like Penguin Beach, Gorilla Kingdom and -- new in 2013 -- the Tiger Territory! …
» see all London Outdoor Activities
» London Private & Custom Tours
What could be better than a tour of London by black taxi? With your own personal driver guide, you'll see London at your own pace. You can stop whenever you like to take photos, decide how long you want to spend at each attraction, and you can even plan your own customized itinerary! London's taxi drivers have to sit the toughest taxi exam in the world, and their inside knowledge of London is unsurpassed …
» see all London Private & Custom Tours
» London Shopping & Fashion Tours
Discover London's thriving market scene on a full-day independent tour. With a friendly private driver to chauffer you around the capital, this exciting tour offers a flexible itinerary, meaning you pick the places that you visit! Browse for vintage clothing in East End markets like Brick Lane and Spitalfields; sample enough gourmet delights at Borough Market to make your taste buds tingle; and shop for antiques and hand-crafted jewelry at popular Portobello Market …
» see all London Shows, Concerts & Sports
» London Shore Excursions
When your cruise ship docks at the Port of Southampton, make the most of the journey to London with a coach transfer that visits three of England's must-see destinations - Salisbury, Stonehenge and Windsor. In the beautiful city of Salisbury, you'll see the medieval Salisbury Cathedral. Then enjoy the drive to Stonehenge, where you can contemplate the various theories about this prehistoric monument, and visit the town of Windsor, home to Windsor Castle …
» see all London Shore Excursions
» London Shows, Concerts & Sports
A 'must do' on the list of most travelers to London is a show in the famous West End. Names including Michael Crawford, Sir Alec Guinness and even Madonna have performed on the stages of the famous theater district. If you are traveling on a budget and are looking for things to do in London why not buy a London Theater Passport before you arrive …
» see all London Shows, Concerts & Sports
» London Sightseeing Tours
See London in one day on a full-day sightseeing tour of the city, led by an expert local guide! Hear the history of top London attractions like Westminster Abbey, Big Ben and St Paul's Cathedral while traveling around the West End and City of London. After the sightseeing tour, watch the Changing of the Guard Ceremony at Buckingham Palace and tour the Tower of London with a Beefeater. Pass through Parliament Square, seeing the Houses of Parliament and the Big Ben clock, and then travel past Westminster Abbey …
» see all London Sightseeing Tours
» London Sightseeing Tickets & Passes
Book in advance and jump the queue at the Tower of London, Hampton Court, Kensington Palace, London Eye, London Aquarium, Shakespeare's Globe Theatre, London Dungeon and more. Don't waste time waiting in lines on vacation! You'll have plenty of time to explore the stories and intrigues at each site at your leisure, as part of your own itinerary. Discover the joy of sightseeing with the London Pass, and enjoy free entry to 60 of its world-class sites like Westminster Abbey and the Tower of London. Save time as you skip the queues with fast-track entry at countless attractions …
» see all London Tickets & Passes
» London Transfers & Ground Transport
Travel from Tilbury, Southampton, Dover or Harwich port to your London accommodation by private vehicle. Transfer services are available 24 hours a day, 7 days a week. Travel from London Heathrow, Gatwick, Stansted, Luton or City Airport or St. Pancras Train Station to your London Docklands or London City accommodation …
» see all London Transfers & Ground Transport
» VIP Tours of London with Viator
Get an insider look at the Tower of London, St Paul's Cathedral and the View from The Shard on this incredible Viator VIP tour! With exclusive pre-opening access to the Tower of London, your tour includes the tower's historic opening ceremony and a look at the Crown Jewels with a Beefeater guard. Explore the normally inaccessible Triforium at St Paul's Cathedral, alongside other highlights like the Whispering Gallery and the Crypts. Stop for a 2-course lunch at The Restaurant at St Paul's Cathedral, and then finish your day with a visit to the Shard …
» see all London Walking & Biking Tours
» London Walking & Biking Tours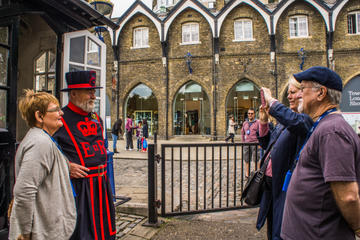 See the best of London's royal highlights on a 4-hour walking tour. Begin with a visit to the infamous Tower of London, where you'll be dazzled by the Crown Jewels and see the Tower Green where traitors and monarchs alike lost their heads. Then, soak up the sights during a 30-minute Thames River cruise before taking in the Changing of the Guard at Buckingham Palace or Horse Guards Parade. End your tour outside the palace, where you'll learn about Queen Elizabeth II and the history of the British Royal Family …
» see all London Walking & Biking Tours
• All London
If you would like to view a complete list of all London Tours, Travel & Activities, you can search for great things to do by category, location, traveller reviews or price to plan the perfect magical journey.
Click here for ALL London Tours, Travel & Activities
« ENGLAND • Tours & Travel • London