« ENGLAND • Tours & Travel • West Midlands • Stratford-upon-Avon
Stratford-upon-Avon Tours, Travel & Activities
Stratford-upon-Avon is an historic town on the river Avon in the English county of Warwickshire, best known as the home town of the great English playwright and poet, William Shakespeare. Today, it is a major theater-going destination as the home of the Royal Shakespeare Company. As such, it represents one of the most popular tourist destinations in the country.
» Stratford-upon-Avon Day Trips & Excursions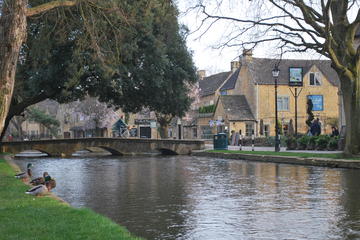 Guided small-group minibus tours of the Cotswolds on Wednesdays, Fridays and Sundays from Stratford-upon-Avon. Tours offer visitors the opportunity to experience the Cotswolds with a local taking in many different Cotswold towns, villages and beauty spots including off-the-beaten-track places larger tour companies would not be able to get to or simply wouldn't know about! Ticket price includes a pick up from anywhere in Stratford-upon-Avon or Chipping Campden as well as Warwick Parkway and Leamington Spa rail stations, making it a tour easily accessible from both London and Birmingham …
» see all Stratford-upon-Avon Day Trips & Excursions
» Stratford-upon-Avon Sightseeing Tours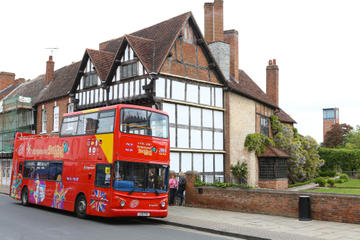 Travel to all Shakespearean Houses: Shakespeare's Birthplace, Anne Hathaways Cottage, Mary Arden's House, New Place, Nash's House and Hall's Croft. The Royal Shakespeare Theatre where the Bard's plays are performed for the majority of the year. The Holy Trinity Church where Shakespeare is buried, protected by a cursed tombstone. The Old 15th Century Grammar School where Shakespeare was educated. You also get to enjoy a lovely tour through the scenic Warwickshire countryside, visiting Wilmcote, the village where Mary Arden's House (Shakespeare's mother) can be found …
» see all Stratford-upon-Avon Sightseeing Tours
» Stratford-upon-Avon Sightseeing Tickets & Passes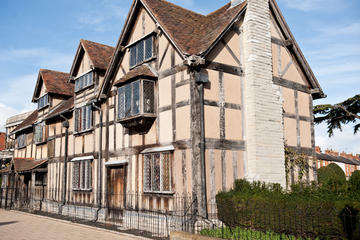 Shakespeare's family homes and gardens offer something for everyone. Enjoy tales from our fascinating guides and discover Shakespeare's life story while you visit his beautiful homes and gardens, explore various exhibits, watch live performances, and visit with farm animals. Take part in trials, quizzes and many other family activities throughout the year. Walk in Shakespeare's footsteps and explore the house where he was born and grew up. Explore the beautifully furnished Jacobean home of Shakespeare's daughter Susanna and her wealthy physician husband, Dr John Hall …
» see all Stratford-upon-Avon Tickets & Passes
• All Stratford-upon-Avon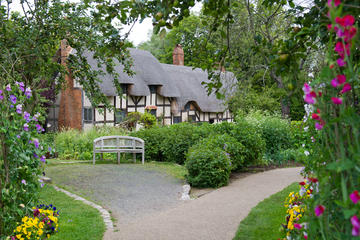 If you would like to view a complete list of all Stratford-upon-Avon Tours, Travel & Activities, you can search for great things to do by category, location, traveller reviews or price to plan the perfect magical journey.
Click here for ALL Stratford-upon-Avon Tours, Travel & Activities
« ENGLAND • Tours & Travel • West Midlands • Stratford-upon-Avon