« FRANCE • Tours & Travel • South of France • Provence
Provence Tours, Travel & Activities
First-time visitors may be as captivated by the beauty of this ruggedly lovely chunk of France as the painter Van Gogh was when he arrived from a gloomy Paris in 1888. 'What intensity of colors, what pure air, what vibrant serenity,' he wrote. 'Nature here is extraordinarily beautiful, everything and everywhere.' He wasn't wrong. That colorful intensity in land, sea and sky is brought out by the glorious, almost-year-round southern sun.
» Provence Cruises & Water Tours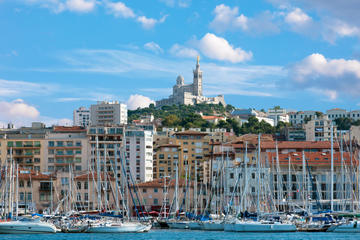 See the best of Marseille and Cassis, two gems of the French Riviera, on this 6-hour tour with an expert guide. Setting off from Marseille, your tour passes along the stunning Corniche des Crêtes road before stopping to soak up views of the Côte d'Azur from Cape Canailles. Take a sightseeing cruise from Cassis Harbour and see three of the famous Cassis calanques (rock formations) before returning to Marseille for a city sightseeing tour. See highlights like Notre-Dame de la Garde, Abbey of Saint Victor and more! …
» see all Provence Cruises & Water Tours
» Provence Cultural & Theme Tours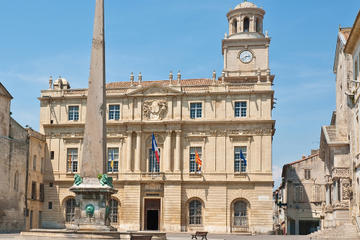 Follow the footsteps of Vincent van Gogh, see Roman monuments and visit one of Provence's best open-air markets on this action-packed day trip from Aix-en-Provence! First stop is St Rémy de Provence, for a market visit and a look at St Paul de Mausole (where Van Gogh stayed after cutting off his ear). Relax in the cliff-top village of Les Baux de Provence, and then enjoy a walking tour in the UNESCO-listed town of Arles. Learn about Van Gogh's life in town, while seeing Roman ruins like Arles Amphitheatre! …
» see all Provence Cultural & Theme Tours
» Provence Day Trips & Excursions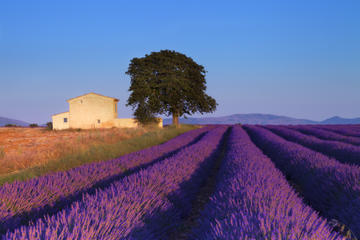 Discover the fragrant Provençal lavender fields on a tour from Aix-en-Provence with an expert guide! With a choice of a morning, afternoon or full-day tour, the trip allows you to see as much of the romantic violet fields as your time permits. Learn about lavender production in the region, spend free time at a lavender farm or a scenic Luberon village (depending on option selected) and pose for photos galore in front of impressive lavender fields like Valensole Plateau …
» see all Provence Day Trips & Excursions
» Provence Food, Wine & Nightlife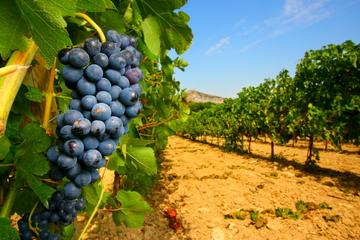 Enjoy a full day of wine tasting and sightseeing in Châteauneuf du Pape as well as the neighboring vineyards of Gigondas and Vacqueyras. Lunch in a local restaurant is included on your day tour from Avignon. Châteauneuf du Pape welcomes you for its famous red wine, but do you know about the confidential white wine production? Once you have discovered the secrets of Châteauneuf du Pape, head to the northern part of the Vaucluse to taste wines from Gigondas and Séguret; two hilltop villages producing with excellent Cru wines …
» see all Provence Food, Wine & Nightlife
» Multi-Day & Extended Tours from Provence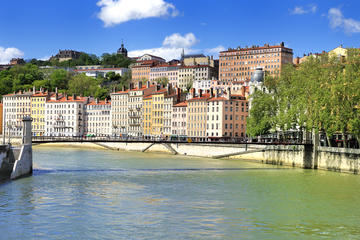 Starting in Marseille and ending in Paris, this 3-night tour takes you from the south of France through the regions of Provence, Rhône-Alpes, Beaujolais and Burgundy all the way to the country's capital. See rare medieval ramparts in the UNESCO World Heritage-listed town of Avignon, and immerse yourself in the history, culture, architecture and cuisine of Lyon, the gastronomic capital of France. Wine taste along the breathtaking Beaujolais Wine Route, and visit the famous Burgundy wine towns of Beaune and Nuits-St-Georges for more wine tastings and lunch …
» see all Extended Tours from Provence
» Provence Private & Custom Tours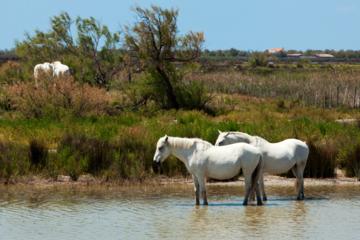 Start your day with a visit to Les Saintes Maries de la Mer, a famous site for gypsy pilgrimage. Its fortress church proudly holds the relics of Saint Sarah, saint of the Gypsies. Discover the wetlands surrounding this coastal town that is right on the edge of the Rhone river delta, along with the variety of flora and fauna that are at the heart of one of France's most unique ecosystems. End your day with a trip to the small medieval town of Aigues-Mortes, Saint Louis' gateway to the sea …
» see all Provence Private & Custom Tours
» Provence Shore Excursions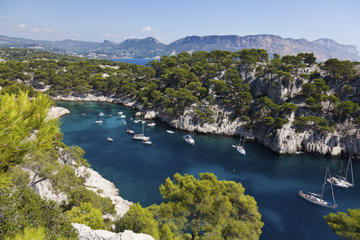 Discover the delightful cliffs, coves and villages around Marseille on this full-day shore excursion. From the port of Marseille, travel along the beautiful Route des Crêtes, stopping to enjoy views over the Côte d'Azur from Cape Canailles. Explore the village of Cassis with your guide and hop aboard an optional sightseeing cruise to the fjords of the French Riviera. Back in Marseille, visit and learn about some of the city's most famous attractions, including Basilique Notre Dame de la Garde, overlooking the Vieux Port (Old Port) …
» see all Provence Shore Excursions
» Provence Sightseeing Tours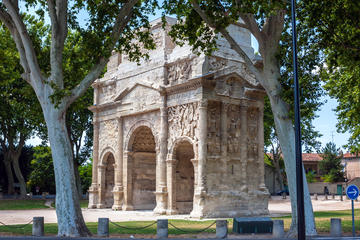 Go on the Grand Tour from Avignon, visiting the famous Roman, medieval and winemaking sites of Provence. You'll see the Triumphal Arch in Orange, the legendary vineyards of Chateauneuf du Pape, and the beautiful mountain villages of Gordes and Rousillon. The first stop on your Grand tour of Provence is Orange, founded by the Romans in the 1st century BC. The Triumphal Arch is one of the most remarkable monuments of its kind in France, decorated with friezes commemorating Julius Caesar's victories over the Gauls in 49BC …
» see all Provence Sightseeing Tours
» Provence Tickets & Passes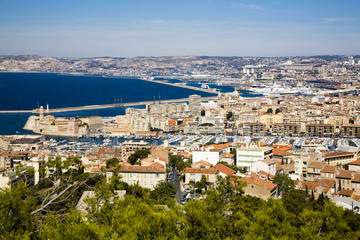 As a tourist and cultural passport, the Marseille City Pass is valid for 24, 48 or 72 hours. This pass is dedicated to individual visitors who wish to discover Marseille with an all-inclusive package. Once you have collected the ticket booklet, take advantage of the fantastic offers including free admission into museums, public transport, guided walks and special offers for shopping, shows, a free sample of "Four des Navettes" (famous local biscuit) and much more! …
» see all Provence Tickets & Passes
» Provence Transfers
Travel from Marseille International Airport to your Marseille hotel, Marseille Train Station, Port of Marseille or Aix en Provence hotel. Transfer services are available from 8am to 8pm, 7 days a week. This is a private transfer so the price is the same for groups of one to six people. When making a booking, you will need to advise your flight details and your drop off details …
» see all Provence Transfers & Ground Transport
» Provence Walking & Bike Tours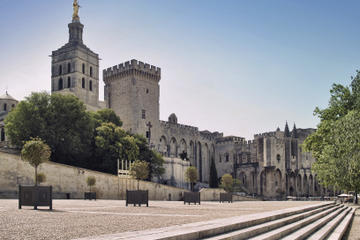 Marvel at magnificent medieval architecture on this 3-hour walking tour of Avignon, including skip-the-line entry to the Pope's Palace. Explore the UNESCO World Heritage–listed city of Avignon, home to the Papacy and seat of western Christianity in the 14th century. Follow your guide along the historical city walls for breathtaking views over the Rhône River. Beat the queues and enjoy swift access to the chambers and chapels of the Pope's Palace. Admire 19th-century architecture in the beautiful Place de l'Horloge and finish with a glass of Côtes du Rhône wine …
» see all Provence Walking & Bike Tours
• All Provence
If you would like to view a complete list of all Provence Tours, Travel & Activities, you can search for great things to do by category, location, traveller reviews or price to plan the perfect magical journey.
Click here for ALL Provence Tours, Travel & Activities
« FRANCE • Tours & Travel • South of France • Provence