« GREECE • Tours & Travel • Mainland Greece • Delphi
Discover Magical Delphi
After the Acropolis, Delphi is the most popular archaeological site in Greece. Located 180 kilometers from Athens, a trip to Delphi is listed in just about every tour itinerary and is by far the most popular day trip out of Athens. Delphi has a special meaning, and in ancient times was considered the center of the known world, the place where heaven and earth met.
Delphi is the second-most important archeological site in Greece (after the Acropolis in Athens). In ancient times Delphi was considered the place where heaven and earth met so the gods were close-by.

Established around the 7th century BC, Delphi was a sanctuary to the god Apollo.

It was here that the Oracle of Delphi was situated, the most trusted oracle in the ancient world from which the spirit of Apollo gave advice on everything from domestic matters to wars.

Delphi had a theatre and temples as well as the oracle, and has a well preserved stadium which once held chariot races. These were excavated from the mid-1800s and today the ruins stand impressively in their mountain landscape.

Many believe the place to have a special magic and report being moved spiritually when visiting Delphi. Ancient engravings on the stone such as 'Know Thyself' and 'Nothing in Excess' could be from today's self-help movement.


• Delphi Tours, Travel & Activities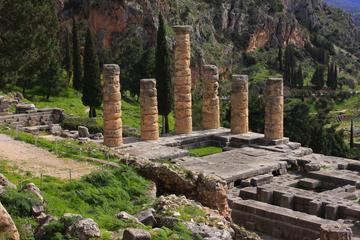 Visit one of the most important archaeological sites in Greek history on this full-day, small-group tour to Delphi, Arachova and Saint Lucas Monastery from Athens. Traveling with an expert guide, learn about Greek mythology and history as you explore the UNESCO-listed Archeological Site of Delphi and the Delphi museum, and visit the nearby mountain village of Arachova before marveling at the exquisite Byzantine architecture of Saint Lucas Monastery …
» see ALL Delphi Tours, Travel & Activities
• Delphi Hotels & Accommodation
Delphi is both an archaeological site and a modern town in Greece on the south-western spur of Mount Parnassus in the valley of Phocis. In Greek mythology, Delphi was the site of the Delphic oracle, the most important oracle in the classical Greek world. If you are looking for a particular property or location in Delphi, Greece, or prefer to search for your accommodation by category, amenities, traveller ratings and reviews then please click here …
» see all Delphi Hotels & Accommodation
« GREECE • Tours & Travel • Mainland Greece • Delphi