ITALY • Discover Italy • Southern Italy • Pompeii
Discover magical Pompeii
The city of Pompeii was an ancient Roman town-city near modern Naples in the Italian region of Campania, in the territory of the comune of Pompei. Pompeii, along with Herculaneum and many villas in the surrounding area, was mostly destroyed and buried under 4 to 6 m (13 to 20 ft) of ash and pumice in the eruption of Mount Vesuvius in 79 AD.

Here discover the everyday life of Rome's Imperial age as you walk through the ancient ruins, which were buried in ashes after Mount Vesuvius erupted almost 2,000 years ago.

Despite wars waged on its soils, assaults by earthquakes and a volcano eruption 19 centuries ago, Pompeii remains a vibrant, well-preserved and accessible destination.

As you wander from mosaic to monument, and temple to theater, you'll step back in time and imagine daily life in this legendary city.


» Temple of Apollo (Tempio di Apollo)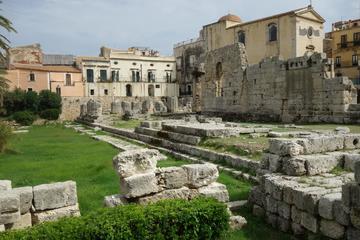 One of Italy's most-visited attractions is, of course, the excavation of Pompeii, and within that ancient city the remains of the Temple of Apollo are a must-see. The site dates from roughly the 6th century BCE. It's one of the first structures visitors see upon entering the main part of Pompeii, as it sits to one side of the expansive forum, and it's the oldest religious structure at the site. The temple was once surrounded by 48 columns, though only a few remain standing today. Two statues found in the excavation of the temple - one of Apollo and one of Diana - are in the excellent National Archaeological Museum in Naples, though replicas are now where the originals were found …
• Tours to Pompeii
Hike up Mount Vesuvius and then explore the UNESCO-listed ruins of Pompeii on a must-do day trip from Rome! Going at a steady pace, the hike includes a walk on the ridge of Italy's famously feisty volcano, allowing incredible views down into the crater itself.

After a pizza lunch in Naples, head to Pompeii to see the havoc that Mount Vesuvius reaped on it in AD 79. Tour the UNESCO-listed excavations, seeing fossils and well-preserved ruins while hearing the horrors that befell this intriguing ancient city.

Mount Vesuvius is inaccessible from November 1, till March 8. During these months, your volcano hike is replaced with a tour of the National Archeological Museum of Pompeii.
» see ALL Pompeii Tours & Activities
ITALY • Discover Italy • Southern Italy • Pompeii