DISCOVER TOKYO
Tokyo is the capital of Japan. At over 12 million people in the official metropolitan area alone, Tokyo is the core of the most populated urban area in the world, Greater Tokyo (which has a population of 35 million people).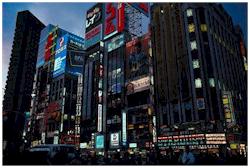 This huge, wealthy and fascinating metropolis brings high-tech visions of the future side by side with glimpses of old Japan, and has something for everyone.

Over 400 years old, the city of Tokyo grew from the modest fishing village of Edo. The former seat of the Tokugawa Shogunate, the Imperial family moved to the city after the Meiji Restoration in 1868.

The metropolitan center of the country, Tokyo is the destination for business, education, modern culture, and government. (That's not to say that rivals such as Osaka won't dispute those claims.)




DISTRICTS OF TOKYO



Huge and varied in its geography, with over 2,000 square kilometers to explore, Tokyo prefecture spans not just the city, but rugged mountains to the west and subtropical islands to the south. The twenty-three special wards of Tokyo (near the bay), although each administratively a city in its own right, constitute the area informally considered as the "city of Tokyo" and are collectively one of the largest cities in the world with a total population of over 8 million people.

CENTRAL TOKYO:
Chiyoda, the seat of Japanese power that includes the Imperial Palace, the electronics mecca of Akihabara , the business center of Akasaka and the neighbouring nightclub district of Roppongi
Chuo district, including the famed department stores of the Ginza and the fish markets of Tsukiji
Meguro, a residential area with a few nice parks and museums
Minato, the port district (at least in name) which includes the artificial island of Odaiba, the skyscrapers of Shiodome
Shibuya, the fashionable shopping district which also encompasses the teenybopper haven of Harajuku (also home to the Meiji Shrine) and the nightlife of Ebisu
Shinjuku, home to luxury hotels, giant camera stores, futuristic skyscrapers, hundreds of shops and restaurants, and Kabukicho, Tokyo's wildest nightlife and red-light district
Shinagawa, a major train hub and business center
OLD TOKYO (SHITAMACHI):
Toshima including Ikebukuro, another giant train hub
Sumida by the river of the same name, including Ryogoku, home of the Edo-Tokyo Museum and Tokyo's main sumo arena (Ryogoku Kokugikan).
Taito and Bunkyo, the heart of Old Tokyo featuring the temples of Asakusa and many museums of Ueno
Koto, between the two rivers Sumida and Arakawa, located on just the south of Sumida. It is famous for the former woodland in Kiba, and Kameido Tenjin the shrine worshiping Michizane Sugawara known as a father of study in Kameido.
Katsushika, in the Northeast of Tokyo, more downbeat and traditionnal
The South part of Adachi

CULTURE OF TOKYO



Tokyo is vast: it's best thought of not as a single city, but a constellation of cities that have grown together. Tokyo's districts vary wildly by character, from the electronic blare of Akihabara to the Imperial gardens and shrines of Chiyoda, from the hyperactive youth culture mecca of Shibuya to the pottery shops and temple markets of Asakusa. If you don't like what you see, hop on the train and head to the next one, and you will find something entirely different.

The sheer size and frenetic pace of Tokyo can intimidate the first-time visitor. Much of the city is a jungle of concrete and wires, with a mass of neon and blaring loudspeakers. At rush hour, crowds jostle in packed trains and masses of humanity sweep through enormous and bewilderingly complex stations.

Don't get too hung up on ticking tourist sights off your list: for most visitors, the biggest part of the Tokyo experience is just wandering around at random and absorbing the vibe, poking your head into shops selling weird and wonderful things, sampling restaurants where you can't recognize a single thing on the menu (or on your plate), and finding unexpected oases of calm in the tranquil grounds of a neighbourhood Shinto shrine. It's all perfectly safe, and the locals will go to sometimes extraordinary lengths to help you if you just ask.




LANGUAGE IN TOKYO



It's easier than ever for English speakers to navigate their way around Tokyo without speaking any Japanese. Signs at subway and train stations include the station names in romaji (Romanized characters). It can be helpful to know some tips for ordering in restaurants, shopping in stores, and asking for directions.

Learning the katakana script is not difficult and most words written with it can be understood by English speakers so it can be useful even for people with no Japanese vocabulary. If you plan on asking for directions to Tokyo destinations, it especially helps to carry the name of the destination written in Japanese characters.




EXPENSES IN TOKYO



The cost of living in Tokyo is not as astronomical as it once was. Deflation and market pressures have helped to make costs in Tokyo comparable to most other large cities. Visitors from San Francisco, New York, London, Paris or even Vancouver will not be at all surprised. Travelers should budget a similar amount of money for their stay in Tokyo as they would for any other great city in Europe or North America. Locals will know the bargains, but experienced cheapskates from anywhere in the world can get by with a little ingenuity.




THINGS TO SEE IN TOKYO



Tokyo has a vast array of sights, but the first items on the agenda of most visitors are the temples of Asakusa, the gardens of the Imperial Palace (in Chiyoda) and the Meiji Shrine (in Harajuku).

Tokyo has many commercial centres for shopping, eating and simply wandering around for experiencing the modern Japanese urban phenomenon. Each of these areas have unique characteristics, such as dazzling Shinjuku, youthful Shibuya and upmarket Ginza. These areas are bustling throughout the day, but they really come into life in the evenings.

If you're looking for a viewing platform, the Tokyo Tower is the best known but a rather overpriced, not to say uninspiring, choice. The highest spot in Tokyo is the Tokyo Metropolitan Government building (in effect, Tokyo's City Hall) in Shinjuku. Its twin towers have viewing platforms that are absolutely free, and offer a great view over Tokyo and beyond. However, the best option would probably be from the World Trade Center Building at JR Hamamatsucho station which, although not as high, offers stunning views of Tokyo Tower and the waterfront due to its excellent location, especially at dusk.

A recent addition to the viewing platforms around Tokyo is Tokyo City View in Roppongi Hills, Roppongi -- admission is a steep ¥1500, but includes admission to the Mori Art Museum. Another good option especially at night is the Rainbow Bridge at Odaiba, whose pedestrian walkways are free.

The city is dotted with museums, large and small, which center on every possible interest from pens to antique clocks to traditional and modern arts. Many of the largest museums are clustered around Ueno. At 500 to 1,000 yen or more, entrance fees can add up quickly, but the GRUTT Pass allows access to 49 of them for a 2000 yen flat fee. The pass can be purchased from any participating museum and is valid for two months.




THINGS TO DO IN TOKYO
Take a boat ride on the Sumida River from Asakusa.
Lose yourself in the dazzling neon jungle outside major train stations in the evenings. Shibuya and east Shinjuku at night can make Times Square or Piccadilly Circus look rural in comparison - it has to be seen to be believed.
Enjoy a soak in a local "sento" or public bath. Or one of the onsen theme parks such as LaQua at the Tokyo Dome (Taito) or Oedo Onsen Monogatari in Odaiba.
Go to an amusement park such as Tokyo Disneyland or the more Japanese Sanrio Puroland (in Tama), home to more Hello Kittys than you can imagine.
Check out the hip and young crowd at Harajuku's Takeshita-Dori (Takeshita Street) or the more grown up Omotesando.
In the spring, take a boatride in Kichijoji's lovely Inokashira Park, and afterwards visit the Ghibli Studios Museum (well-known for their amazing movies, like Spirited Away, and Princess Mononoke), but you will need to buy tickets for these in advance at a Lawson convenience store.

Take the Yurikamome elevated train across the bay bridge from Shimbashi station to the bayside Odaiba district, and go on the giant ferris wheel - the largest in the world until recently.

Watch a baseball game, namely the Yomiuri Giants at the Tokyo Dome, or the Tokyo Yakult Swallows at Jingu Stadium. Nearby Chiba hosts the Chiba Lotte Marines.

Take a stroll through the Imperial Palace's East Gardens (open to the public daily at 9am, except Fridays and Mondays).

Have a picnic in a park during the cherry blossom (Sakura). Unfortunately Sakura only lasts for about a week.

ENTERTAINMENT IN TOKYO



The party never stops in Tokyo, and you will find good little bars and restaurants everywhere. You will also find that you are never far from a beer vending machine in Tokyo.

Hit Roppongi for establishments which specialize in serving foreigners, although things can get a little rowdy in some gaijin bars. Furthermore, this area might not be to everyone's liking as it is generally overflowing with foreigners, hostesses and their patrons. If you are looking for a more Japanese experience, visit Shibuya for cool nightclubs and dancing. Shinjuku is home to Kabukicho, Japan's largest red-light district, and the massive gay bar district of Ni-chome. A little further from the city center are Shimokitawaza, Koenji and Nakano, which are full of good bars, restaurants and "live houses" offering underground/indie music, and popular with students and 20/30-somethings.

The cheapest nights out would be at Japanese-style watering holes called izakaya, which offer food and drink in a convivial, pub-like atmosphere. Cheaper chain izakaya like Tsubohachi and Shirokiya usually have picture menus, so ordering is simple even if you don't know Japanese. Night out Western-style can get expensive, with clubs and live houses enforcing weekend cover charges in the 2000-5000 yen bracket (usually including a drink coupon or two) and a single drink at a bar as much as 1000 yen.


From Wikitravel

TOKYO TOURS, TRAVEL & ACTIVITIES

TOKYO HOTELS & ACCOMMODATION
---
---
HOME • JAPAN • DISCOVER JAPAN • Discover Tokyo
Looking for something specific?
---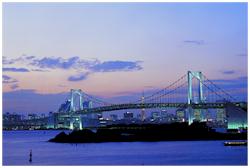 ---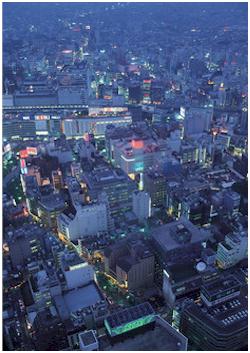 ---
Mount Fuji and City Skyline, Tokyo, Honshu, Japan Photographic Print
Buy at AllPosters.com
---
Imperial Palace, Gardens, Tokyo, Japan Photographic Print
Buy at AllPosters.com
---
Neon, Tokyo, Japan Photographic Print
Buy at AllPosters.com