to Northern Greece
---

---
Drama
---
Edessa
---
Florina
---
Kastoria
---
Kavala
---
Mt. Athos
---
Mt. Olympus
---
Prespa Lakes
---
Seres
---
Thassos
---
Thessaloniki
---
Thassos, Northern Greece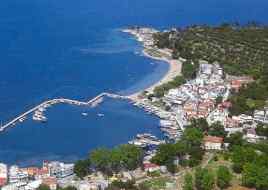 "Greece's emerald isle" according to the National Tourist Organization, but they say that about all the islands. Thassos is blessed with excellent beaches and a road that circles the completely round island that makes them all accessible.The mythological island of the Sirens, Thassos has been inhabited since the Stone age and later colonized by Parians who were sent there by the oracle at Delphi.

The island's capital, Limenas or Thassos, occupies the site of the ancient city. One can still see the walls, which completely surrounded it, the acropolis, the Agora, theatre, temple of Pythian Apollo, and many other ruins. It is the main port and the transportation hub of the island. Most of the activity is around the old port where there are at least 8 restaurants, most of them of the touristic variety, meaning Greek food and English menus. The I Pigi restaurant on the main square is recommended by Lonely Planet. The wild landscape in its northeast sector, with its precipitous lush ravines and startling beaches forms a vivid contrast to the serene beauty of the calm merging of sea and land at the shallow southwest coast.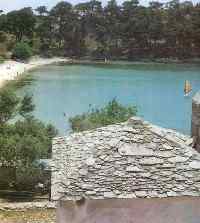 Golden beach is considered the best beach on the island. Other recommended beaches are Paradise, Kinira, and Alyki in the northeast. In the south and west of the island Skala Marion is the least exploited villages on the coast. Liminaria is the second largest town in Thassos and a popular resort. The village of Theologos in the mountains is the former capital and the islands most attractive mountain village.

The Eros 2 excursion boat does trips around the island starting at 9:30 am from the old harbor, stopping at some of the nicest beaches on the island for swimming and a barbeque, returning at 5pm.

Because Thassos is only 7 miles from the coast and more or less sheltered by Mount Athos and the Halkidiki Peninsula, you won't find the strong Meltemi winds that sweep many of the other islands in July and August. But before you change your travel plans for what you think must be heaven on earth keep in mind that the Meltemi, along with blowing away the occasional beach umbrella and your International Herald Tribune, also blows the mosquitos to who knows (or cares) where. There are several ferries a day from Kavala and Keramoti. There are several private campgrounds and the Prinos Campgrounds has facilities for 800 people. If you are coming here in July or August it is a good idea to book a hotel in advance.