BANGKOK TOURS, TRAVEL & ACTIVITIES
Bangkok, Thailand's vibrant capital is one of the world's most exotic and colorful cities - a unique blend of the traditional and ultra-modern. Be sure to see Wat Trimitr, the temple of the Golden Buddha, Wat Po, and Wat Benchamabopit.
Quick Links

Cultural Tours

Cruises

Day Trips

Private Tours

THINGS TO DO IN BANGKOK: Cruises, Sailing & Water Tours, Cultural Tours, Day Trips & Excursions, Family Friendly, Food, Wine & Nightlife, Outdoor Activities, Private Tours, Shows, Concerts & Sports, Sightseeing Tours, Transfers, Walking & Bike Tours,
BANGKOK TOURS, TRAVEL & ACTIVITIES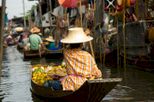 BANGKOK CRUISES & WATER TOURS


Combine a cruise through the Floating Markets with a visit to Bridge on the River Kwai on this full-day guided tour from Bangkok. With the knowledge of your local guide, this is a wonderful way to maximize your time and delve deeper in the Thailand's Kanchanaburi region. Your journey commences with a leisurely drive from Bangkok ... see all

---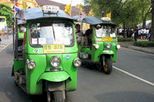 BANGKOK CULTURAL & THEME TOURS


Travel as the locals do, by Tuk Tuk! Visit some of Bangkok's most famous sights: Phra Sumeru Fortress, the bustling Amulet Market, Wat Pho and its Reclining Buddha, Thieves Market and the colorful flower market of Dheves on this fun and exciting Bangkok tour. Make your way to the lobby of the Viengtai Hotel, Rambutri Road, Banglamphu ... see all

---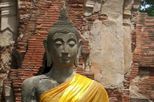 DAY TRIPS & EXCURSIONS FROM BANGKOK


Visit the Ayutthaya temples on a cultural day trip from Bangkok, it's a highlight of any Thailand visit. The tour to the ancient capital of Siam includes a trip by riverboat, a must-do activity when you're in Bangkok, with close-up views of the temples and historic sites that line the Chao Phraya River. Ayutthaya was a thriving Siamese kingdom from 1350 until 1767 ... see all

---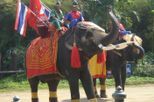 BANGKOK FAMILY FRIENDLY TOURS


If you are looking for a family friendly day tour from Bangkok then look no further. Situated just 20 miles west of Bangkok is the Sampran Elephant Ground and Zoo, a place where the whole family can learn more about Thailand's most revered animal - the Elephant. This is the perfect opportunity to take an elephant ride as well as learn ... see all

---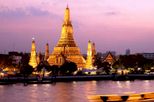 BANGKOK FOOD, WINE & NIGHTLIFE


Treat yourself and your loved ones with a 2.5 hour evening cruise along Bangkok's Chao Phraya river. Watch river life go by and feast on a Thai dinner feast as the band on board entertains you. This will be a memorable night on board one of Bangkok's most luxurious restaurant boats relaxing in modern comfort and dining like King Rama V on a variety of Thai dishes ... see all

---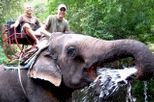 BANGKOK OUTDOOR ACTIVITIES


Explore the protected green landscapes of Khao Yai National Park on a full-day guided excursion from Bangkok. The ideal city escape for those looking to get back to nature during their stay in Bangkok. You'll have the opportunity to sample indigenous fruit and search local wildlife including tigers, black bears and leopards ... see all

---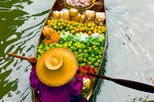 BANGKOK PRIVATE & CUSTOM TOURS


Take a private tour to get a glimpse of everyday life on the water in Thailand. Cruise along the Bangkok canals in a narrow, long-tailed motorized boat towards the Damnoen Saduak floating market, where you will see local vendors in their Thai style canoes, laden with colorful fruits, and vegetables, gently plying their way through the canals ... see all

---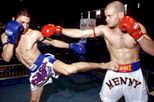 BANGKOK SHOWS, CONCERTS & SPORTS


Kickboxing has a long history in Thailand and is the country's national sport. An evening ringside at a Muay Thai event is a must for any sporting enthusiast traveling to Thailand. Traditional Muay Thai practiced today, varies slightly from the ancient art, and the only similarity to western boxing is that the fighters wear gloves ... see all

---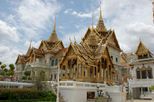 BANGKOK SIGHTSEEING TOURS


Ask anyone who has been to Bangkok what their 'must see' list of the city entails, and without fail they'll include The Grand Palace. The Grand Palace Complex is home to a number of attractions including Wat Phra Keow (Temple of the Emerald Buddha). Built in traditional Thai architecture mixed with European designs ... see all

---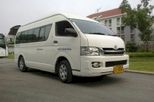 BANGKOK TRANSFERS


Ensure your trip to Thailand is free of hassle by booking your Bangkok shared airport transfer now. Travel from the Suvarnabhumi International Airport to your hotel in the city of Bangkok. Transfer services are available 24 hours a day, 7 days a week. When making a booking, you will need to advise your flight details and your Bangkok accommodation details ... see all

---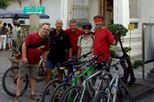 BANGKOK WALKING & BIKE TOURS


Get off the beaten track and explore Bangkok as you cycle through lane ways, past markets, traditional houses, canals and temples. Discover idyllic pockets of Bangkok with an easy 20 km (12.5 miles) bike ride through this vibrant city. See some of Bangkok's most famous sights including the Bangkok Noi Canal, Memorial Bridge, Wat Suthat and Wat Arun ... see all

---
---
More Resources for Bangkok Tours
---

Bangkok Tours & Activities with Isango!

Isango! a the leading provider of destination experiences and experience-driven holidays - historic tours, sightseeing trips, romantic activities, family holidays, activity holidays, theme park visits, guided historical attractions and much more. 5000+ things to do in more than 60 countries ...

---

Bangkok Tours with DoSomethingDifferent.com
DoSomethingDifferent.com is the UK's most comprehensive resource for travellers looking for inspiration on 'what to do', once in their chosen destination. Exhilarating and attention grabbing Worldwide Attractions, Experiences, Activities and Attraction Tickets. For travellers everywhere. ...

---

BANGKOK HOTELS & ACCOMMODATION

THAILAND TOURS, TRAVEL & ACTIVITIES
---
HOME • THAILAND • THAILAND TOURS & TRAVEL •

Bangkok Tours
Looking for something specific?
IN THIS SECTION:
... THAILAND TOURS & TRAVEL
BANGKOK
Cruises, Sailing & Water Tours,
Cultural Tours, Day Trips & Excursions,
Family Friendly, Food, Wine & Nightlife, Outdoor Activities, Private Tours,
Shows, Concerts & Sports,
Sightseeing Tours, Transfers,
Walking & Bike Tours,


KEY SECTIONS you may also like:
Discover
Thailand
Thailand
Hotels
Discover
Bangkok
Bangkok
Hotels
---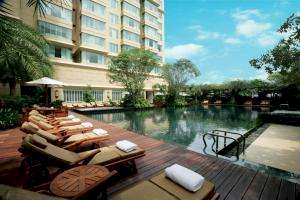 PLACES TO STAY IN BANGKOK
---
---
---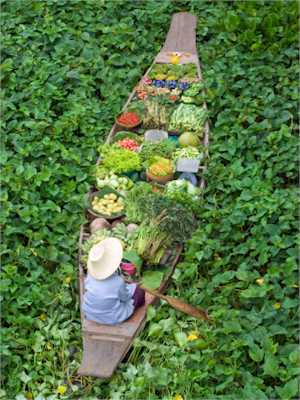 BANGKOK POSTERS & ART PRINTS
---