« TURKEY • Tours & Travel • Aegean Turkey • Fethiye
Fethiye Tours, Travel & Activities
Just inland from the main port area and east of the ancient amphitheater is Fethiye's old town, known as Paspatur. The narrow streets here are filled with shops and street stalls selling everything from Turkish carpets, jewelry and antiques to edible goodies like spices and Turkish delight; there are also touristic knick-knacks aplenty. Even if you're not planning on buying anything, Paspatur is a great place for wandering around and people-watching.
» Fethiye Cruises, Sailing & Water Tours
Make the most of an evening in Turkey on this 6-hour sunset cruise that's ideal for all ages. Board a spacious yacht at Fethiye and absorb gorgeous bay views as you sail into Fethiye Bay. Drop anchor at a picturesque islet for a twilight swim or snorkel, and enjoy drinks from the bar (own expense) as the setting sun casts everywhere in a romantic glow. Then, savor a scrumptious onboard barbecue, enjoy songs from professional singers, and dance to retro tunes before cruising back to Fethiye under the stars …
» all Fethiye Cruises, Sailing & Water Tours
» Day Trips & Excursions from Fethiye
Discover the picturesque scenery, sands, mud baths and ancient ruins of the beautiful Dalyan River on this day trip from Fethiye. Travel to the pretty town of Dalyan, board a riverboat, and spend the day cruising through a nature reserve of untouched reed beds and fields. Swim, sunbathe and watch for rare loggerhead turtles on protected Iztuzu Beach, admire the cliff-cut ancient Kings' Tombs of Kaunos, and wallow in the famous riverside mud baths and warm thermal pools. A tasty buffet lunch at a riverside restaurant provides the finishing touch …
» see all Day Trips & Excursions from Fethiye
» Multi-Day & Extended Tours from Fethiye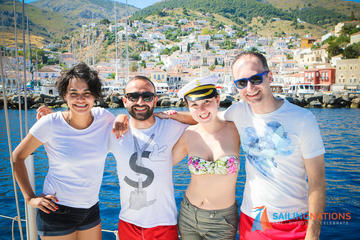 Soak up the sun and the breathtaking scenery of the Turkish Aegean Coast on this 7 day sailing holiday. Spend a week island hopping, discovering pristine beaches and secluded bays. Explore the fascinating culture and rich history of the islands and get ready to toast to the good life. A professional skipper will ensure safety and comfort during the holiday. Under his careful eye you can act as part of the crew and help handle the ship. As you drift away from the land, take a moment to admire the spectacular coastline …
» see all Multi-Day & Extended Tours from Fethiye
» Fethiye Outdoor Activities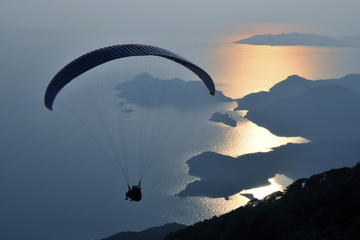 Fly like a bird above the spectacular Blue Lagoon at Ölüdeniz on this epic tandem paragliding experience from Fethiye. Feel the excitement build on route to Babadag Mountain, the peak that towers over the aquamarine lagoon and Ölüdeniz beach. Then, harness up with a professional pilot for a thrilling paragliding ride. Soar into the sky, ride the warm breezes and marvel at the aerial views as your pilot controls your speed and direction before a gentle touchdown on the beach. Simply exhilarating, and no experience required …
» see all Fethiye Outdoor Activities
» Fethiye Private & Custom Tours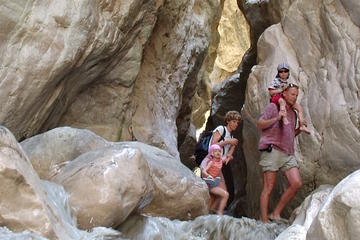 Explore the Sakikent Canyon and the Ancient city of Tlos on this day tour. See the ruins of Tlos which dates back to 2,000BC before heading to the wooden paths in the Sakkikent gorge! Visit the home of Pegasus and the oldest ancient city of TLOS. History in Tlos dates back to 2. 000 BC and there are lot of ruins to explore like theatre, necropolis, stadium, baths, churches and more. Also this ancient city is the longest settlement in Lycia and hosts some ruins from Ottomons times …
» see all Fethiye Private & Custom Tours
» Fethiye Spa Tours
Prep and pamper your body for your vacation in Turkey with this 1.5-hour Turkish bath experience in Fethiye. After a hotel pickup, visit a hammam for the bathing-and-massage treatment of your life. Change into your bathing suit in a private cubicle, relax in a marble hot room filled with warm, soothing steam, and then wallow in the sensation of a muscle-melting, soapy massage and revitalizing exfoliating scrub. Opt for an oil massage if you wish, and leave feeling refreshed and exhilarated, with your skin in top condition for a tan …
» Fethiye Transfers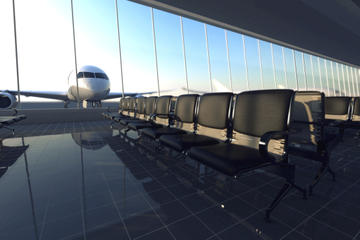 Enjoy a smooth and comfortable start to your vacation in Fethiye by booking this private arrival transfer to take you door-to-door from Dalaman Airport to your Fethiye hotel. Simply meet your friendly and professional driver at the terminal when your flight lands, settle into your private air-conditioned vehicle, and travel to your hotel in comfort and style, without any waiting around. What could be easier? Whether you're traveling alone, as a couple or in a group, this private arrival transfer service will get your stay in Fethiye off to a relaxed start …
» Fethiye Water Sports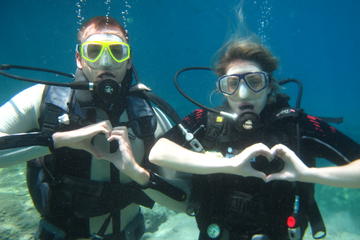 Anyone, at any age, who is in good health can learn Scuba Diving. Contrary to the prejudice that it is difficult and requires a special capability, diving is a very easy activity. We have a daily diving programme , after a theoretical lesson given by our professorial instructors, you can enjoy your first diving experience and you will never give up diving once you get that feel of breathing underwater as you feed the fish who are watching you closely with curiosity. Mermaid Diving Club organizes diving trips for experienced divers and beginners every day …
• All Fethiye
If you would like to view a complete list of all Fethiye Tours, Travel & Activities, you can search for great things to do by category, location, traveller reviews or price to plan the perfect magical journey.
Click here for ALL Fethiye Tours, Travel & Activities

« TURKEY • Tours & Travel • Aegean Turkey • Fethiye