« USA • Tours & Travel • California • San Francisco
San Francisco Tours, Travel & Activities
San Francisco has an atmosphere of genteel chic mixed with offbeat innovation and a self-effacing quality so blatantly missing from brassy New York and plastic LA. Its hilly streets provide some gorgeous glimpses of the sparkling bay and its famous bridges. The treats of San Francisco are not just for locals.
» San Francisco Air, Helicopter & Balloon Tours
Soak up the beauty and colors of this scenic landscape on this unforgettable helicopter tour to Sausalito! This spectacular day trip also includes a relaxed lunch at Sausalito and a picture-perfect ferry ride back to San Francisco. Admire the breathtaking aerial views of the city and bay on your 20-minute helicopter flight. Upon landing, your driver shuttles you to picturesque Sausalito to enjoy a leisurely lunch at one of this colorful village's top Italian restaurants …
» see all San Francisco Air & Helicopter Tours
» San Francisco Cruises, Sailing & Water Tours
Cruise around San Francisco Bay as you learn about the unique history of Alcatraz Island and admire the unforgettable city skyline. Be seduced by the breathtaking panorama of the Golden Gate Bridge and sail by Angel Island, the Ellis Island of the West. Enjoy beautiful views of the world famous Golden Gate Bridge and Bay Bridge as you cruise
» see all San Francisco Cruises & Water Tours
» San Francisco Cultural & Theme Tours
Spend an evening exploring two of San Francisco's vibrant areas for food and nightlife on a walking tour through Chinatown and North Beach. On their own, they will stir your senses. Together, they awaken you to new flavors, ancient cultures, and a diverse lifestyle. Your San Francisco trip is not complete without a walking tour of the cultural side of San Francisco where the old world meets the new
» see all San Francisco Cultural & Theme Tours
» San Francisco Day Trips & Excursions
Wine taste your way through Napa and Sonoma on this day trip from San Francisco. Enjoy a comfortable, picturesque drive by luxury coach to wine country to visit several wineries for guided tours and tastings. Walk through beautiful vineyards, explore the winemaking facilities, and learn about the history of winemaking from your guide as you sip fine wine. Stop in Yountville to enjoy lunch and browse specialty shops at your leisure and expense …
» see all San Francisco Day Trips & Excursions
» San Francisco Family Friendly Tours
For a sightseeing tour with plenty of San Francisco character, try this family-friendly roundup of city attractions aboard a motorized cable car. Pass through popular San Francisco neighborhoods including North Beach, Chinatown, Pacific Heights, the Presidio and Fisherman's Wharf. You'll also ride across the world-famous Golden Gate Bridge in your restored or replica wood-and-brass cable car - outfitted with wheels to allow unrestricted movement …
» see all Family Friendly Tours from San Francisco
» San Francisco Food, Wine & Nightlife
Go behind the scenes of North Beach's food scene on this insider food and wine walking tour. Your expert guide will lead you on an easy evening walk to popular and hidden spots that only locals know about to enjoy hearty food tastings paired with wine. Sample cheese, Bolivian beef, wood-fired pizza, delicate handmade cannoli and gourmet sweets. You'll meet the owners, learn local tips, and hear stories about this neighborhood's interesting history, from the Gold Rush to the Prohibition era to today …
» see all San Francisco Food, Wine & Nightlife
» Multi-Day & Extended Tours from San Francisco
Embark on the ultimate road trip with this campervan rental! Plan your own itinerary from San Francisco to visit Napa, Sonoma, Tahoe, Big Sur, Yosemite, Los Angeles, Las Vegas and any other easy-to-reach city, all aboard a comfortable van outfitted for overnight excursions. Campervan rentals are available for 4, 7 or 14 days, and all vans include bedding, kitchen accessories, picnic chairs, 100 miles (161 km) of mileage each day and 24-hour roadside assistance. So sit back, relax and enjoy the ride! …
» see all San Francisco Multi-Day & Extended Tours
» San Francisco Outdoor Activities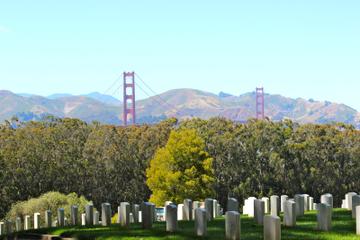 Enter a new world as you embark on an urban hike through the historic Presidio in San Francisco. Following your expert guide, wander through groves of pine, cypress and eucalyptus trees as you explore the highlights of this historic park and former military post. Visit San Francisco National Cemetery, stroll down Lover's Lane and the Ecology Trail, soak up views of Alcatraz and the Palace of Fine Arts from Inspiration Point, and stop by Presidio Chapel. Great for outdoor enthusiasts and history buffs …
» see all San Francisco Outdoor Activities
» San Francisco Private Tours
Cruise down the iconic California coastline on a private day trip from San Francisco to Monterey and Carmel. Trace the craggy cliffs that line the spectacular Pacific Ocean along Highway 1 to the Monterey Peninsula. Stop at Cannery Row, made famous by Steinbeck's novel. Explore the Monterey Bay Aquarium, one of the best aquariums in the world, to observe a variety of sea life. Stroll through the magical jellyfish exhibit, get up close with sharks and sea otters and see 30,000 other strange and beautiful sea creatures …
» see all San Francisco Private Tours
» San Francisco Shore Excursions
When your cruise ship docks in San Francisco, enjoy a private shore excursion to see the famous wineries of Napa or Sonoma valley! Avoid the daunting questions of 'where to go?' and 'how do I get there?' with this convenient eight-hour tour. You'll stop at well-known wine-makers and lesser-known boutique wineries, and you'll enjoy a catered picnic lunch (if option chosen) while taking in the beautiful vineyard views ! …
» see all San Francisco Shore Excursions
» San Francisco Shows, Concerts & Sports
Be part of an iconic San Francisco tradition at Beach Blanket Babylon, a unique, dazzling cabaret spectacle in the heart of the North Beach district. Full of gaudy costumes, hilarious satires, outrageous musical performances and plays on pop culture, this high-energy show mixes the story of Snow White with characters including American political figures, the British Royal Family, TV icons, pop stars and even the San Francisco Giants. This constantly changing show has been dazzling audiences since 1974 …
» see all San Francisco Shows, Concerts & Sports
» San Francisco Sightseeing Tours
Combine a San Francisco City Tour and guided visit to Alcatraz for the ultimate introduction to San Francisco! You'll enjoy the beauty and attractions of everyone's favorite city, in addition to a scenic ferry ride to Alcatraz Island for an audio walking tour. The San Francisco City Tour begins with a drive along the famous waterfront for views of San Francisco Bay …
» see all San Francisco Sightseeing Tours
» San Francisco Tickets & Passes
See San Francisco your own way with the flexible Go San Francisco Card. Do as much or as little sightseeing as you like, at your own pace while saving precious vacation dollars. Receive free admission to popular San Francisco attractions, and enjoy discounts on shopping and dining around town. Choose free entry to over 45 unique attractions and tours …
» see all San Francisco Tickets & Passes
» San Francisco Transfers
Get to your hotel efficiently and effectively - no waiting for cabs or spending a fortune on transfers. This shared ride door-to-door ground transportation has been operating for over 25 years. Today, it is the premier shared ride provider in the United States. Each day, over 200,000 guests use this door-to-door service - that is almost seven million guests each year …
» see all San Francisco Transfers & Ground Transport
» San Francisco VIP & Exclusive Tours
Beat the crowds to Alcatraz and experience San Francisco aboard an authentic cable car with a modern twist. This exclusive tour puts you on the first ferry to Alcatraz Island for priority entrance to this famous historic attraction, and includes the award-winning audio tour. Then, on a city sightseeing tour, explore Chinatown and North Beach and go over the Golden Gate Bridge while riding a converted cable car. This wheeled vehicle lets you be part of a historic age-old tradition while enjoying the mobility of a modern vehicle …
» see all San Francisco VIP & Exclusive Tours
» San Francisco Walking & Biking Tours
Explore San Francisco's defining districts and lesser-known neighborhoods on this 4.5 to 5-hour bike tour. During your approx. 12-mile (19.5-km) route, cycle through the Mission, the Castro, Civic Center, bohemian Haight-Ashbury and more as you learn about the city's history and landmarks from your knowledgeable guide. Avoiding the majority of the city's famous hills, see the iconic 'Painted Ladies' of Alamo Square and get up close to the Castro Theater, City Hall and other famous sights …
» see all San Francisco Walking & Biking Tours
» San Francisco Water Sports
Ride down the Russian River on this canoeing adventure from Healdsburg. Aboard a comfortable, stable inflatable canoe, enjoy scenic views as you navigate the beautiful Russian River. Stop to swim, spot wildlife, and relax on the beach. Include lunch for a perfect afternoon on the water! This is a great activity for the whole family, and dogs are welcome. Hop aboard an inflatable canoe for a fun canoeing adventure! …
» see all San Francisco Water Sports
• ALL San Francisco
If you would like to view a complete list of all San Francisco Tours, Travel & Activities, you can search for great things to do by category, location, traveller reviews or price to plan the perfect magical journey.
Click here for ALL San Francisco Tours, Travel & Activities
« USA • Tours & Travel • California • San Francisco