« USA • Tours & Travel • California
California Tours, Travel & Activities
The American Dream has always flowed west, lured by the promises of California. Eureka! cried the gold miners in 1848 - I've found it. Eureka! cried naturalist John Muir and industrialist William Randolph Hearst. Eureka! cried Steve Jobs and Marilyn Monroe. By many measures, California remains the biggest, most dynamic, most diverse, most forward-thinking state in the nation.
• San Francisco
San Francisco has an atmosphere of genteel chic mixed with offbeat innovation and a self-effacing quality. Its hilly streets provide some gorgeous glimpses of the sparkling bay and its famous bridges. The treats of San Francisco are not just for locals. The basic pleasures of life here - wonderful food, sparkling nightlife and those glorious views - are there for everyone. Watch the white fog fill the Golden Gate as the sunset lights up the windows across the bay, and prepare to leave your heart …
» ALL San Francisco Tours, Travel & Activities
• Los Angeles
Starlit and moonstruck, Los Angeles beguiles scores of curious tourists, hopeful starlets and wannabe rock gods every day. But there's a lot more to it than the siren call of fame and fortune. LA is a thriving, multilayered city filled with world-class everything: museums, music, food, architecture, movie stars. Hollywood and Disneyland are givens, but LA's hidden enclaves have a surprising subtlety and flavor which flout the stereotypes …
» ALL Los Angeles Tours, Travel & Activities
• San Deigo
Glitzy LA may capture all the attention, but if you want to wet your feet and soak up the Southern California beach scene in serious style, catch a wave to affluent, golf-coursed, blessed-by-nature San Diego. Its superb coastline, near-perfect climate and Mediterranean facade make it the quintessential Southern California beach city, but there's no chance to develop ennui. The smorgasbord of museums, zoos, animal parks and beaches will have you wondering which way to run next …
» ALL San Diego Tours, Travel & Activities
• Napa & Sonoma
Napa Valley is widely considered one of the top American Viticultural Areas in California, and all of the United States, with a history dating back to the early nineteenth century. By the end of the nineteenth century there were more than one hundred and forty wineries in the area. Of those original wineries several still exist in the valley today including Charles Krug Winery, Shramsburg, Chateau Montelena, Nichelini and Beringer …
» ALL Napa & Sonoma Tours, Travel & Activities
• Anaheim & Buena Park
The second-largest city in Orange County, Anaheim's sprawl of hotels, motels, chain restaurants and shopping malls is largely designed to accommodate the Magic Kingdom's 15 million annual visitors. Just off the 405 freeway, Disneyland has been delighting humanity since 1955, all the while turning its formerly sleepy farm town into a travel destination with the West Coast's largest convention center, three home sports teams (the Angels, Ducks and Bolts) …
» ALL Anaheim & Buena Park Tours, Travel & Activities
… more destinations in magical California
» Carlsbad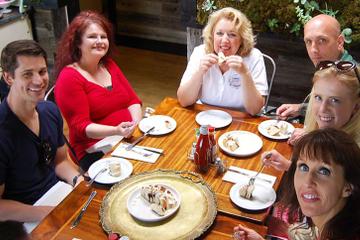 This Carlsbad village tour features 7 mouth-watering food samplings at unique eateries with insightful historical, architectural and cultural presentations! Enjoy Carlsbad's specialty foods, including the now famous cinnamon rolls from Cafe Topes! Learn about the history of California wines while sipping some of the local favorites. The goal is to entice your taste buds and stimulate your mind with the sights, flavors and way of life in Carlsbad …
» ALL Carlsbad Tours, Travel & Activities
» Catalina Island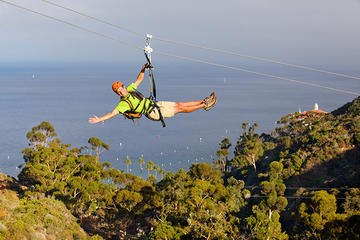 Propel down 5 separate zip lines dropping from 600 feet above sea level with one run that is 1,100 lineal feet long all on its own. This incredible experience will forever change your idea of what a tour should be. You will travel close to three-quarters of a mile over five consecutive zip lines at heights of 300 feet above the canyon floor and at speeds pushing 40 mph. Beginning at the Hog's Back gate, high in the hills near Avalon and descending through Descanso Canyon, you will pause at several eco-stations along the way before continuing on your journey …
» ALL Catalina Island Tours, Travel & Activities
» Dana Point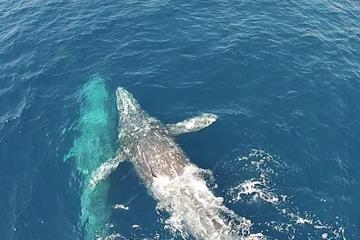 Delight in the exciting sights and sounds of the magnificent ocean creatures off Dana Point in Orange County. Known as a landmark for marine life sightings, Dana Wharf's ocean adventure cruises offer rare glimpses into a huge variety of underwater wildlife and gorgeous scenic views you'll never forget. Search for whales, dolphins, sea lions and other exciting marine life! All cruises are narrated by expert captains who will educate you on the abundant ocean life on the coast. Trips are 2 hours long, plenty of time to discover the world that lies beneath …
» ALL Dana Point Tours, Travel & Activities
» Healdsburg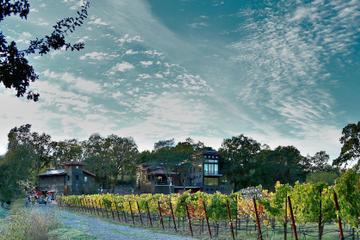 Tour the small family-owned and -operated Gracianna Winery on the lauded Miracle Mile of Westside Road in Healdsburg, nestled into the rolling hills of beautiful and bountiful Sonoma County. Wine country visitors are welcomed for an intimate tasting experience in a relaxed tasting room overlooking the Mercedes Riverblock Estate vineyard on the Russian River. Gracianna Winery makes award-winning pinot noir, zinfandel, chardonnay, sauvignon blanc and sparkling wine …
» ALL Healdsburg Tours, Travel & Activities
» La Jolla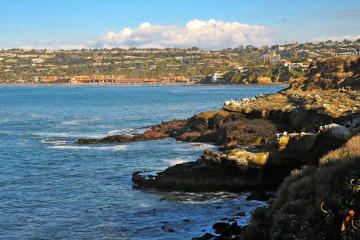 Take in the incredible views on this thrilling segway ride, pushing maximum speed. This tour is all about enjoying quick, open-air riding and amazing scenery. Travelers must be comfortable riding and maneuvering a segway at full-speed, and have previously taken any segway tour. Top speed glide from La Jolla Village all the way up to the highest point in the city of San Diego atop Soledad Mountain, all the way down to Birdrock, and back through La Jolla Cove and Prospect Street …
» ALL La Jolla Tours, Travel & Activities
» Laguna Beach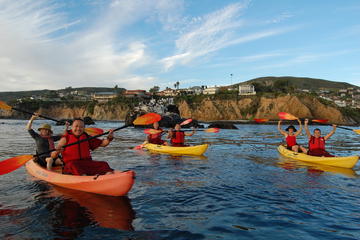 Experience the mind-blowing beauty of the Southern California coastline from ocean to harbor to bay. You will launch out of Fisherman's Cove, one of the calmest, wave-protected coves in Laguna Beach, then paddle the North Laguna coastline, teeming with marine life in its crystal clear waters. You'll see hidden reefs where bright orange garibaldi fish swim just beneath you, and giant starfish attach to the rocks. You'll explore the expanding and magnificent kelp forest, growing up to a foot a day, and enjoy views of Main Beach and the hidden coves and beaches of North Laguna …
» ALL Laguna Beach Tours, Travel & Activities
» Lake Tahoe
Shimmering softly in myriad Technicolor shades of blue and green, Lake Tahoe is the USA's second-largest lake with an average depth of 1,000 ft (304m). Generally speaking, the north shore (much of it in the state of Nevada) is quiet and upscale, the west shore (in California) quiet and old-timey, the east shore undeveloped and the south shore busy with motels and flashy casinos. The casinos, by the way, are a clear indication that this part of Lake Tahoe is in Nevada …
» ALL Lake Tahoe Tours, Travel & Activities
» Long Beach
Just hearing the name Long Beach evokes images of sugar sand beaches, surfers, bikini-clad beauties, southern California sunshine and lively waterfront options. While you will certainly find soft stretches of sand and plenty of opportunities for aquatic recreation, Long Beach offers that and much more. This is because Long Beach is both ethnically diverse and largely populated with many different classes, meaning the city has numerous personalities …
» ALL Long Beach Tours, Travel & Activities
» Monterey & Carmel
The city of Monterey is steeped in California history with its adobe buildings that date from the days of Spanish and Mexican rule and, on Cannery Row, stakes its place in American literary history. Monterey is also home to one of the world's best aquariums, which offers educational exhibits and interaction with sea critters. Carmel, though no longer the bohemian artist colony that made it famous, retains its charms with its storybook homes, art galleries and quaint cafes …
» ALL Monterey & Carmel Tours, Travel & Activities
» Oakland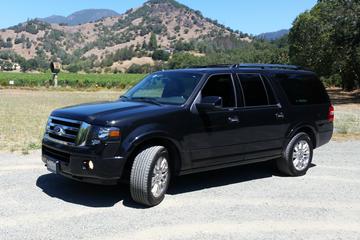 Private and relaxing ride from the hotel to Oakland International airport. We will take you the best possible way to ensure you will be there without worries and on time. With time in mind we will always be a little early to ensure we are ready when you are! You will have direct contact with the chauffeur to ensure no gaps in communication as time is important. When we meet, please get comfortable in the vehicle while we get your luggage stored and get ready to head to the airport. We will have the car as close to the main entrance as we can …
» ALL Oakland Tours, Travel & Activities
» Palm Springs
Hemmed in by the austere Colorado Desert and lorded over by the rugged San Jacinto Mountains, Palm Springs is a pretty pastiche of swaying palm trees, a profusion of flowers, emerald golf courses and immaculately kept neighborhoods. Palm Springs has in recent years continued to attract the rich and famous. Former President Gerald Ford retired to the valley in 1978 with his wife Betty, who founded the rehabilitation center that bears her name …
» ALL Palm Springs Tours, Travel & Activities
» Paso Robles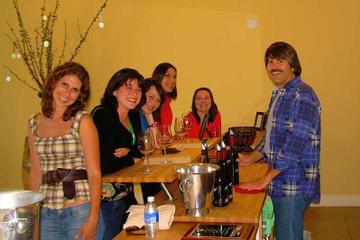 A door to door, "hop-on, hop-off" shuttle service lets you set your pace and create your own wine tasting itinerary in the Paso Robles Wine Country. The approximately 5-hour service picks you up at your accommodations and starts you on the loops. Your guides service over 60 wineries in the region and you just pick and choose where you want to 'hop on' and 'hop off' all day long. You will most likely visit 4-5 wineries in your day, depending upon how long you stay at each winery and what you do for lunch …
» ALL Paso Robles Tours, Travel & Activities
» Sacramento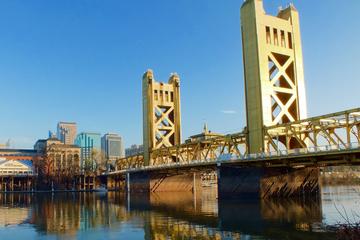 Join your guide for a city tour of Sacramento by luxury vehicle. From the city's rich Gold Rush history to its rise in California politics, there is plenty to see and learn, and you'll visit all the landmark buildings and points of interest. Sit back and listen to the stories of the colorful characters that shaped California and Sacramento's destiny. Soak up the River City's history on this hour-long exploration. Your guide will provide a fully-narrated tour, sharing the history of the Golden State's capitol …
» ALL Sacramento Tours, Travel & Activities
» Santa Barbara
No idea what to see or do while in Santa Barbara, nicknamed "America's Riviera"? Don't worry - you don't need to look long or hard to find a number of opportunities that will allow you to discover what makes this America's darling of a city. Hills, mountains, vineyards and ocean all coalesce into this beachside town, renowned for its pastel sunsets, its unbelievable weather, and some great nightlife - all while keeping the bustle of Los Angeles at arm's length …
» ALL Santa Barbara Tours, Travel & Activities
» Santa Cruz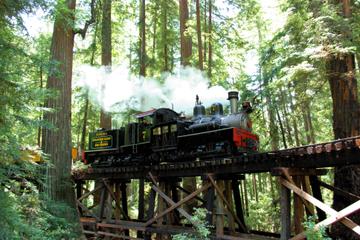 Explore the Santa Cruz Mountains on a historic train ride through a redwood forest from Roaring Camp in Felton, California. Admire the ancient redwood groves from the comfort of a steam locomotive chugging up the hillside. Venture into the forest and learn about the region from your informative train conductor, then explore an old-fashioned village where you can shop and take photos. This journey is fun for the whole family and a great way to see the beauty of California, as well as learn about the state's railroad and engineering history. All aboard! …
» ALL Santa Cruz Tours, Travel & Activities
» Santa Rosa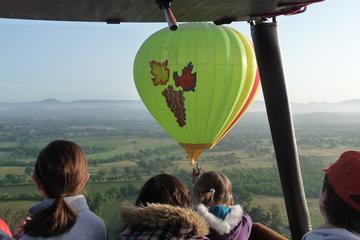 This spectacular 1-hour balloon flight will take you over Sonoma Valley and Lake County's spectacular wine-growing regions. Sailing gentle wind currents, you can often view the Pacific Coast, San Francisco's skyline, redwood forests, geyser mountains, the graceful Russian River and lush rolling vineyards. Enjoy a made-to-order Champagne brunch after your uplifting adventure! Your nature walk in the sky will begin just after dawn. You are welcome to participate 'hands on' with the set-up inflation and deflation of your hot air balloon …
» ALL Santa Rosa Tours, Travel & Activities
» Temecula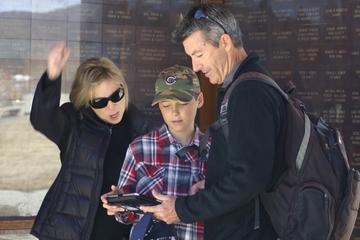 Turn Temecula into a giant game board with this fun scavenger hunt adventure! This challenge combines the excitement of the Amazing Race with a 3-hour city walking tour. Guided from any smart phone, teams make their way among well known and overlooked gems of the city, solving clues and completing challenges while learning local history. Note: Pricing is per individual, but teams must book together in order to be included in the same adventure …
» ALL Temecula Tours, Travel & Activities
» Yosemite National Park
Yosemite National Park is massive--you can easily spend a week hiking, biking, climbing, rafting and exploring. No matter how much time your have to work with, you'll be able to find activities to suit your vacationing style. Whether it's a stroll through the meadow with the kids or an all-out scramble up the famed Half Dome, there is truly something here for everyone …
» ALL Yosemite National Park Tours, Travel & Activities
• ALL California
If you would like to view a complete list of all California Tours, Travel & Activities, you can search for great things to do by category, location, traveller reviews or price to plan the perfect magical journey.
Click here for ALL California Tours, Travel & Activities
« USA • Tours & Travel • California