« USA • Tours & Travel • Southern USA • Florida • Orlando
Orlando Tours, Travel & Activities
The Mickey Mouse drawcard has turned Orlando into the fourth-ranking US destination for overseas travelers - only Miami, Los Angeles and New York City are more popular. Everybody's a fan of Orlando's big-name theme parks, and they've spawned smaller versions all over the world. But Orlando sightseeing means much more - from hot-air balloon rides to adventures in the Everglades to day tours from Orlando. And if you're traveling with kids, look no further!
» Orlando Air, Helicopter & Balloon Tours
Fly over Epcot Center in the comfort of an air-conditioned, professionally piloted helicopter to see the famous "IllumiNations: Reflections of Earth", a mesmerizing fireworks, laser and water show set to a stunning score. This is the tour for you if you're looking for the best possible views of the spectacular "IllumiNations" fireworks show in Orlando. It's also a great choice for a romantic proposal or if you want to see this amazing fireworks display while avoiding the crowds …
» Orlando Cruises, Sailing & Water Tours
Take a day trip from Orlando to the miles of white, sugar-sand beaches and sparkling waterways of Clearwater Beach! Relax and unwind on Florida's west coast, far from the hustle and bustle of Orlando. While enjoying your day at Clearwater, take a sightseeing cruise on the Gulf of Mexico to watch for bottlenose dolphins! After pickup from select Orlando hotels, your day of fun in the sun begins as you head west to Florida's Gulf of Mexico coast …
» see all Orlando Cruises & Water Tours
» Orlando Cultural & Theme Tours
Enjoy a professional gospel music performance at the House of Blues while you indulge in a southern home cooked brunch. Your tour will also include a fantastic Orlando City Tour, which includes a scenic boat ride in Winter Park and a visit to Disney's City of Celebration. You'll begin your tour of Orlando at Lake Eola. Established in 1888 this was the first piece of land that was donated to the City of Orlando to be made into public spaces …
» see all Orlando Cultural & Theme Tours
» Orlando Day Trips & Excursions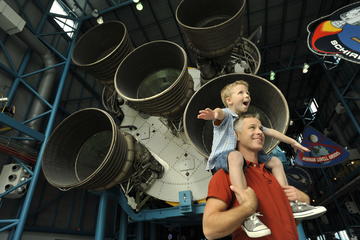 Take a virtual flight to the moon and back at one of Florida's best attractions! On this full-day Kennedy Space Center tour from Orlando, tour the NASA facility and Apollo/Saturn V Center to see rockets and their launch pads, and visit the Astronaut Hall of Fame and the Shuttle Launch Experience. At Astronaut Encounter, hear what it's like to be in space from veteran astronauts. Upgrade to sit down to lunch with an astronaut. Or get a Space Pass Plus …
» Orlando Food, Wine & Nightlife
Delight your kids with breakfast with their favorite Disney characters! Travel in style aboard luxury transportation from your Orlando hotel to Chef Mickey's Restaurant at Disney's Contemporary Resort, where you and your family will sit down to a wonderful breakfast alongside various Disney characters. This is the best way to interact with Disney characters away from the crowded theme parks, and you'll go home with plenty of photos and autographs! …
» see all Orlando Food & Nightlife
» Orlando Outdoor Activities
Saddle up for the best horseback-riding experience in central Florida! Enjoy Florida's natural beauty on a one-of-a-kind adventure as you ride on horseback through Forever Florida, a 4,700-acre (1,880-hectare) eco-ranch and wildlife conservation area featuring nine pristine Florida ecosystems. Travel along historic trails first traveled on horseback by Native Americans back in the 16th century …
» Orlando Private & Custom Tours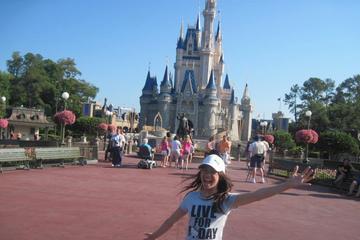 Optimize your Orlando theme park vacation with the help of a personal assistant who will help plan your activities. After booking, you will be provided with contact details for your personal assistant so you can have your complimentary pre-arrival consultation. Your personal assistant will assist you in setting up your dining and Fast Pass reservations. On your selected date of travel, you'll meet your assistant at the park of your choice and start navigating like a pro …
» see all Orlando Private & Custom Tours
» Orlando Shows, Concerts & Sports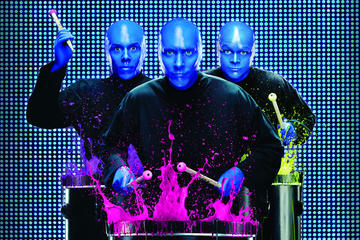 Join the Blue Man Group on an exciting journey that combines cutting-edge technology, amazing music and astounding acts including the group interacting with 'GiPads' (think giant iPads) -- a funny and perceptive look at contemporary modes of communication. Stunningly visual, hysterically funny, wildly inventive and interactive, the Blue Man Group will keep the whole family entertained; kids will love the color and music and adults will enjoy the humor and social commentary …
» see all Orlando Shows, Concerts & Sports
» Orlando Sightseeing Tours
Discover there is more to Orlando than theme parks on a guided sightseeing tour of the city. Take a scenic cruise around the "Chain of Lakes" in Winter Park, then it's off to the Disney built town of Celebration. Start your Orlando City Sightseeing Tour at Lake Eola. Established in 1888 this was the first piece of land donated to the City of Orlando to be made into public space. Continue to Winter Park, the self proclaimed "Venice of America" …
» see all Orlando Sightseeing Tours
» Orlando Theme Parks
At Universal Orlando® Resort you'll find two amazing theme parks, non-stop nightlife and more, all in one convenient location. Experience the pulse-pounding thrills of Universal's Islands of Adventure®, including The Wizarding World of Harry Potter™; The Amazing Adventures of Spider-Man®, now in high-def 3-D; and the Jurassic Park River Adventure®. Take a starring role in some of the biggest movies and TV shows ever created at Universal Studios® …
» Orlando Tickets & Passes
Take a step back in time on a high seas adventure aboard Titanic. Feel the chill of the Atlantic air on the Promenade Deck and soak up the grandeur of the Grand Staircase on a guided tour led by Captain Smith, the unsinkable Molly Brown or other famous Titanic characters. On an hour-long guided tour of Titanic The Experience you'll hear stories of the passengers and crew of the ill-fated Titanic. Dressed in period costume portraying a famous character from the familiar story …
» see all Orlando Tickets & Passes
» Orlando Transfers
Take the easy way and book your transfers to all the best Orlando attractions here. Transfers run from early in the morning to late at night so you won't miss a minute of the fun. And it's not just for the theme parks - you can even take in a dinner show and be sure of a safe ride back to your hotel. Enjoy comfortable rides to and from hotels in Zone 3 and 4 to Walt Disney World Resort, Universal Orlando, Sea World, Wet 'n Wild, Medieval Times and Arabian Nights …
» Orlando VIP & Exclusive Tours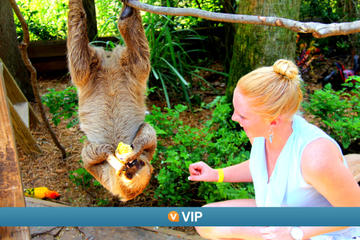 Experience what it's like to be a zookeeper at Wild Florida outside Orlando with this Viator VIP. The 4.5-hour tour will immerse you among the animals and plants indigenous to the Central Florida Everglades. Learn how the animals' diets are prepared, how to properly feed them and the importance of keeping their surroundings healthy and stimulating. Throughout the day your expert guide will share commentary about the lives of the animals and the habitats they live in …
» see all Orlando VIP & Exclusive Tours
» Orlando Water Sports
Get a bird's-eye view of the Walt Disney World® Resort while parasailing at Disney's Contemporary Resort. The feeling of flying is peaceful and exhilarating - all at the same time. The state-of-the-art parasail boat allows you to take off and land from the boat without getting wet! The crew and vessel exceed all United States Coast Guard regulations, ensuring the safest experience possible. This is a one-person parasailing experience …
» see all Orlando Water Sports
• All Orlando
If you would like to view a complete list of all Orlando Tours, Travel & Activities, you can search for great things to do by category, location, traveller reviews or price to plan the perfect magical journey.
» Click here for ALL Orlando Tours, Travel & Activities
« USA • Tours & Travel • Southern USA • Florida • Orlando