HOME • INDONESIA • DISCOVER INDONESIA • ANCIENT SITES OF INDONESIA
ANCIENT SITES OF INDONESIA
From the seventh century CE, the powerful Srivijaya naval kingdom flourished as a result of trade and the influences of Hinduism and Buddhism that were imported with it. Between the eighth and 10th centuries CE, the agricultural Buddhist Sailendra and Hindu Mataram dynasties thrived and declined in inland Java, leaving grand religious monuments such as Sailendra's Borobudur and Mataram's Prambanan.


ANCIENT SITES OF INDONESIA:

Borobodur, Candi Kidal, Mendut Temple, Pawon Temple, Ratu Boko, Sambisari, Trowulan,


Quick Links

Borobodur
Mendut Temple
Pawon Temple
Trowulan
DISCOVER INDONESIA: Ancient Archaeological Sites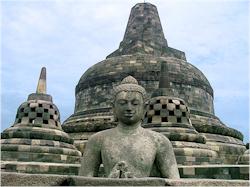 BOROBODUR


Java: Borobudur, or Barabudur, is a 9th-century Mahayana Buddhist monument near Magelang, Central Java. The monument comprises six square platforms topped by three circular platforms, and is decorated with 2,672 relief panels and 504 Buddha statues. A main dome is surrounded by 72 Buddha statues seated inside perforated stupa ...
---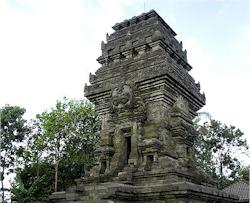 CANDI KIDAL


Java: Candi Kidal is a Hindu temple built under the Singhasari dynasty. It is situated in the Rejokidal village in the Tumpang district of East Java, approximately 20 km east of Malang. Originally built around 1248, the temple was recently restored in the 1990s. The temple is composed of three levels that are situated on a raised platform ...
---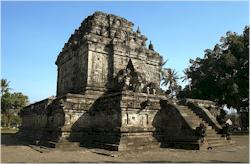 MENDUT TEMPLE


Java: Mendut is a ninth century Buddhist temple, located in Mendut village, Mungkid sub-district, Magelang Regency of Central Java. The temple is located about three kilometres east of Borobudur. Mendut, Borobudur and Pawon, all of which are Buddhist temples, are located in one straight line. There is a mutual religious relationship between the three temples ...
---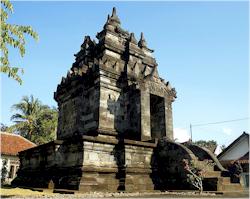 PAWON TEMPLE


Java: Pawon (known locally as Candi Pawon) is a Buddhist temple in Central Java. Located between two other Buddhist temples, Borobudur (1 mile NE) and Mendut (1 mile SW), Pawon is connected with the other two temples, all of which were built during the Sailendra dynasty. The detail and style of its carving tis slightly older than Borobudur ...
---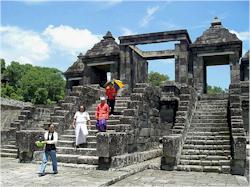 RATU BOKO


Java: Ratu Boko is an archaeological site known to modern Javanese as Kraton Ratu Boko or Ratu Boko's Palace. Ratu Boko is located on a plateau, about three kilometres south of Lara Jonggrang Prambanan temple complex in Yogyakarta Indonesia. The original name of this site is still unclear, however the local inhabitants named this site after King Boko, the legendary king...
---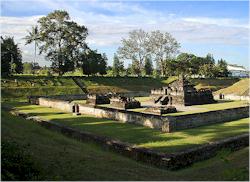 SAMBISARI


Java: Sambisari is a 9th century Hindu temple located at Sambisari hamlet, Purwomartani village, Kalasan, Sleman regency, Yogyakarta, Indonesia. The temple was buried about five metres underground. Parts of the original temple have been excavated . The temple is located about 8 km east of Yogyakarta near Adisucipto International Airport ...
---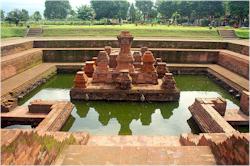 TROWULAN


Java: Trowulan is a village in Mojokerto, in the province of East Java. It is surrounded by an archaeological site covering approximately 100 square kilometres. It has been suggested it was the site of the eponymous capital city of the Majapahit Empire, which is described by Mpu Prapanca in the 14th-century poem Nagarakretagama and in a 15th-century Chinese source ...
---

INDONESIA HOTELS, RESORTS AND ACCOMMODATION

INDONESIA TOURS, TRAVEL AND ACTIVITIES
Indonesia destination information from sources at Wikipedia, the Free Encyclopedia
For photo credits and information, please click here or the individual pages.
---
---
HOME • INDONESIA • DISCOVER INDONESIA • ANCIENT SITES OF INDONESIA
Looking for something specific?
---
---
---