HOME • INDONESIA • DISCOVER INDONESIA •

Ubud
UBUD, INDONESIA
Ubud is a town in central Bali, Indonesia.

Far removed from the drunken bikini scene in Kuta, Ubud can be described as a magical, wonderful, cultural centre - if you're generous about coping with the burgeoning chaos in the centre, and the spread of workshops along the main roads in and out of town.


---
---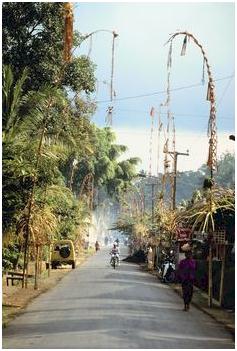 Above all famous as a center of arts and crafts (half - if not more - of the town and nearby villages seem to consist of artists' workshops and galleries, mostly retailing cheap reproductions for tourists) there are some remarkable architectural sights, artistic gems to be found, and a general feeling of wellbeing to be enjoyed thanks to the spirit, surroundings and climate.

While Ubud seems to outsiders like one small town, it is in fact 14 villages, each run by its own banjar (the land-owning married men's association; in effect the local government). It's clear that Ubud has been growing rapidly and some central parts are coping less well with the influx of tourists than in previous years (although the drop in visitors following 9/11 and the Kuta bombings slowed development).

That said, most developments are sympathetic to the zeitgeist, if not designed specifically in the style of Balinese architecture.

Growth is continuing due to the popularity of the Ubud area, but there are still terraced rice fields along the rivers and regular, quiet village life carries on relatively undisturbed just a stone's throw away. However, the encroachment of hotel rooms onto paddyfields near Monkey Forest is noticeable, and some industrial areas are beginning to resemble the uglier parts of Kuta.

Due to its location 600 meters above sea level Ubud enjoys somewhat cooler temperatures than the coast (bring a pullover for the evening), although the midday sun can still be scorching.



TRAVEL TO UBUD



Ubud is 33 km from Kuta and 10 km from Denpasar. Normal driving time from Seminyak is 45 mins to 1 hour.

• By plane: There are pre-paid taxis from Denpasar's Ngurah Rai airport. Check current prices on the notice board in the taxi office just outside the arrivals hall.

• By bemo: There are regular public bemos from Denpasar's Batubulan terminal to Ubud.

• By taxi: If you want to take a taxi from southern Bali, it's best to charter the vehicle for a return trip, as otherwise you'll be hit with a 30% fee for going out-of-town. Metered fares one-way not including surcharge are around Rp 50,000 from Denpasar and Rp 100,000 from Kuta.



GET AROUND UBUD



Central Ubud can be covered on foot, but you'll need wheels to explore the extended vicinity. On the main streets you might be accosted every few meters by people offering "transport"; prepare to bargain hard, but always keep bargaining rules in mind: start low, end with a smile, and enjoy the interaction. It also should be noted that sidewalks throughout Bali are simply the tops of sewers and only 2 ft wide, which can make for uncomfortable single-file walking as traffic screams past.

Ubud is generally quieter and the streets calmer than the more urbanised parts of Bali (although anywhere in Indonesia, "calmness" is a matter of opinion!), and whilst traffic is slower than downtown Kuta, the sidewalk is often blocked with a motorbike or caved-in section necessitating a step off the sidewalk - potentially placing you in the path of traffic. That traffic could be a tricycle or a truck, so keep your wits about you. One thing to remember is that the sidewalks are not smooth. Watch out for holes, uneven steps, etc, and carry a torth at night.

• By bemo: The Bemos are the local minibus transport that the Balinese primarily use; the Bule (foreigners) are welcome, too, and should expect to pay about twice what the locals do . The Bemos are rented by the driver for the day and he gets a cut, so do treat your drivers well, and expect the same in return.

• By taxi: While many drivers would be happy to do so, metered taxis from down south are officially not allowed to pick up passengers in Ubud and local drivers might have their say about this, perhaps even trying to prevent you from getting in. In practice metered "Taksis" are only seen dropping tourists off from the airport.

• Local drivers : Most local transport comes in the form of Kijang SUVs or minivans that can be hired (with driver) for specific trips. Look for the circular yellow "E" logo on the windshield certifying them as Ubud Transport Association members. You can (and should) Haggle a bit over the price and you should be able to pay less than with metered taxis . A short trip is about Rp 10,000 and drivers will be glad to wait for you for a return fare. Also, any guy with a motorbike is implicitly in the transport business and bike rides are about half the price of a passenger vehicle.

• Push bikes : You can also rent a push bike - a regular bicycle, for about Rp 20,000 a day. There's a large selection available at the corner of the football field. You can arrange a half-day trip involving a gentle downhill cruise from the top of the island back to Ubud on rented bikes. Apart from a very few short, sharp uphill sections, the ride is very relaxed and is well worth the time if you want to see the surrounding country in a less touristy way.



THINGS TO SEE IN UBUD



The town of Ubud has few sights within walking distance, and you'll need some form of transport to get to the temples in the vicinity. The easiest option is to join a tour, or just charter a taxi/bemo for a few hours.
Museum Puri Lukisan (Museum of Fine Arts), Jl. Raya Ubud (spot the sign and cross the bridge to enter). Three buildings showcasing traditional and modern Balinese art. The displays are musty and English labeling is a little spotty, but some of the works, particularly the carvings, are quite amazing.


Monkey Forest, south end of Jl. Monkey Forest. A forest full of ravenous monkeys, so don't bring any food or risk bites and rabies injections. Stroll through to find Pura Dalem Agung Padangtegal, a Temple of the Dead.


Botanic Garden, Kutuh Kaja. The recently opened Botanic Garden is a wonderful way to spend a few hours walking around and exploring the valley that it fills. It is best to go in the morning and avoid the afternoon heat.


Seniwati Gallery of Art by Women, Jalan Sriwedari 2B, Banjar Taman, Ubud. The Seniwati Gallery features art by women; "Seni" is Indonesian for "art" and "Wati" means "women".
All of the following temples can be reached by taking bemos towards Tampaksiring. Everybody must wear a sash, available at the entrance for donation, and either long pants or a sarong.
Goa Gajah (Elephant Cave), 3 km east from Ubud. A popular little excursion from Ubud, the centerpiece here is a cave, whose entrance is an ornately carved demon's mouth. Inside are some fragmentary lingam and yoni (phallus and vagina) statues, as well as a statue of Ganesha. Statues stand guard around pools near the entrance and a little path leads to a waterfall, rice fields and some Buddhist stupa fragments.


Gunung Kawi (Poet Mountain), Tampaksiring, 18 km northeast from Ubud. Entrance fee is 6000 IDR, sarong is rented for free. Dating from the 11th century, this is presumed to be the burial complex of King Anak Wungsu and his many wives. Reached by climbing down 371 steps, the location at the bottom of a steep valley lined with paddy fields is stunning. The smaller complex on the south side of the river is presumed to be for the king's wives, while the larger complex is thought to be for the King himself and perhaps his concubines. You must take off your shoes before entering into the central pura complex. About one km downstream there are further tomb cloisters. On the way back up, take a break at Cafe Kawi, which has cold drinks and fresh breezes.


Tirta Empul, Tampaksiring, 20 km northeast from Ubud. One of the holiest temples on Bali, built around hot springs that now bubble eerily in the central courtyard. Balinese themselves come here to bathe and purify themselves physically and spiritually, and during Galungan the sacred barong masks are bathed here. The complex dates to 960, but the present buildings are all modern reconstructions.
From Wikipedia

INDONESIA HOTELS, RESORTS AND ACCOMMODATION

INDONESIA TOURS, TRAVEL AND ACTIVITIES
---
---
HOME • INDONESIA • DISCOVER INDONESIA •

Ubud
QUICK LINKS FOR INDONESIA:



PLACES TO STAY:

INDONESIA HOTELS,
Bali, Bandung, Bintan Island, Jakarta, Lombok, Manado, Medan, Semarang, Surabaya, Yogyakarta,


... see all Indonesia Hotels







TOURS & TRAVEL:

INDONESIA TOURS:



... see all Indonesia Tours







ATTRACTIONS, CULTURE & MORE:




DISCOVER INDONESIA

: Borobodur,

Ubud

,


---
---
---
---