IXTAPA HOTELS
is located on the Pacific Coast of Mexico in the state of Guerrero. It is a lovely getaway destination for families and young people alike. It feels timeless and makes a great escape. Rolling mountains and sparkling beaches await you in this historic town with much to explore and learn.


IXTAPA HOTELS:

ALL Ixtapa Hotels, 5 Star Hotels, 4 Star Hotels, 3 Star Hotels,


Top Picks: 5 STAR HOTELS IN IXTAPA


Barceló Ixtapa Beach Hotel


The Barceló Ixtapa Beach Resort, one of the top hotels in the area, is situated on El Palmar beach, a paradise-like spot in southwestern Mexico, in the popular tourist destination of Ixtapa. This renowned, prestigious hotel of offers a wide variety of facilities and services as part of the "Barceló All Inclusive" Program ...
---


InterContinental Presidente Ixtapa Resort


Offering a good location, this property attracts all type of guests for a pleasant and wonderful stay in Ixtapa. Perched on the golden sand along the Pacific Ocean, the InterContinental Presidente Ixtapa Resort is located close to various city attractions such as La Isla de Ixtapa Beach, Los Troncones, Barra de Potosi ...
---


Melia Azul Ixtapa


Offering comfortable accommodation and convenient facilities, the Melia Azul Ixtapa provides you with all of the quality amenities to make your stay a memorable one. The Melia Azul Ixtapa is nestled between a deep green hillside and the beautiful Pacific Ocean, and is a perfect place for you to reside ...
---
Top Picks: 4 STAR HOTELS IN IXTAPA


Hotel NH Krystal Ixtapa


NH Krystal Ixtapa is located in one of the best beaches in the heart of the Ixtapa's hotel district. Its modern architecture offers spacious and open areas to take advantage of the swimming pool and its surroundings. The hotel also has excellent onsite water sports facilities and preferred green fees at a nearby golf course ...
---


Dorado Pacifico Hotel Ixtapa


Offering comfortable accommodation and contemporary service, this modern style property makes you to enjoy all the privileges, for an unforgettable stay. Situated right in the centre of the golden sands of El Palmar Beach, Dorado Pacifico Hotel Ixtapa is just 10 minutes from the town of Zihuatanejo ...
---

Emporio Hotel Ixtapa


Located 2 kilometres from the city centre, Emporio Hotel Ixtapa offers a warm welcome and convenient facilities to make your stay pleasant. Guests are offered a choice of air-conditioned bedrooms that are comfortable and well maintained ...
---
Top Picks: 3 STAR HOTELS IN IXTAPA


Holiday Inn Ixtapa


The Holiday Inn Ixtapa is a charming and friendly hotel that offers unsurpassed service and comfortable accommodation to make you feel at home. Surrounded by the lush Mountain and green gardens, the Holiday Inn Ixtapa is situated two blocks from the El Palmar Beach. The airport is just 20 minutes from the hotel ...
---


Posada Real Hotel Ixtapa


Situated on the Pacific Coast of Mexico, between Acapulco and Puerto Vallarta, the Posada Real Hotel is 15 miles from the Ixtapa-Zihuatanejo International Airport. With a privileged beachfront location, this property is in the heart of Ixtapa and is within walking distance from restaurants, discotheques, shopping centre ...
---
Hotels and Accommodation in all of Ixtapa, Mexico
---
---

MEXICO TOURS, TRAVEL & ACTIVITIES

MEXICO HOTELS & ACCOMMODATION
---
---
HOME • MEXICO • MEXICO HOTELS • SOUTHERN • GUERRERO •

Ixtapa Hotels
Looking for something specific?
---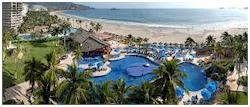 ---
---
---