HOME • PORTUGAL • PORTUGAL HOTELS • DISTRICT OF BRAGA • Guimaraes Hotels
GUIMARAES HOTELS
Guimaraes is a city and municipality in northwestern Portugal in the province of Minho and in the district of Braga. The city is often referred to as the birthplace of the Portuguese nationality and was the birthplace of Afonso I of Portugal, the first Portuguese king. The city was founded upon much older settlements.


GUIMARAES HOTELS:

4 Star Hotels, 3 Star Hotels, Unrated Hotels,


Top Picks: 4 STAR HOTELS IN GUIMARAES, DISTRICT OF BRAGA, PORTUGAL

Hotel Toural


Hotel Toural is situated in the historical city centre of Guimar"es, which is part of UNESCO's World Heritage. We offer Wireless Internet access throughout the hotel. ...
---

Hotel de Guimar"es


Situated in the town of Guimar"es, just minutes from the historic centre, this modern hotel boasts panoramic views of this special UNESCO World Heritage site. Clean-cut design and cutting-edge technology await guests at Hotel de Guimar"es. Visit the restaurant and indulge in regional cuisine with a modern twist ...
---
Top Picks: 3 STAR HOTELS IN GUIMARAES, DISTRICT OF BRAGA, PORTUGAL

Hotel Fundador


A totally renewed hotel, just 500 metres from the historical centre of Guimar"es, deemed a World Heritage Site by UNESCO. From the top-floor bar, sip your drink and enjoy magnificent views over the city. A free internet centre is available in the lobby, plus two conference rooms and a private garage ...
---
Top Picks: UNRATED HOTELS IN GUIMARAES, DISTRICT OF BRAGA, PORTUGAL

Pousada Santa Marinha


Near to the historical centre of Guimar"es, set on a hill overlooking the city, we find the majestic Pousada Santa Marinha, the 12th century Augustin convent, which, after being rebuilt and restored, received the National Architectural Prize in 1985. Penha Park, the small gardens and the interior corners ...
---

Pousada Nossa Senhora da Oliveira


This once private manor house offers all the comfort of modern amenities, with charm and privacy. Enjoy views over the church steeples and ancient rooftops, inviting you to get to know the surrounding medieval, narrow streets. Explore the town for majestic monuments and century old traditions ...
---

Bed & Breakfast Casa de Sezim


Adorned with an 18th century facade, immerse yourself in the historical feel of this hotel and escape to another time with a stroll in the beautifully landscaped gardens. Our visitors can make use of the outdoor swimming pool, as well as enjoying walks through the surrounding hills in the summer ...
---
Hotels & Accommodation in all of Guimaraes
---
---

PORTUGAL TOURS & TRAVEL

PORTUGAL HOTELS & ACCOMMODATION
---
---
HOME • PORTUGAL • PORTUGAL HOTELS • DISTRICT OF BRAGA • Guimaraes Hotels
Looking for something specific?
IN THIS SECTION:
PORTUGAL HOTELS:


DISTRICT OF BRAGA HOTELS

:
Amares, Barcelos, Braga, Canicada, Durraes, Esposende, Geraz do Minho,

Guimaraes

, Povoa de Lanhoso, Vila Praia de Ancora,


... see all Portugal Hotels




KEY SECTIONS you may also like:
Discover
Portugal
Portugal
Tours
---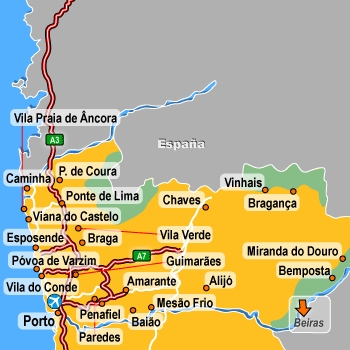 Norte Hotels by Location
---
---
---