HOME • BAHRAIN HOTELS
BAHRAIN HOTELS & ACCOMMODATION
The Kingdom of Bahrain is a Middle Eastern archipelago in the Persian Gulf, tucked into a pocket of the sea flanked by Saudi Arabia and Qatar. It's an oasis of liberalism - or at least western-friendly moderation - among the Muslim countries of the region. It's popular with travelers for its authentic 'Arabness' but without the strict application of Islamic law upon its non-Muslim minority.


BAHRAIN HOTELS: Juffair Hotels, Manama Hotels, Muharraq Hotels, Sakhir Hotels,


BAHRAIN HOTELS & ACCOMMODATION


JUFFAIR Hotels & Accommodation


Juffair is in Manama, Bahrain located in an area that used to be sea, but has been extensivley reclaimed since 1970. It is now home to many hotels and restaurants, flats and villas. In fact, Juffair is built on a massive land reclamation scheme which has extended Bahrain's coastline by two kilometers to the east ...

---

MANAMA Hotels & Accommodation


Manama is the capital city of Bahrain and is the country's largest city with roughly a quarter of the country's entire population. Today, it is a modern capital with an economy based around the sales promotion industry as crude oil takes a less pronounced role in the economy ...

---


MUHARRAQ Hotels & Accommodation


Muharraq (meaning Place of Ashes), is Bahrain's second largest city, and served as its capital until 1923. The city's origins are ancient, going back to the time of Dilmun some five thousand years ago, but it came to prominence when Muharraq was the centre of a pagan cult dedicated to the shark god, Awal ...

---


SAKHIR Hotels & Accommodation


Sakhir is a desert area located in the Kingdom of Bahrain, near Zallaq. In the past few years, it has seen many changes such as the creation of the University of Bahrain main campus, al-Areen Wildlife Park, and Bahrain International Circuit. Many people come to Sakhir for camping ...

---
---
---
---
HOME • BAHRAIN HOTELS
---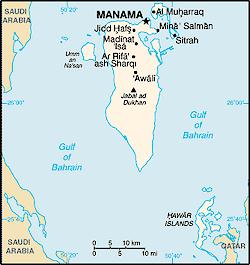 Map of Bahrain
---