Oman Tours, Travel & Activities

The Sultanate of Oman is in the Middle East, on the eastern end of the Arabian Peninsula. It borders the United Arab Emirates, Saudi Arabia, and Yemen. Until the ascension of Sultan Qaboos bin Said in 1970, Oman was a very underdeveloped nation. In the 35 years since that time, education, public works and tourism have taken off throughout the country, although outside of Muscat there are many regions which still remain true to their Bedouin roots.
• Oman Tours & Activities
» Oman Day Trips & Excursions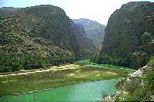 Enjoy a great day out driving through the fascinating Hajar Mountains and the oases of Fanjah and Birkat Al Mauz. In Nizwa you will visit the famous 17th century fort and the souk with its excellent Bedouin jewelry. Continue to Misfah, a village seemingly hewn out of rock. Your next stop will be in the picturesque Al Hamra, one of the last loam villages in Oman … see all
» Oman Outdoor Activities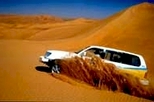 Your 4x4 vehicle will take you through the fascinating Hajar Mountains, and the town of Ibra to Wadi Bani Khalid, one of Oman's most beautiful wadis (dry river bed), famous for its lush green oases, water pools and deep canyons. The tour proceeds to the Wahiba desert for an exciting dune drive and the opportunity to try camel riding. A stop for a picnic lunch will be made en route … see all Outdoor Activities
» Oman Private & Custom Tours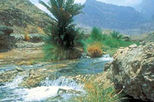 Your private 4x4 tour starts on the road from Muscat to the coastal town of Quriyat, then moves off-road to continue on a mountain track through the Eastern Hajar mountains. After passing through a Wadi bed with lush green palm gardens there is a break at the natural water pools of Wadi Daiqat where a delicious picnic lunch is served. The journey back to your Muscat hotel is via Wadi Al Mih and Yiti … see all Private Tours
» Oman Sightseeing Tours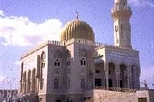 Drive through the beautiful embassy quarter of Muscat en route to Sultan Qaboos Grand Mosque. Visit the mosque, a religious landmark of Muscat and splendor of unique Islamic architecture (Islamic dress code). Next you will drive to Muttrah, a delightful quarter of Muscat. Step into the fish market, stroll along the Corniche to admire the beautiful merchant houses and experience the shopping in the busy souk … see all Sightseeing
» Oman Transfers & Ground Transport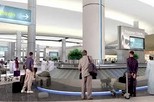 Travel from Muscat International Airport to your Muscat city hotel. Transfer services are available 24 hours a day, 7 days a week. Transfer will drop off to one of the following 3 groups of hotels. Please select the appropriate group at time of booking. When making a booking, you will need to advise your flight details and your Muscat city hotel details. Your transfer will be confirmed instantaneously and you will be provided with a travel voucher to present to the driver.… see all Transfers
» All OMAN Tours, Travel & Activities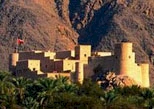 If you would like to view a complete list of all Oman Tours, Travel & Activities, you can search for great things to do by category, location, traveller reviews or price to plan the perfect magical journey.
» Click here for ALL Oman Tours, Travel & Activities