DESTINATION HONG KONG
Hong Kong is frequently described as a place where East meets West, reflecting the culture's mix of the territory's Chinese roots with influences from its time as a British colony. Hong Kong balances a modernised way of life with traditional Chinese practices.
Quick Links

Hong Kong Island

Kowloon

Victoria Peak

Jumbo Kingdom

DISCOVER HONG KONG: Aberdeen, Avenue of Stars, Hong Kong International Airport, Hong Kong Island, Jumbo Kingdom, Kowloon, Ocean Terminal, Peak Tower, Peak Tram, Repulse Bay, Star Ferry, Symphony of Lights, Tian Tan Buddha, Tsim Sha Tsui, Victoria Harbour, Victoria Peak,
DISCOVER HONG KONG: Destinations, Culture & Attractions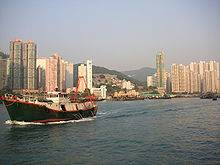 ABERDEEN HARBOUR


Aberdeen is an area on the south shore of Hong Kong Island in Hong Kong. It is part of the Southern District. Aberdeen Harbour is a harbour between Aberdeen and Ap Lei Chau. The name 'Aberdeen' usually covers the areas of Aberdeen, Wong Chuk Hang and Ap Lei Chau, but it is more often used to refer to the town only ...
---

AVENUE OF STARS


The Avenue of Stars, modelled on the Hollywood Walk of Fame, is located along the Victoria Harbour waterfront in Tsim Sha Tsui, Hong Kong. It honours celebrities of the Hong Kong film industry. The Avenue of Stars is the eastern node of several tourist attractions along the Tsim Sha Tsui waterfront. In addition to the promenade and New World Centre ...
---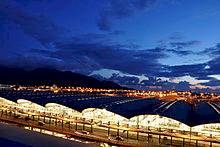 HONG KONG INTERNATIONAL AIRPORT


Hong Kong International Airport is the main airport in Hong Kong. It is colloquially known as Chek Lap Kok Airport, being built on the island of Chek Lap Kok by land reclamation, and also to distinguish it from its predecessor, the closed Kai Tak Airport. The airport opened for commercial operations in 1998, replacing Kai Tak, and is an important regional trans-shipment centre ...
---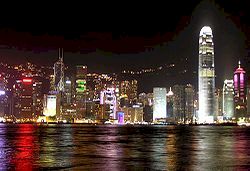 DISCOVER HONG KONG ISLAND


The island is home to many of the most famous sights in Hong Kong, such as The Peak, Ocean Park, many historical sites and various large shopping centres. The mountain ranges across the island are also famous for hiking. The northern part of Hong Kong Island together with Kowloon forms the core urban area. The island is often referred to as 'Hong Kong side' or 'Island side' ...
---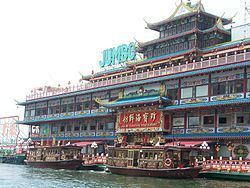 JUMBO KINGDOM


Jumbo Kingdom consists of the Jumbo Floating Restaurant and the adjacent Tai Pak Floating Restaurant, renowned tourist attractions in Aberdeen South Typhoon Shelter, within Hong Kong's Aberdeen Harbour. Over 30 million visitors have visited Jumbo Kingdom, including Queen Elizabeth II, John Wayne, Tom Cruise, Chow Yun-fat and Gong Li ...
---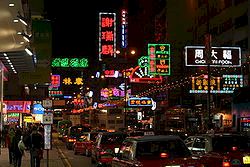 DISCOVER KOWLOON


Kowloon (including New Kowloon) is an area bounded north by a mountain range. Lion Rock in the middle is a peak among the range. Due to Kowloon's close proximity to Kai Tak Airport, building constructions were limited by flight paths. Compared to Hong Kong Island, Kowloon resulted architecturally in much lower skyline ...
---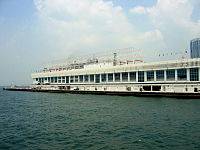 OCEAN TERMINAL


Ocean Terminal is a cruise terminal and shopping centre located on Canton Road in Tsim Sha Tsui, Hong Kong. The location of Ocean Terminal was once a wharf pier on the west shore of Tsim Sha Tsui. Rebuilt and enlarged for use as a cruise terminal, it also served as a multi-story shopping centre ...
---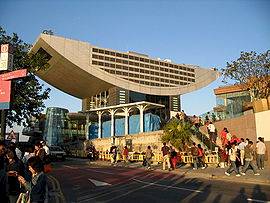 PEAK TOWER


The Peak Tower is a leisure and shopping complex located at Victoria Gap, near the summit of Victoria Peak on Hong Kong Island, Hong Kong. It also houses the upper terminal of the Peak Tram. Both the Peak Tower and the Peak Tram are owned by the Hongkong and Shanghai Hotels group, the owner of Hong Kong's famous Peninsula Hotel along with many other properties...
---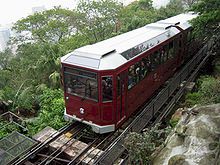 PEAK TRAM


The Peak Tramway is a funicular railway in Hong Kong, which carries both tourists and residents to the upper levels of Hong Kong Island. Running from Central district to Victoria Peak via the Mid-Levels, it provides the most direct route and offers good views over the harbour and skyscrapers of Hong Kong. Owned and operated by the Hongkong and Shanghai Hotels Group ...
---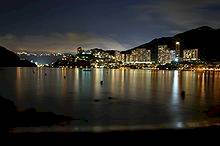 REPULSE BAY


Repulse Bay is an area in the southern part of Hong Kong Island, located in the Southern District, Hong Kong. In 1841, the bay was used as a base by pirates and caused serious concern to foreign merchant ships trading with China. The pirates were subsequently repulsed by the British Fleet; hence the name ...
---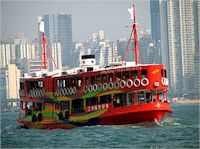 STAR FERRY


The Star Ferry is a passenger ferry service operator in Hong Kong. Its principal routes carry passengers across Victoria Harbour, between Hong Kong Island and Kowloon. It was founded in 1888 as the Kowloon Ferry Company, adopting its present name in 1898. The fleet of twelve ferries carry over 70,000 passengers a day, or 26 million a year ...
---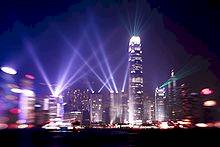 SYMPHONY OF LIGHTS


A Symphony of Lights is a synchronised building exterior decorative light and laser multimedia display, featuring 44 buildings on both sides of the Victoria Harbour of Hong Kong accompanied by music. The technology was developed by Australian firm Laservision and cost approximately 44 million HK dollars. It has attracted over 4 million visitors ...
---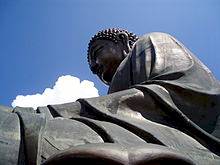 TIAN TAN BUDDHA


The statue is named Tian Tan Buddha because its base is a model of the Altar of Heaven or Earthly Mount of Tian Tan, the Temple of Heaven in Beijing. It is one of the five large Buddha statues in China. The Buddha statue sits on a lotus throne on top of a three-platform altar ...
---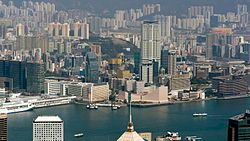 TSIM SHA TSUI


Tsim Sha Tsui, often abbreviated as TST, is an urbanised area in southern Kowloon, Hong Kong. Tsim Sha Tsui is a major tourist hub in metropolitan Hong Kong, with many shops and restaurants that cater to tourists. Many of the museums in the territory are located in the area. Geographically, Tsim Sha Tsui is a cape on the tip of the Kowloon Peninsula ...
---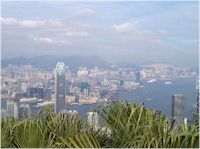 VICTORIA HARBOUR


Victoria Harbour is a natural landform harbour situated between Hong Kong Island and the Kowloon Peninsula in Hong Kong. The harbour's deep, sheltered waters and strategic location on the South China Sea were instrumental in Hong Kong's establishment as a British colony and its subsequent development as a trading centre ...
---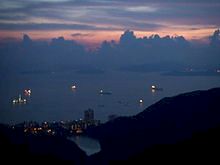 VICTORIA PEAK


Victoria Peak is a mountain in Hong Kong. It is also known as Mount Austin, and locally as The Peak. The mountain is located in the western half of Hong Kong Island. With an altitude of 552 m, it is the highest mountain on the island proper, but not in the entirety of Hong Kong, an honour which belongs to Tai Mo Shan ...
---

HONG KONG HOTELS & ACCOMMODATION

HONG KONG TOURS & TRAVEL
Hong Kong destination information from sources at Wikipedia, the Free Encyclopedia
For photo credits and information, click here or the individual pages.
---
HOME • HONG KONG •

DISCOVER HONG KONG
Looking for something specific?
IN THIS SECTION:
... MAGICAL HONG KONG
DISCOVER HONG KONG
Aberdeen, Avenue of Stars, Hong Kong International Airport, Hong Kong Island, Jumbo Kingdom, Kowloon, Ocean Terminal, Peak Tower, Peak Tram, Repulse Bay, Star Ferry, Symphony of Lights, Tian Tan Buddha, Tsim Sha Tsui, Victoria Harbour, Victoria Peak,


KEY SECTIONS you may also like:
Hong Kong
Hotels
Hong Kong
Tours
---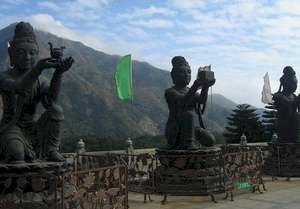 THINGS TO DO IN HONG KONG
---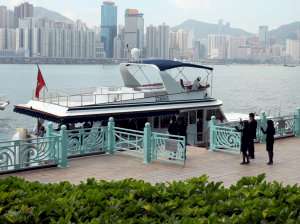 PLACES TO STAY IN HONG KONG
---
---
---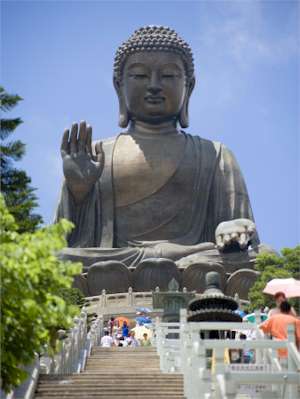 HONG KONG POSTERS & ART PRINTS
---