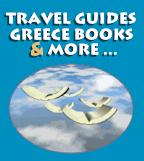 Discover the Beaches of Greece
and the Greek Islands
Discover the fabulous beaches of Greece and the Greek Islands, just one of the many reasons that Greece is one of the most spectacular destinations on the planet. There are volcanic red, black, and white sand beaches, pebble beaches, crystal clear blue Aegean waters and interesting covers to explore. Travel the Greek Islands and visit it's beautiful beaches...



Corfu Beaches
Corfu is famous for having some of the most beautiful beaches in the world. Some are long endless stretches of sand while others are sheltered coves. If you are coming to Greece looking for a secluded beach for a picnic you are not going to find it here, especially in summer..
---

Lesvos Beaches
There are many beaches on the island of Lesvos, of all shapes and sizes. Some are busy with activity and watersports, from jet-skis to windsurfing, while others are deserted, even in the summer. Tour the island and the beaches of Lesvos for a sampling ...

---


Naxos Beaches
Naxos has some of the most beautiful beaches in Greece. The nicest beaches can be found on the west side of the island, protected from the 'meltemi'. Check out Agia Anna and Agia Prokopios, they're only a short distance from the port town and capital Chora ...

---

Paros Beaches
Paros is blessed with some amazing beaches. Though many have become quite popular, there are some that have not. The beaches that are packed with crowds in August, will be almost empty in May-June, September-October and the swimming will be just as good ...

---


Santorini Beaches
The beaches of Santorini show the signs of volcanic activity 3,500 years ago. Santorini has unique beaches with white, red, or black sand. In the summer, the black sand gets so hot that you'll have to have a grass mat .


---

Sifnos Beaches
There are many beautiful beaches in Sifnos. Great swimming, diving, sunbathing and snorkelling all around the island. Most of the beaches have many options for food and hotels. Come tour the beautiful Greek beaches of Sifnos ...

---