Jaipur Tours, Travel & Activities

Jaipur, the capital of Rajasthan, was founded in 1727 and constructed on principles of geometric harmony, making it one of the only planned cities in the world. Colorful bazaars and impressive forts and palaces give the Pink City an allure and a spirit different from any other locale in India.
… click here for JAIPUR DEALS & SPECIAL OFFERS

• Jaipur Tours & Travel
» Jaipur Cultural & Theme Tours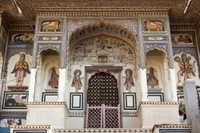 Travel back to the 18th century with a private 2-day tour from Jaipur north to Mandawa, a town dotted with lavish 'havelis,' private Indian mansions of historical and architectural significance. With your expert, friendly English-speaking guide, visit several havelis including the Hanuman Prasad Goenka Haveli and Murmuria Haveli, and discover the opulent artistry of Hindu architecture seen in vast courtyards and intricate, lavish décor …
» see all Jaipur Cultural & Theme Tours
» Jaipur Day Trips & Excursions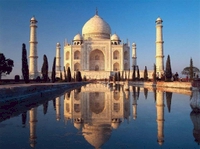 While in Jaipur, don't miss India's undisputed highlights: Taj Mahal and Agra Fort, both UNESCO World Heritage Sites. On this private tour, venture to Agra and tour the Taj Mahal, a majestic architectural wonder built by Mughal Emperor Shah Jahan in memory of his third wife. Enjoy a traditional Indian lunch and then discover ancient Agra Fort, a massive monument resembling a walled city. Your private guide will provide expert commentary …
» see all Jaipur Day Trips & Excursions
» Jaipur Family Friendly Tours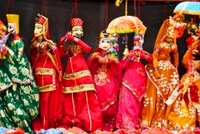 Enjoy a unique and authentic Rajasthani experience with this puppet show and dinner in Jaipur. While dining on traditional Indian cuisine at a local restaurant, you'll be entertained by a show of brightly colored, dancing puppets conveying Indian folklore, legends, culture and royal history. Puppet shows are a popular art form in this region, and a way to keep India's culture alive through visual and musical illustration, so enjoy it with your whole family! …
» see all Jaipur Family Friendly Tours
» Jaipur Multi-Day & Extended Tours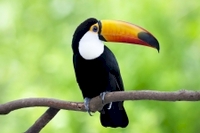 Blend interesting history and beautiful natural scenery on this 2-day private tour from Jaipur to the fortress city of Bharatpur. With your guide, discover India's heritage on a visit to 18th-century Deeg Palace, a luxurious palace that was used as a summer resort for Indian rulers. Then, take a fun rickshaw ride through Keoladeo National Park, a UNESCO World Heritage Site more commonly known as Bharatpur Bird Sanctuary, and spot abundant wildlife …
» see all Jaipur Multi-Day & Extended Tours
» Jaipur Outdoor Activities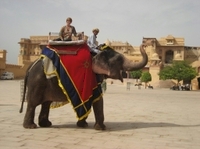 Visit one of India's most renowned architectural gems on this private tour to Jaipur's Amber Fort. Take an exciting elephant ride up to the fort and witness an interesting mix of Hindu and Mughal architecture as you tour several chambers and monuments with your knowledgeable local guide. Catch an amazing view of beautiful Jal Mahal, a palace in the middle of Man Sagar Lake, and enjoy convenient hotel pickup and drop-off …
» see all Jaipur Outdoor Activities
» Jaipur Private Tours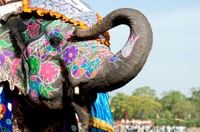 Explore Jaipur's top cultural and architectural attractions on this private sightseeing tour. Marvel at the impressive architectural styles of sprawling palatial complexes like Amber Fort, Hawa Mahal and City Palace. Visit UNESCO World Heritage-listed Jantar Mantar and enjoy a unique cultural experience – riding an elephant! In between sites, indulge in an authentic Indian lunch at a local restaurant. You'll travel in the comfort and ease of a private, air-conditioned vehicle …
» see all Jaipur Private Tours
» Jaipur Shows & Concerts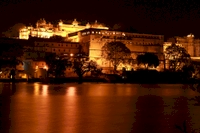 Witness the history of famous Amber Fort (Amer Fort) brought to life during an amazing cultural performance – the Amber Fort Light and Sound Show. From Jaipur, head to nearby Amber Fort to watch a stunning spectacle mixing music, sound, light and folklore narratives to paint the unique story of the 600-year-old royal fort. Learn about the history of the town of Amer, its traditions and the grand lifestyle of the royal family. After the show, enjoy a delectable dinner at a popular restaurant …
» see all Jaipur Shows & Concerts
» Jaipur Sightseeing Tours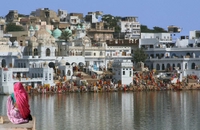 Explore Delhi your own way on a private day tour. You'll travel by private air-conditioned vehicle and enjoy the services of your own local guide. Your guide will assist you to plan your day in Delhi, and your itinerary can be designed to suit your own needs and interests. elhi is packed with must-see cultural, spiritual and historical landmarks …
» see all Jaipur Sightseeing Tours
» Jaipur Transfers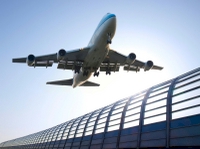 Begin your vacation in Jaipur with ease by pre-booking this private transfer from the Jaipur International Airport to your city hotel or luxury resort in Jaipur. Your friendly and professional driver will greet you upon your arrival and drive you directly to your hotel in the comfort of an air-conditioned vehicle. It's that easy! …
» see all Jaipur Transfers & Ground Transport
• All Jaipur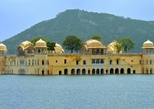 If you would like to view a complete list of all Jaipur Tours, Travel & Activities, you can search for great things to do by category, location, traveller reviews or price to plan the perfect magical journey.
Click here for ALL Jaipur Tours, Travel & Activities