« CARIBBEAN • Tours & Travel • Puerto Rico
Puerto Rico Tours, Travel & Activities
Puerto Rico is where four centuries of Spanish Caribbean culture comes face to face with the American convenience store. This leads to some strange juxtapositions - parking lots and plazas, freeways and fountains, skyscrapers and shanties - but it's all apiece with the Caribbean's hybrid history. US and Canadian citizens do not require visas or passports but must have valid ID.
» Puerto Rico Air Tours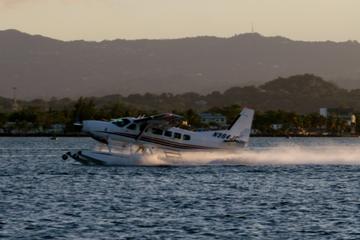 Behold the majestic beauty of a San Juan sunset on this 25-minute seaplane flight! Soar 500 feet (152 meters) above the city and watch the skyline light up as you chase the setting sun. Experience the thrill of a water take-off and landing aboard a 9-passenger plane. You'll listen to your professional pilot narrate your scenic flight over Old San Juan while marveling at the city skyline. With a Champagne glass in hand, just relax and admire the tropical colors of Puerto Rico! …
» see all Puerto Rico Air Tours
» Puerto Rico Cruises & Water Tours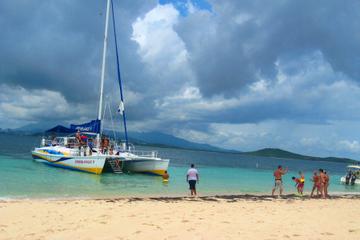 Relax and unwind on a leisurely catamaran sail to Icacos, a deserted island paradise off the coast of San Juan, with miles of white sand beaches and crystal clear water! Here you can search the island, collect shells, sunbathe, wade or swim offshore and view the underwater wonders of a living coral reef. Your picnic lunch and complimentary pina colada is served on board by the crew - what more could you ask for! …
» see all Puerto Rico Cruises & Water Tours
» Puerto Rico Cultural Tours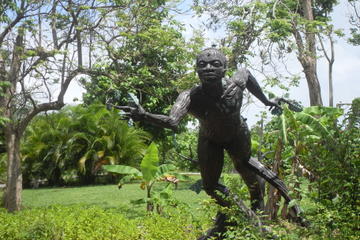 If you're interested in learning about Puerto Rico's cultural history, this day trip to the city of Caguas will delight you! Just 20 miles (32 km) south of San Juan, Caguas is home to two unique cultural activities that you'll experience with a guide. At the Caguas Botanical and Cultural Garden, learn about Puerto Rican industry and indigenous culture with a walking tour of a sugar mill and an exhibit on the Taino people. Then walk the Route of the Creole Heart in the center of town to see several historical landmarks …
» see all Puerto Rico Cultural Tours
» Puerto Rico Day Trips & Excursions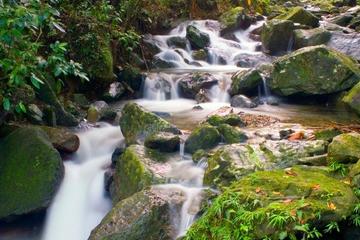 Sit back and relax on this leisurely half-day trip to the El Yunque rainforest. You'll discover an amazing world of nature trails, waterfalls, scenic views and the sub-tropical rainforest habitat of Puerto Rico's endangered wildlife. This half-day tour takes you to a place held sacred by the Puerto Rican locals. According to ancient Indian legend, the good spirit Yuquiyu reigned at El Yunque on his mighty mountain-top throne, protecting Puerto Rico and its people …
» see all Puerto Rico Day Trips & Excursions
» Puerto Rico Food, Wine & Nightlife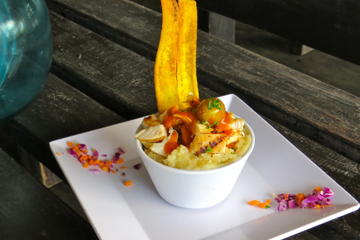 Find out where the locals go to eat on this 3-hour food tour led by an epicurean guide. Try scrumptious food like crispy fritters with a local rum-based cocktail by the beach in Piñones, or discover fusion-food delights in the revitalized Calle Loíza. Wrap up with a walking tour of Old San Juan, with breaks for coffee and dessert along the way. You'll learn about Puerto Rico's history, culture and cuisine on this small-group tour, capped at 12 for a more personalized experience …
» see all Puerto Rico Food, Wine & Nightlife
» Puerto Rico Multi-Day & Extended Tours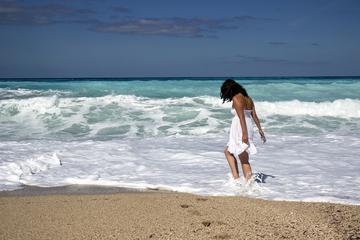 Relaxercise is a 4-day weekend retreat combining Pilates, Tai Chi, Yoga, Progressive Relaxation, breathing and visualization. During this retreat you will learn how to become physically and mentally balanced and how to recognize and eliminate stress symptoms. You will also receive prevention tools to take home. Spend 7-days, 6-nights learning to surf in one of the world's best surf locations, Puerto Rico! All levels are welcome and the best season to visit is April-October …
» see all Puerto Rico Multi-Day & Extended Tours
» Puerto Rico Outdoor Activities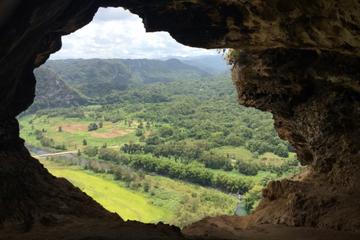 Cueva Ventana or "The Window Cave" is a large cave situated atop a limestone cliff in Arecibo, Puerto Rico, overlooking the magnificent Río Grande de Arecibo valley. From the Window Cave, is a breathtaking view. On this tour you'll take a 45-minute walk with a guide to experience this natural beauty! After visiting Cueva Ventana the second stop is at The Indian Cave, a coral surface cave of rocky limestone carved out through the pounding of the sea over time …
» see all Puerto Rico Outdoor Activities
» Puerto Rico Sightseeing Tours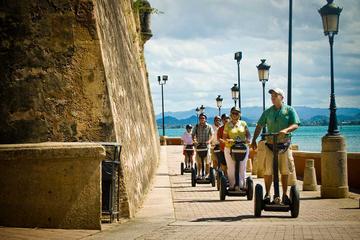 Glide through Old San Juan's 500 years of history on this 2-hour tour by Segway. Known as 'The Walled City,' Old San Juan was founded as a military stronghold and remains the oldest city under the American flag. On this small-group tour limited to 10 riders, zoom around effortlessly and see more than 25 attractions, learning from an informative guide about the city's role during the Spanish empire, World War II and as a US territory. Capture stunning views of San Juan Bay, Castillo San Felipe Morro and San Cristobal Fort …
» see all Puerto Rico Sightseeing Tours
» Puerto Rico Tickets & Passes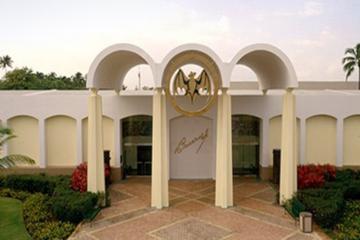 A fan of Bacardi spirits? Then don't pass up a chance to visit Casa Bacardi, known as the Cathedral of Rum. Kick back a cocktail before hopping aboard a trolley through the distillery's museum, and soak up insight into the world's largest privately held, family-owned spirits company. Next, cross a bridge into Old San Juan and learn about this National Historic Preservation site. Visit San Cristobal Fort and take in panoramas of San Juan Bay and El Morro Fort. This half-day tour by minivan comes with transport from selected hotels …
» see all Puerto Rico Tickets & Passes
» Puerto Rico Transfers & Ground Transport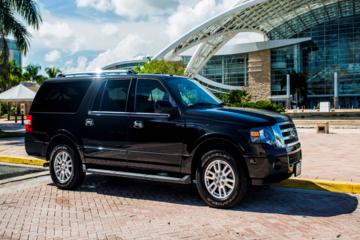 When you land at Luis Muñoz Marín International Airport, bypass the long taxi lines and travel to your San Juan-area hotel in a comfortable private vehicle. This hassle-free transfer also includes the trip back to the airport at the end of your stay. It's a relaxing way to begin and end your vacation in Puerto Rico. Enjoy pickup and drop-off from your hotel in the San Juan metro area, which includes Isla Verde, Condado, Miramar and Old San Juan …
» see all Puerto Rico Transfers & Ground Transport
» Puerto Rico Walking & Bike Tours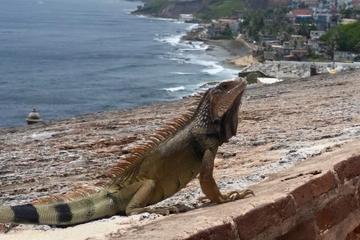 Experience San Juan the best possible way...through a private tour. Focus on what you are most excited about. Learn about the history and the untold secrets of this wonderful place and get to know the forts, churches, plazas, cafes, museums, and local flora/fauna. It's not like a college lecture. . . is more like hanging out with a knowledgeable local person. Feel like a local and walk at your own pace, taking breaks when you want. Have a wonderful day in San Juan, Puerto Rico! …
» see all Puerto Rico Walking & Bike Tours
» Puerto Rico Water Sports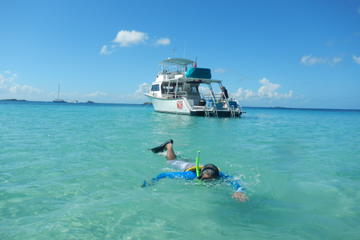 Come enjoy the beautiful island of Culebra in Puerto Rico.The SS Tobias will take you on a unforgettable journey from Fajardo. During this full-day tour, enjoy two stops; Luis Peña Cay (Nature Reserve) and Flamenco Beach. Lunch and unlimited drinks are included on this tour. Spend time soaking up the sun at th3 beautiful white sand beach of Flamenco Island or swim in in the crystal clear water. During this portion of the trip you will be able to enjoy complementary Piña Coladas, Rum Punch and Rum Cola …
» see all Puerto Rico Water Sports
• All Puerto Rico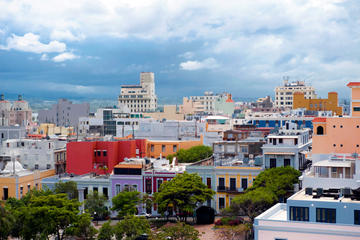 If you would like to view a complete list of all Puerto Rico Tours, Travel & Activities, you can search for great things to do by category, location, traveller reviews or price to plan the perfect magical journey.
Click here for ALL Puerto Rico Tours, Travel & Activities
« CARIBBEAN • Tours & Travel • Puerto Rico