HOME • ECUADOR TOURS & TRAVEL
ECUADOR TOURS, TRAVEL & ACTIVITIES
Ecuador has so many attractions. The capital Quito, is a city with a lot of history where you can walk in downtown, enjoying of the beautiful colonial buildings. There is also the "Teleferico" which takes passengers from the highest mountain in Quito to see the whole city from the sky.

ECUADOR TOURS & TRAVEL: Cuenca Tours, Guayaquil Tours, Quito Tours,






ECUADOR TOURS, TRAVEL & ACTIVITIES


QUITO Tours, Travel & Activities
When it comes to setting, Quito has it made. Tucked amid a high Andean valley, Quito is flanked by majestic mountains, and on a clear day, several snowcapped volcanoes are visible in the distance. Despite the fact that it's only 22km south of the equator, Quito's elevation gives it a wonderful springlike climate year-round ...
---

CUENCA Tours, Travel & Activities
Most tourists to Cuenca visit the historic area, which is a UNESCO World Heritage Site, between the river Tomebamba and the street Gran Colombia to the north, General Torres to the west, and Hermano Miguel to the east. This area's compactness and numerous readily identifiable monuments make it easy to navigate ...
---


GUAYAQUIL Tours, Travel & Activities
Guayaquil is a sea port, and its personality derives much from that fact. Also, the climate is very hot. These two factors give the city a 'Caribbean' soul, where foreigners are usually well received, tropical music rules and seafood is a must do ...
---
---
---
---
HOME • ECUADOR TOURS & TRAVEL


Looking for something specific?
---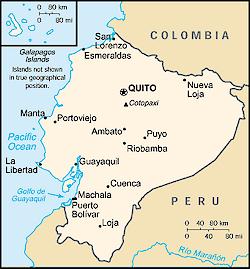 Map of Ecuador
---