RUSSIA | TOURS, TRAVEL & ACTIVITIES | Moscow
Moscow Tours, Travel & Activities

Moscow may trace its history back to the 12th century, but today it is a modern, sprawling capital that could rival New York as a city that never sleeps. Visitors will enjoy Moscow as much for its fine dining and lively nightlife as they do its world class museums and historical sites. All roads in Moscow seem to lead to the Kremlin and Red Square, which for centuries have stood at the heart of the city.
• Moscow Tours & Activities
» Moscow Cultural & Theme Tours
Gain insight into Russian history on a half-day tour, combining Moscow's metro with Kolomenskoye Estate. Discover the magnificent, marble-walled interiors of Moscow's underground metro stations before embarking on a walking tour of either UNESCO World Heritage Site. See Kolomenskoye, a stunning royal estate including Ascension Church. Enjoy personal attention from your guide on this small-group tour, limited to 20 people …
» see all Moscow Cultural & Theme
» Moscow Day Trips & Excursions
Visit Sergiev Posad and the walled fortress of Troitse-Sergiev Monastery, one of Russia's most beautiful, where pilgrims have journeyed since the 14th century. Travel by coach with an informative guide and explore the historical center of the Russian Orthodox Church on foot. Inside the massive walls, you'll gaze in awe at the breath-taking beauty of your surroundings, including the blue-and-gold onion-top domes of the famous Cathedral of the Assumption …
» see all Moscow Day Trips & Excursions
» Moscow Food, Wine & Nightlife Tours
Learn how to cook Russian food in a private 3-hour cooking class in Moscow. You'll hear about the country's rich culinary history from your teacher, a professional chef, as you prepare a 3-course meal. Discover the secrets to making classic Russian dishes such as borsch, beetroot salad and beef stroganoff, then sit down to the meal you have created with a glass of wine or mors (cranberry compote)! …
» see all Moscow Food, Drink & Nightlife Tours
» Multi-Day & Extended Tours from Moscow
Explore Russia's Golden Ring on a 4-day tour of the region from Moscow! Visiting seven of the old fortified Golden Ring towns, this exciting experience combines sightseeing tours with plenty of free time. See onion-domed cathedrals, whitewashed city walls and pretty wooden architecture, as well as UNESCO-listed sites like Trinity Lavra Monastery of St Sergius in Sergiev Posad. Enjoy overnight accommodation in Vladimir, Kostroma and Rostov-Veliky, and embrace the time-honored allure of the Golden Ring …
» see all Multi-Day & Extended Tours from Moscow
» Moscow Private & Custom Tours
Take a tour of one of the world's largest open-air aviation museums - the Central Air Force Museum in Monino - on a full-day trip from Moscow! Situated on an air field, the vast site is home to more than 170 different types of aircraft, as well as Cold War-era artifacts like spy equipment, uniforms and weapons. See the best bits on a tour led by a former military pilot, pose for photos next to the most impressive planes, and then spend time at leisure in the museum before returning to Moscow …
» see all Moscow Private & Custom Tours
» Moscow Shows & Concerts
Discover the Bolshoi Theater in Moscow, one of the most famous theaters in the world! You'll see its architectural highlights, including the ornately decorated interiors where top-notch ballet and opera performances have been featured for over 250 years. You'll also learn the dramatic history of this national treasure from your professional guide on this 2-hour private tour …
» see all Moscow Shows & Concerts
» Moscow Sightseeing Tours
See Moscow's top attractions in the comfort of private car or minivan! On a 4-hour tour, drive through Moscow's beautiful streets and famous squares, seeing landmarks such as Lenin's Mausoleum and a monument to Peter the Great, as you hear commentary from your knowledgeable guide. You'll see ancient cathedrals and convents, travel to Victory Park on the Poklonnaya Hill and enjoy a gorgeous panoramic view from Sparrow Hills, with time to get out and take photos of all the best sights! …
» see all Moscow Sightseeing Tours
» Moscow Walking & Bike Tours
Experience the highlights of Moscow on a private 6-hour walking tour, perfect for travelers who don't have much time to explore the city on their own. See top landmarks such as St Basil's Cathedral, the Bolshoi Theater, the former KGB headquarters and more! You'll pass all the important museums and monuments, and tour the Kremlin with your guide …
» see all Moscow Walking & Bike Tours
• All Moscow Tours
» All MOSCOW Tours, Travel & Activities
If you would like to view a complete list of all Moscow Tours, Travel & Activities, you can search for great things to do by category, location, traveller reviews or price to plan the perfect magical journey.
» Click here for ALL Moscow Tours, Travel & Activities
• More Resources for Moscow
» Moscow Tours & Activities with Isango!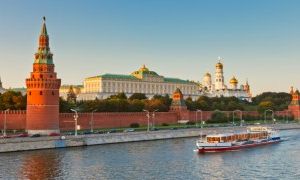 Isango! a the leading provider of destination experiences and experience-driven holidays - historic tours, sightseeing trips, romantic activities, family holidays, activity holidays, theme park visits, guided historical attractions and much more. 5000+ things to do in more than 60 countries …
» Moscow Tours & Activities with Isango!
RUSSIA | TOURS, TRAVEL & ACTIVITIES | Moscow