« Home • Asia & Pacific • VIETNAM • Tours & Travel • Hanoi
Hanoi Tours, Travel & Activities
Hanoi has shaken off its hostile attitude to travelers to become one of the most beguiling cities in Southeast Asia. It's slow-paced and pleasant, with a lovely landscape of lakes, shaded boulevards, verdant public parks and French-colonial architecture.
» Hanoi Air Tours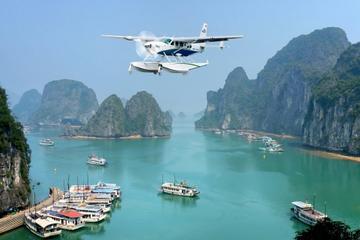 Soar from Hanoi to Halong Bay on a seaplane, and board a beautifully restored traditional wooden junk for a 2-day cruise around the UNESCO World Heritage site. Fly on a 12-seat, fixed-wing aircraft and splash into the emerald waters dotted with 2,000 spectacular limestone karsts. You'll explore islets and hidden lagoons along with the Cave of Surprises, with ample time to swim, snorkel and kayak with informative guides. Full meals are served in the boat's dining room, and deluxe cabins feature private bathrooms and prime window views …
… see all Hanoi Air & Helicopter Tours
» Hanoi Cruises, Sailing & Water Tours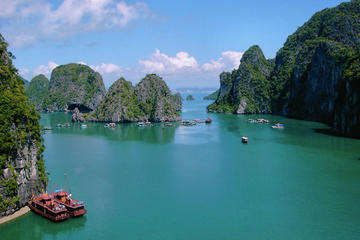 Discover the striking beauty of World Heritage-listed Halong Bay on this Halong Bay small group adventure tour from Hanoi. Drive through the rural villages of northern Vietnam, board a private Chinese junk and set sail through turquoise waters dotted with over 2,000 magnificent limestone islands. Explore the many karsts and enjoy a seafood buffet while taking in the bay's mystical scenery. The cruise explores some of the grottos and caves that have formed in many of the islands that fill Halong Bay …
… see all Hanoi Cruises, Sailing & Water Tours
» Hanoi Cultural & Theme Tours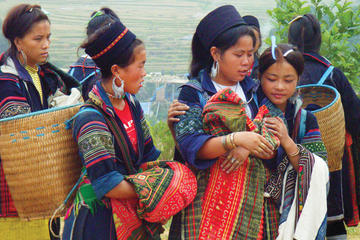 Experience life in the mountainous north of Vietnam on a trekking adventure round-trip from Hanoi. Travel by sleeper train to Sapa, and take a moderate two-day guided trek with an overnight stay in a hill tribe village, a great way to learn about Vietnam's traditional cultures! Walk through the gorgeous countryside of rice terraces and brilliant green mountains, and meet people from various ethnic hill tribes along the way. Spend time in Sapa and enjoy the markets and stunning landscapes around this small northern city …
… see all Hanoi Cultural & Theme Tours
» Hanoi Day Trips & Excursions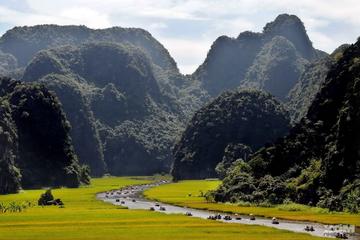 Spend the day exploring an area of outstanding natural beauty and historical significance. On this trip to northern Ninh Binh province, see the tombs and ruins of Hoa Lu, a former ancient capital. Then head to Tam Coc, a river landscape dotted with caves, pagodas and jagged limestone formations. This area is often referred to as "Halong Bay on land". Board a small boat and meander lazily down the river to the ancient caves. See limestone karsts jetting skywards out of electric green rice paddies - you won't be able to stop taking photos! …
… see all Hanoi Day Trips & Excursions
» Hanoi Food, Wine & Nightlife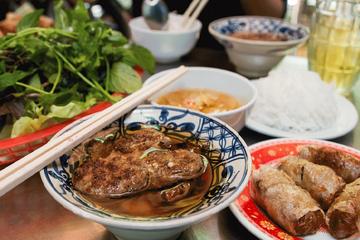 Vietnam's rich history and natural resources have led to the diversity of its cuisine. Many international travelers we meet who visit Vietnam often tell us that eating street food gives them a more realistic experience than dining in restaurants. That's why after formal parties, they prefer to walk along the streets to find food at small stands. Luckily for them Hanoi is the one of the best cities for finding street food. While walking around the Hanoi Old Quarter, we will stop at a myriad of restaurants and food stalls to sample Vietnamese foods and drinks …
… see all Hanoi Food, Wine & Nightlife
» Hanoi Multi-Day & Extended Tours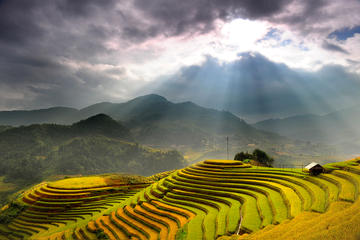 Sapa and Halong are 2 must see in northern Vietnam. Over 6 days, this group tour gives tourists a chance to explore the best of them with long lasting memories for sure. Highlights of the trip is the trekking tour in Sapa with homestay experience and a relaxing cruise in Halong Bay to discover the stunning caves, islands and islets. The western and southwestern regions of Hanoi cover a vast area. It is highlighted with marvelous green or yellow rice paddy on each season. The landscape & sceneries are created by farming terraces and limestone cliffs …
… see all Hanoi Multi-Day & Extended Tours
» Hanoi Outdoor Activities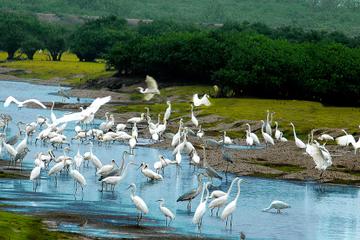 Cuc Phuong National Park is the first recognized and most well protected National Park in Vietnam, while Xuan thuy is famous for its bio-diversity with its tropical jungles and mangrove forests. What can be better for nature discoverers than a combination trip to Xuan Thuy and Cuc Phuong National Park? This trip is not only a getaway from the hustle and bustle of city life, but a perfect exploration of tropical jungles combining trekking, sightseeing and boating …
… see all Hanoi Outdoor Activities
» Hanoi Private & Custom Tours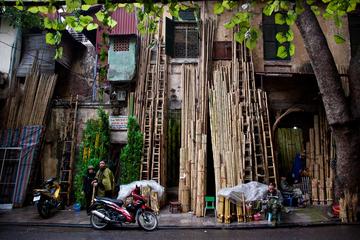 Exploring Hanoi within a full day is a great way to learn about Vietnam's mythology, traditions and current customs by visits to Hanoi's cultural and historical sites. You will also have the chance to enjoy traditional shows from this area of Vietnam. Experience Vietnam's natural beauty on this full-day private tour from Hanoi to Ninh Binh, a province south of Hanoi, near the coast. With a private guide, journey down peaceful waterways, through caves, past ride paddies and along towering limestone cliffs will leave you with an abundance of appreciation for northern Vietnam's scenery …
… see all Hanoi Private & Custom Tours
» Hanoi Shows & Entertainment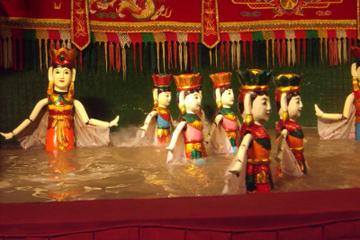 Go to Hanoi, and take a leisurely evening tour around the city's French Quarter on a cyclo. Get to see all the highlights of the Old Quarter, including Hanoi Opera House and the Sofitel Legend Metropole Hanoi Hotel. We'll proceed to Hanoi Opera House in the French Quarter, located in central Hanoi, and erected by the French colonial administration between 1901 and 1911. Just a few steps away is the legendary Sofitel Legend Metropole Hanoi Hotel, a Grand Dame of Southeast Asia, beckoning guests with her unmatched colonial grandeur and timeless elegance …
… see all Hanoi Shows & Entertainment
» Hanoi Sightseeing Tours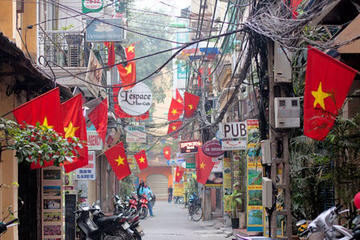 Imagine a city where the exotic chic of old Asia blends with the dynamic face of new Asia. Where the medieval and modern co-exist. A city with a blend of Parisian grace and Asian pace, an architectural museum piece evolving in harmony with its history, rather than bulldozing through like many of the region's capitals. Welcome to Hanoi with 1.000 year history, 'the city of lakes' with over 60 green and legendary lakes connecting 5 main rivers, 'the city of museums' with 45 museums displaying aspects of old and modern Hanoi, 'the city of Peace' awarded by UNESCO since 1999 …
… see all Hanoi Sightseeing Tours
» Hanoi Transfers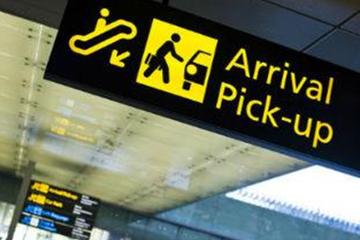 Skip the hassle at the airport - book now your Hanoi airport transfer to Hanoi city center before you go! The driver is waiting you with your name on our signboard. All private cars, mini van & buses are air-conditioned. Take the easy way - book this efficient transfer service online now! Skip the hassle when getting to the airport, book an airport transfer from Hanoi City. Our driver will pick you up from your accommodation …
» Hanoi Walking & Biking Tours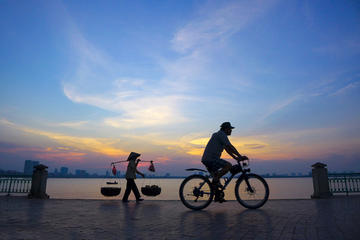 Street-food and Easy-cycle, why not ? Join our excursion to find out another image of Hanoi apart from narrow streets, horny motors and touristic Old Quarter. Hanoi is a green city of 60 lakes and West Lake is the largest one. Just 2km from Hanoi Old quarter, it's indeed another world! In 3 hours, you will be cycling around the lake with many photo stops at Lotus ponds, Tran Quoc Pagoda and Temple of Mother Goddess. See the contrast picture when skyscrapers and world class resorts standing next to the ancient pagodas and temples. Sit down in some lakeside stalls …
… see all Hanoi Walking & Biking Tours
» Hanoi Water Sports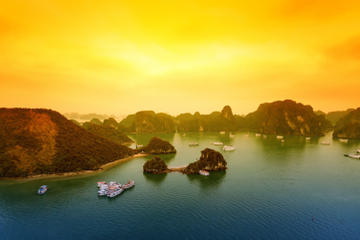 Take in the sights of UNESCO World Heritage-listed Halong Bay on a 2-day luxury cruise aboard a traditional junk. Swim in the bay's emerald-green waters and kayak around its limestone karsts such as Cave of Surprises and Drum Cave, or just relax on board with a friendly and professional crew. You'll see plenty of natural wonders from the boat and visit a few island villages for a glimpse of local life. Enjoy a cooking class, a tai chi lesson, films and several seafood meals on board, including deluxe accommodations in ensuite cabins …
• All Hanoi Tours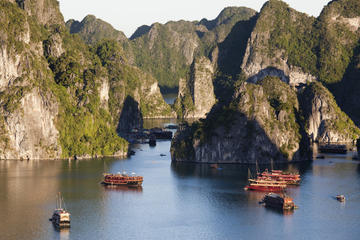 If you would like to view a complete list of all Hanoi Tours, Travel & Activities, you can search for great things to do by category, location, traveller reviews or price to plan the perfect magical journey.
Click here for ALL Hanoi Tours, Travel & Activities

« Home • Asia & Pacific • VIETNAM • Tours & Travel • Hanoi