HOME • CARIBBEAN • CARIBBEAN TOURS & TRAVEL • St. Thomas Tours, U.S. Virgin Islands
ST. THOMAS TOURS & TRAVEL
Saint Thomas is an island in the Caribbean Sea and a constituent of the United States Virgin Islands (USVI). Located on the island is the territorial capital and port of Charlotte Amalie. In 1917 St. Thomas was purchased (along with Saint John and Saint Croix) by the United States for $25 million, as part of a defensive strategy to maintain control over the Caribbean and the Panama Canal during the First World War.

ST. THOMAS TOURS & TRAVEL: St. Thomas Activity Tours, Sight-Seeing and Cruises,
St. Thomas Transfers,






ST. THOMAS ACTIVITY TOURS, Travel to the U.S. Virgin Islands
St. John and Snorkeling at Trunk Bay
8 hours - Enter a world of unsurpassed pristine beauty! Experience Cruz Bay, the capitol of St. John, where over half the island is National Park. At Trunk Bay swim and snorkel at the world famous underwater trail. Maybe you will discover its secrets... Book now to have a wonderful day out in the natural surrounds of St. John ...
---
Atlantis Submarine Expedition
2 hours - Discover the undiscovered St. Thomas onboard the Atlantis Submarine! Explore beautiful sea gardens and coral reefs to depths up to 80 feet, all in air-conditioned comfort. Marvel at the abundant varieties of sea life and perhaps encounter a turtle, stingray or even a shark or two! ...
---
ST. THOMAS SIGHT-SEEING TOURS, Travel to the U.S. Virgin Islands
St John Champagne Catamaran Sail and Snorkel
4 hours - Experience the beauty and laid back rhythm of the Virgin Islands on this exclusive half-day sail from St. Thomas to the enchanted island of St. John. Enjoy the thrill and excitement of sailing the Caribbean before swimming, snorkeling and relaxing on one of St. John's picture perfect palm fringed beaches ...
---
St Thomas Full Day Snorkel Sail
6 1/2 hours - Sail away on a tropical journey to St John and the Virgin Islands National Park where you can delve into the crystal clear seas and snorkel among the colorful marine life. Relax over lunch and soak up the blue skies, dazzling scenery and salty breezes. Paradise awaits ...
---
St. Thomas Island Tour and Shopping
5 hours - St. Thomas - an island famous for beautiful views and vistas. Visit breathtaking Magens Bay, St. John and the on-going chain of British Virgin Islands while sipping on a banana daiquiri at Mt. Top, the highest point on St. Thomas. Book now to enjoy your day in the Caribbean in these luxurious, natural surroundings ...
---
Sunset Catamaran and Beach Barbecue
3 hours - Explore the Caribbean aboard the spectacular Atlantis Adventurer catamaran. This relaxing 3-hour sail combines all the attributes of a relaxing Caribbean vacation where you swim, sail and BBQ your way through an enjoyable afternoon! ...


---
ST. THOMAS TRANSFERS, Travel to the U.S. Virgin Islands
St. Thomas Airport Arrival Transfer
30 to 45 minutes - Professional, competent and reliable. From the moment you arrive, this service will provide a comfortable and efficient transfer from St. Thomas Airport to your desired destination. Simple and easy, just select your Zone location, make the booking and the rest is taken care of for you ...
---
St. Thomas Airport Departure Transfer
30 to 45 minutes - Don't get caught up with taxis or public transport. Plan your trip ahead of time, and book and pay for your airport transfer right here. A Tropic Tours staff member will be there to assist. Arrive at the airport on time, relaxed and with money in your pocket! ...
---

HOTELS AND RESORTS IN THE CARIBBEAN
---
---
HOME • CARIBBEAN • CARIBBEAN TOURS & TRAVEL • St. Thomas Tours, U.S. Virgin Islands

SEE ALSO FOR THE CARIBBEAN:

• PLACES TO STAY: ALL HOTELS,
Bahamas Hotels, Barbados Hotels, Cuba Hotels, Dominican Republic Hotels, Puerto Rico Hotels, St. Lucia Hotels,

• TOURS & TRAVEL: ALL TOURS,
Antigua Tours, Aruba Tours, Bahamas Tours, Barbados Tours, Cayman Islands Tours, Dominican Republic Tours, Jamaica Tours, St. Lucia Tours, St. Maarten, St. Thomas Tours,
---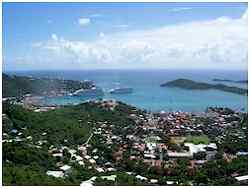 Charlotte Amalie, capital of St. Thomas
---
PRE-COLONIAL HISTORY OF ST. THOMAS:

The island of St. Thomas was originally settled around 1500 BC by the Ciboney people. They were later replaced by the Arawaks and then the Caribs. Christopher Columbus sighted the island in 1493 on his second voyage to the "New World".

The Caribs seem not to have survived the first decades of contact with Europeans, either due to disease or deportation and extermination. Pirates likely made use of the island as an occasional base in the next 150 years.


---