HOME • CZECH REPUBLIC • DISCOVER • PRAGUE • ATTRACTIONS OF PRAGUE
ATTRACTIONS OF PRAGUE
Prague suffered considerably less damage during World War II than some other major cities in the region, allowing most of its historic architecture to stay true to form. It contains one of the world's most pristine and varied collections of architecture, from Art Nouveau to Baroque, Renaissance, Cubist, Gothic, Neo-Classical and ultra-modern.


ATTRACTIONS OF PRAGUE:

Astronomical Clock, Charles Bridge, Dancing House, Lennon Wall, Pisek Gate, Prague Castle, Prague Metronome,


Quick Links

Prague Castle
Charles Bridge
Astronomical Clock
Dancing House
DISCOVER PRAGUE: Attractions of Prague


ASTRONOMICAL CLOCK


The Prague Astronomical Clock or Prague Orloj is a medieval astronomical clock. The Orloj is mounted on the southern wall of Old Town City Hall in the Old Town Square and is a popular tourist attraction. The Orloj is composed of three main components: the astronomical dial, representing the position of the Sun and Moon ...
---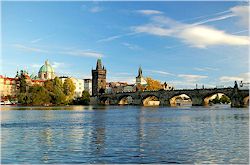 CHARLES BRIDGE


The Charles Bridge is a famous historical bridge that crosses the Vltava river in Prague. Its construction started in 1357 under the auspices of King Charles IV, and finished in the beginning of the 15th century. The Charles Bridge was the most important connection between the Old Town, Prague Castle ...
---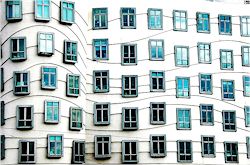 DANCING HOUSE


The Dancing House is the nickname given to the Nationale-Nederlanden building in downtown Prague. It was designed by Croatian-Czech architect Vlado Milunic' in co-operation with Canadian architect Frank Gehry on a vacant riverfront plot (where the previous building had been destroyed during the bombinb in 1945) ...
---


LENNON WALL


The Lennon Wall is a wall in Prague, Czech Republic. Once a normal wall, since the 1980s it has been filled with John Lennon-inspired graffiti and pieces of lyrics from Beatles songs. In 1988, the wall was a source of irritation for the then communist regime of Gustav Husak ...
---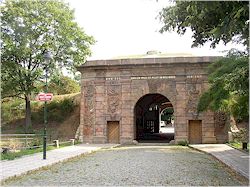 PISEK GATE


Pisek Gate is a former city gate of Baroque fortification of Prague, Czech Republic. Once belonging to fortification section called Marian Walls it is located in K Brusce Street at Hradcany neighbourhood, not far from Hradcanska metro station. Anther sights in vicinity include Royal Summer Palace or Villa Bilek ...
---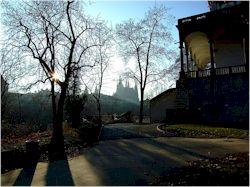 PRAGUE CASTLE


Prague Castle is a castle in Prague where the Kings of Bohemia, Holy Roman Emperors and presidents of Czechoslovakia and the Czech Republic have had their offices. The Bohemian Crown Jewels are kept here. Prague Castle is one of the biggest castles in the world at about 570 meters in length ...
---


PRAGUE METRONOME


The Metronome is a giant, functional metronome located overlooking the Vltava River and the city center of Prague. It was erected in 1991, and stands on the plinth left vacant by the destruction of an enormous monument to former Soviet leader Joseph Stalin (the monument was destroyed in 1962) ...
---
Prague destination information from sources at Wikipedia, the Free Encyclopedia
For photo credits and information, please click here or the individual pages.

PRAGUE HOTELS & ACCOMMODATION

PRAGUE TOURS, TRAVEL & ACTIVITIES
---
---
HOME • CZECH REPUBLIC • DISCOVER • PRAGUE • ATTRACTIONS OF PRAGUE
Looking for something specific?
---
---
---