« home • asia • JAPAN • Tours & Travel • Okinawa
Okinawa Tours, Travel & Activities
Okinawans will proudly tell you that residents here live some of the longest lives on earth. And while scientists attribute this longevity to meals rich in fresh fruits, vegetables, fish and rice, travelers know that a good long life takes more than a healthy diet.
» Okinawa Cultural Tours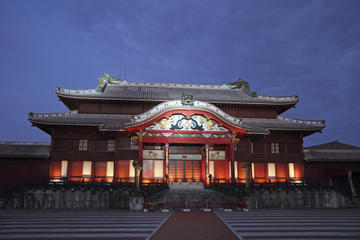 This full-day coach tour from Naha delivers you to Okinawa highlights such as Shurijo Castle, a UNESCO World Heritage site. Board your comfortable vehicle and slip on the provided audio guide for English commentary to accompany each stop. Spend time at Shurijo Castle Park and Okinawa World, where you can experience Okinawa's history and culture, including remnants of the Ryukyu Kingdom. You'll also visit monuments to the Battle of Okinawa for a more sobering historical perspective …
» Okinawa Day Trips & Excursions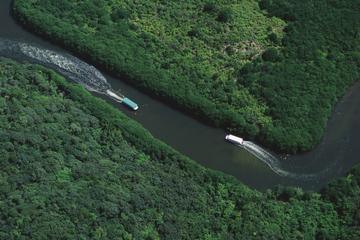 Visit three Okinawa islands in one day - Iriomote, Yubu and Kohama - with the option of upgrading your tour to include Taketomi Island. Embark on a river cruise through the mangrove forests of Iriomote, take a water buffalo cart ride on Yubu as you're regaled with Okinawan folk music and tour the sights of Kohama by bus. If you choose to ride the ferry to Taketomi, you'll pass traditional buildings with red tile roofs and make a stop at Star Sand Beach before returning to Ishigaki …
» all Okinawa Day Trips & Excursions
» Okinawa Outdoor Activities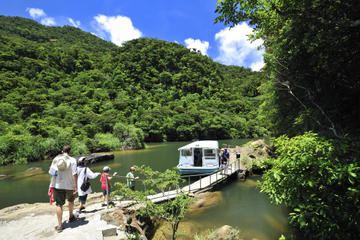 Explore the vast jungles, waterfalls and mangroves of Iriomote Island (Iriomote-jima) on this full-day adventure from Ishigaki. Cruise along the Urauchi River - Okinawa's longest river - and hike to Maryudo Falls and Kanpire Falls, followed by an easy 2-hour kayak tour highlighting the regional flora and fauna. Lunch and round-trip ferry transport from Ishigaki are included. Numbers are limited to 10 people to ensure quality attention from an experienced guide …
» all Okinawa Outdoor Activities
» Okinawa Sightseeing Tours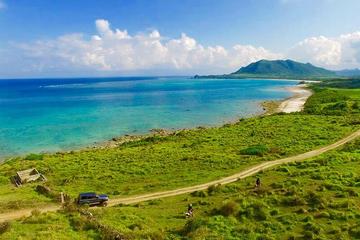 Join us for an exciting guided off-road motorbike tour in some of the most amazing locations of Ishigaki Island! The Yaeyama Islands are the remotest part of Japan from the main islands in Okinawa, and contains Japan's most southern and most western inhabited islands. Ishigaki is located west of Okinawa and the second-largest island of the Yaeyama Island group. The city serves as the political, cultural, and economic head of the Yaeyama Islands. Ishigaki offers true diversity, a sub-tropical climate, numerous breath-taking views, lots of crystal-clear rivers, mangroves, mountains and fabulous white sandy beaches …
» all Okinawa Sightseeing Tours
» Okinawa Transfers & Ground Transport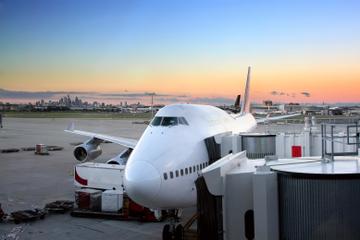 Travel from Naha Airport to your Naha-area hotel with a private transfer. You won't need to worry about arranging transportation upon arrival because you can prebook now and rest assured everything is confirmed before you leave home. Transfer services are available 24 hours a day, 7 days a week. Enjoy a stress-free end to your vacation with this private departure transfer from your accommodation to Naha Airport. Book your transfer and enjoy your time in Naha, knowing that your return transfer is already taken care of …
» all Okinawa Transfers & Ground Transport
» Okinawa Water Sports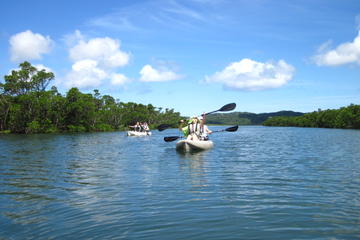 Explore remote Iriomote Island on this leisurely paced full-day active tour. The jungle-clad island teems with incredible wildlife, and this kayaking and hiking adventure is the eco-friendly way to see it. After a ferry from Ishigaki, paddle along Nishida River until you reach a hiking trail that leads to Sangara Falls for a swim and bento box lunch. On this tour, limited to 10 people, you'll learn about the efforts to keep this unspoiled part of Iriomote-Ishigaki National Park healthy and thriving …
• All OKINAWA

If you would like to view a complete list of all Okinawa Tours, Travel & Activities, you can search for great things to do by category, location, traveller reviews or price to plan the perfect magical journey.
Click here for ALL Okinawa Tours, Travel & Activities

« home • asia • JAPAN • Tours & Travel • Okinawa