« NEW ZEALAND • Tours & Travel • South Island
South Island Tours, Travel & Activities
Tourism is a huge export earner for the South Island. Popular tourist activities in include sightseeing, adventure tourism, tramping (hiking) and camping. Numerous walking and hiking paths, some of which, like the Milford Track, have huge international recognition.

• Christchurch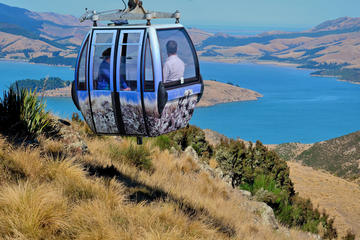 Christchurch is often described as the most English of New Zealand's cities. But for all its self-consciously inherited charm, it can hold its own as a thoroughly modern New Zealand city. Kiwi art has pride of place in the city's gallery, the wildlife reserves teem with native animals, and the multitude of great cafes, restaurants and bars that fill the city center prove that Christchurch has a special charm of its very own …
» see all Christchurch Tours & Activities
• Dunedin & The Otago Peninsula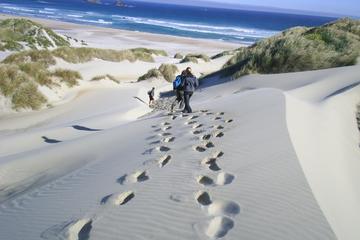 The large scoop of South Island terra firma known as Otago has a wonderfully restless landscape distinguished in the east by coastal wildlife havens and a Victorian-era city (Dunedin) with a youthful vibe; in the center, by vineyard-nurturing soil, broad plains and former gold-mining sites where the once-rich dust has well and truly settled; and in the west by lake-moated peaks, rainforest trails and several self-obsessed towns that take outdoor activities to daunting new heights …
» see all Dunedin & The Otago Peninsula
• Fiordland & Milford Sound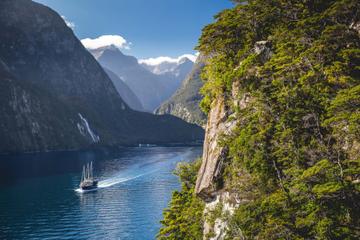 Your first sight of Milford Sound in southwest NZ's Fiordland National Park is guaranteed to be stunning. Rocky cliffs rise from still, dark waters. Forests cling to the steeply slanted slopes, and the spectacular, photogenic Mitre Peak rises dead ahead. No wonder Milford Sound is one of New Zealand's biggest attractions. Thousands come to this area of raw wilderness on foot via the famous Milford Track, which ends at the sound …
» see all Fiordland & Milford Sound
• Franz Josef & Fox Glacier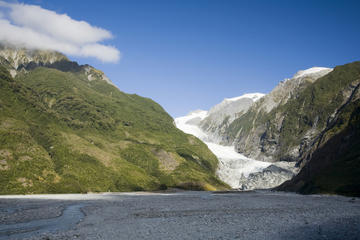 New Zealand's two most famous glaciers are major attractions in their own right. The frosty majesty of these mighty cascades of ice juggernauting their way toward the sea are the highlight of Westland Tai Poutini National Park in New Zealand's South Island. Franz Josef is considered the more visually impressive glacier, while the walk to Fox is shorter and gets you closer to the ice …
» see all Franz Josef & Fox Glacier
• Mount Cook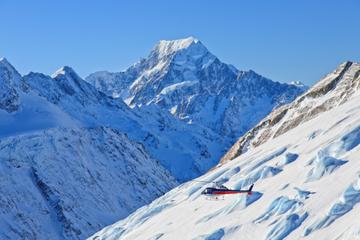 The Aoraki - Mt Cook National Park is spectacular. More than one-third of the park has a blanket of permanent snow and glacial ice. Of the 27 New Zealand mountains that stretch over 10,000 ft (3,000m), 22 are in this park. For trivia buffs: The park's mighty Mt Cook, known as the Cloud Piercer, is the highest peak in Australasia at 12,391ft (3,755m) …
» see all Mount Cook Tours, Travel & Activities
• Queenstown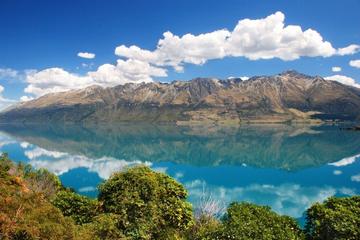 No-one's ever visited Queenstown and said, "I'm bored!" Looking like a small town, but with the energy of a small city, Queenstown offers a mountain of outdoor activities. Most are centered on the lake and nearby rivers, with white-water rafting, sledging and jet-boating all great ways to get wet, while bungy jumping and tandem parachuting are exciting ways to fly. While its innumerable activities, great facilities and magnificent scenery make Queenstown a huge destination for travelers …
» see all Queenstown Tours, Travel & Activities
… more destinations in magical South Island
» Akaroa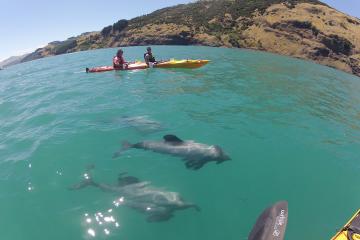 Sea kayak in our amazing natural environment, take in our breathtaking Volcanic basin vistas, and soak up our French village by the sea. Akaroa, only 80 minuets from Christchurch is where we are based. Your trip takes in a remote beach where you can relax or swim, enjoy refreshments & explore remote bays & inlets. We make it easy for you to experience this amazing sea adventure as no experience is needed, it's a breeze & great family fun …
» see all Akaroa Tours, Travel & Activities
» Blenheim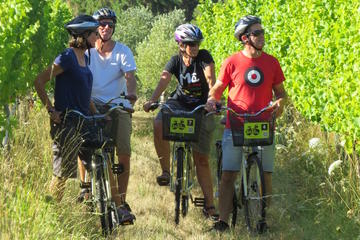 Leave your worries behind you, hire a bike, and spend the day touring around the beautiful, scenic Marlborough wine region. This bike hire will ensure you a stress-free day out with free use of the bike, a helmet, a winery map and free pickup and drop off from your Blenheim and Renwick accommodation. Don't miss out on this relaxing yet exciting biking tour, save your spot today and book one of three options: Full day bike hire, full day including a delicious picnic lunch or full day including lunch from Picton! …
» see all Blenheim Tours, Travel & Activities
» Nelson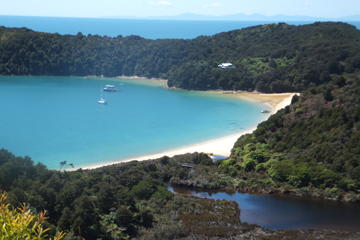 Abel Tasman Water and Walk is a small group tour for visitors who prefer faster access into the heart of this popular National Park so that they can spend more time exploring the many features with an expert interpretive guide who will highlight the less obvious features of Maori history, early settler activity and the endless stories that abound here, especially from the rich variety of vegetation, birds and aquatic life …
» see all Nelson Tours, Travel & Activities
» Picton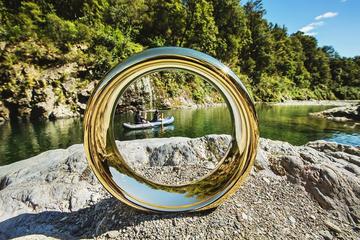 Join our experienced, friendly guides on an eye-opening, exhilarating adventure, kayaking down the wild Pelorus river in the South Island. This area was used in the filming of the second Hobbit movie 'The Desolation of Smaug'. Stand where Sir Peter Jackson and his film team made this great movie and paddle yourself along the Hobbit river in our very safe inflatable kayaks. Once we reach the location of the filming we will take a short walk to where it all happened …
» see all Picton Tours, Travel & Activities
» Te Anau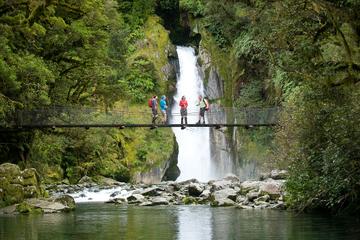 Experience a morning guided walk to Giants Gate on the world famous Milford Track. From Milford Sound the track is access by water taxi and follows the mighty Arthur River through lush, temperate rainforest to Giants Gate, a most photographed and spectacular waterfall. This walk is suitable for all skill levels. We begin with a short boat ride across Milford Sound's Deep Water Basin to Sandfly Point, adeptly named as you will see! This is the end point of the Milford Track, but the start of our Milford hike …
» see all Te Anau Tours, Travel & Activities
» Wanaka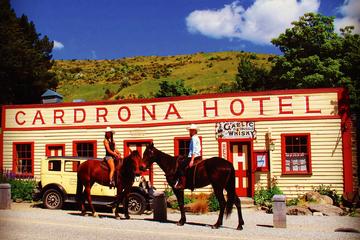 Saddle up on this Horse trekking experience, just 20 minutes from Wanaka. The half-day High Country Pub horse trek takes you up into the beautiful Cardrona Valley allowing breath taking views of the surrounding mountains and Cardrona Ski Area. No riding experience is necessary as all tuition is provided and there is a stopover at the historic Cardrona Hotel to stretch your legs and enjoy a drink on us! The beautiful scenery is accompanied by a commentary of certain points of interest of Cardrona Valley including the 1860s gold rush and the working sheep, cattle and deer farm …
» see all Wanaka Tours, Travel & Activities
• ALL South Island, New Zealand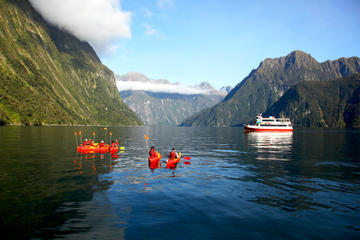 If you would like to view a complete list of all South Island Tours, Travel & Activities, you can search for great things to do by category, location, traveller reviews or price to plan the perfect magical journey.
Click here for ALL South Island Tours, Travel & Activities

« NEW ZEALAND • Tours & Travel • South Island