« PORTUGAL • Places to Stay • Lisbon District
Lisbon District Hotels, Resorts, Villas and B&B's

The District of Lisbon is located in South Central Portugal, the District Capital is the city of Lisbon, also the national Capital. Near to Lisbon are a number of sea-side resorts on the Lisbon coast. Sintra is a major tourist attraction and classified as a World Heritage by UNESCO. There are many castles and chapels, mostly built in 1800s.
• Most Popular in the District of Lisbon
» Lisbon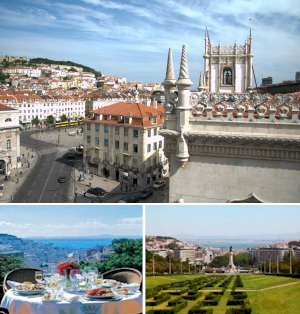 Lisbon is one of the warmest European capitals. Spring and Summer months are usually sunny and the temperatures very high during July and August, usually above 30°C. Autumn and Winter are typically rainy and windy, but sunny days are not rare. Like Rome and Istanbul, Lisbon is built on seven hills …
» see all Lisbon Hotels & Accommodation
» Cascais

Cascais is a town on the Atlantic Ocean about 30 km west of Lisbon. It is a cosmopolitan suburb of the Portuguese capital and one of the richest municipalities in Portugal. The former fishing village gained fame as a resort for Portugal's royal family in the late 1800s and early 1900s. Nowadays it is a popular vacation spot …
» see all Cascais Hotels & Accommodation
» Setubal
Setubal is located on the northern bank of the Sado river estuary, approximately 40 Km south of Portugal's capital, Lisbon, and belongs to the Lisbon Metropolitan Area. The municipal holiday is September 15, which marks the date in the year 1860 on which King Pedro V of Portugal officially recognised Setubal as a city….
» see all Setubal Hotels & Accommodation
» Estoril

Estoril is a civil parish of the Portuguese municipality of Cascais. The Estoril coast is close to Lisbon. It starts in Carcavelos, 15 kilometres from Lisbon, and stretches as far as Guincho. Estoril has a famous casino, the Estoril Casino. Estoril was the residence of Juan de Borbón, pretender to the Spanish throne …
» see all Estoril Hotels & Accommodation
• More Destinations in the District of Lisbon
» Carcavelos

Carcavelos is a parish in the Portuguese municipality of Cascais, about 12 km west of Lisbon. The village used to be known for the Carcavelos wine, but since the wine production is nowadays reduced, Carcavelos is better known among surfers because of the good surfing condition of the Carcavelos beach …
» see all Carcavelos Hotels & Accommodation
» Colares

Colares is a Portuguese freguesia belonging to the Municipality of Sintra. The patron saint is Nossa Senhora da Assuncao. It is located southwest of the Municipality of Sintra, in the atlantic coast. It was the Headquarters of an old Municipality between 1255 & 1855 …
» Colares see all Hotels & Accommodation
» Ericeira

Ericeira is a fishing and seaside resort town on the west coast of Portugal, in the municipality of Mafra, about 35 km north-west of the centre of Lisbon. Its name originates from Ouriceira, which derives from Ourico, the Portuguese name for a sea urchin, as seen on the coat of arms …
» see all Ericeira Hotels & Accommodation
» Oeiras

Oeiras is a civil parish and a municipality in western Lisbon Metropolitan Area. The town (vila) of Oeiras is one of the most populous towns in Portugal. Located by the end of the mouth Tagus river (rio Tejo), across from Almada, in the Greater Lisbon Area. The parish dates back to the year 1208 …
» see all Oeiras Hotels & Accommodation
» Paco de Arcos

Paco de Arcos is a civil parish in Oeiras, Portugal. Its name comes from the Palace of the Arches located at the entrance to the village (from Lisbon), where, legend has it, king D. Manuel I of Portugal watched Vasco da Gama's caravels leave for India. Nowadays, the Portuguese maritime academy is based there …
» see all Paco de Arcos Hotels & Accommodation
» Queluz

Queluz is a city (cidade) in Portugal and a parish (freguesia), located in the municipality of Sintra, in the District of Lisbon. The city of Queluz, which includes the parishes of Queluz, Massama and Monte Abraao, is located in the municipality of Sintra,in the Greater Lisbon Area …
» see all Queluz Hotels & Accommodation
» Sintra

Sintra is both a town and a municipality in Portugal, located in the district of Lisbon. The town is a UNESCO World Heritage Site on account of its 19th century Romantic architecture. Sintra has become a major tourist attraction, with many day-trippers visiting the numerous attractions from nearby Lisbon …
» see all Sintra Hotels & Accommodation
• All District of Lisbon
» All District of Lisbon Region

If you are looking for a particular hotel or location in the District of Lisbon, or prefer to search for your accommodation by category, amenities, traveller ratings and reviews, or location to the towns and attractions on the map (and check out the Google earth options for a really great view), then please click here …
» see all District of Lisbon Hotels and Accommodation
« PORTUGAL • Places to Stay • Lisbon District