« Home • Africa & Middle East • U.A.E. • Tours & Travel • Dubai
Dubai Tours, Travel & Activities
Part of the United Arab Emirates or UAE, Dubai is the quintessential home of sand, sun and shopping. A century ago, it was a tranquil port of Bedouin traders and pearl divers. Today, the merchants have gone international deluxe, and science-fiction skyscrapers stand alongside the mosques and wind-towers of Old Dubai. Don your Gucci sunglasses and latest D&G gear - Dubai is rich, lavish and absolutely ab-fab.
» Dubai Air, Helicopter & Balloon Tours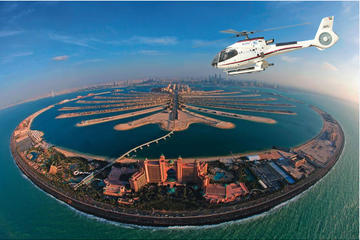 Take a cruise on the River Spree for the perfect introduction to Dubai's famous sights and varied architecture. With a choice of morning or afternoon cruises, it's the best way to see a different side to Dubai and escape the summer heat. You'll cruise right through the city of Dubai, passing such famous sights as Potsdamer Platz, the Reichstag, Museum Island …
… see Dubai Air, Helicopter & Balloon Tours
» Dubai Cruises & Water Tours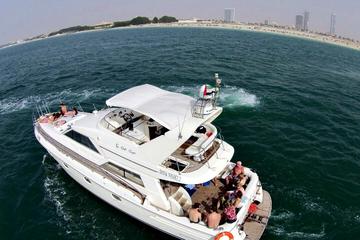 Enjoy a slice of the A-lister life on a private yacht cruise from Dubai. Choose a 2- or 3-hour cruise on a beautiful 55-foot (16.8-meter) yacht or a 2-hour trip on a sleek 70-foot (21-meter) yacht, and let a private skipper navigate as you relax, sunbathe and ogle the stunning views from deck. Sail along the coast past the Burj Al Arab and Atlantis The Palm, and savor complimentary snacks and soda alongside any food or drink you bring aboard. Ideal for a romantic treat, party or trip with friends and family …
… see Dubai Cruises & Water Tours
» Dubai Cultural & Theme Tours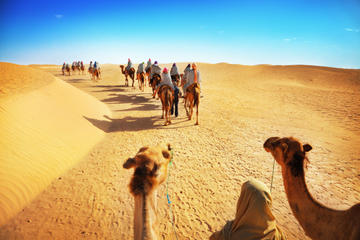 Ride a camel through the desert and enjoy dinner at a Bedouin-inspired camp on this exciting 7-hour experience! Leave Dubai in an air-conditioned minivan and swap your vehicle for a camel for a memorable 45-minute ride to an exclusive desert camp amid the dunes. As the sun sets, enjoy a host of traditional Arabic activities: see a captivating falconry demonstration and cookery displays, get an exotic henna tattoo, and watch traditional dancing under the stars. The finale comes with a scrumptious 4-course banquet of Emirati dishes served Bedouin style! …
… see Dubai Cultural & Theme Tours
» Dubai Day Trips & Excursions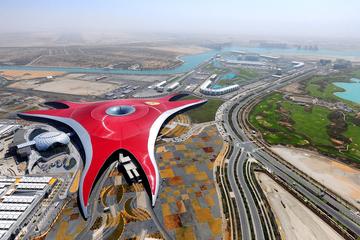 On this fantastic full day tour to Abu Dhabi you will explore a various magnificent palaces including the impressive architecture of Sheick Zayed Mosque. The second half of the day tour will begin with a visit to the one and only Ferrari branded theme park and home to amazing rides, attractions and car museum. Learn about the Bedouin life style at the heritage village which is a recreation of an Emarti village and showcases of interesting cultural attractions …
… see all Dubai Day Trips & Excursions
» Dubai Food, Wine & Nightlife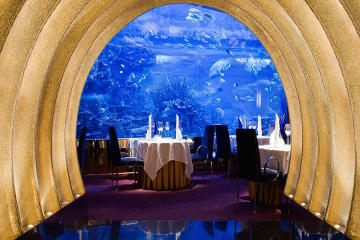 Relax over a delicious 3-course dinner at the Al Mahara restaurant in Dubai's Burj Al-Arab on this 4-hour experience. Be whisked to and from the luxurious hotel by private vehicle, and take your seat in the regal, undersea-themed restaurant where an aquarium takes center stage. Choose from the à la carte selections of seafood, fish and other creations, and enjoy the softly lit setting and views of exotic fish as you dine. It's an ideal way to celebrate a birthday, anniversary or other special date …
… see all Dubai Food, Wine & Nightlife
» Dubai Multi-Day & Extended Tours
Experience northern Germany's medieval towns and modern cities on this 6-day coach tour from Dubai to Frankfurt. With an expert guide, you'll see top Dubai attractions like Checkpoint Charlie, the Dubai Wall and Bellevue Palace (Schloss Bellevue) on a comprehensive coach tour of Germany's capital. Discover the charming, historical neighborhoods of Bremen and Hamelin on foot, plus a Hamburg harbor cruise and a drive along the scenic German Fairy Tale Route! …
… see all Dubai Multi-Day & Extended Tours
» Dubai Outdoor Activities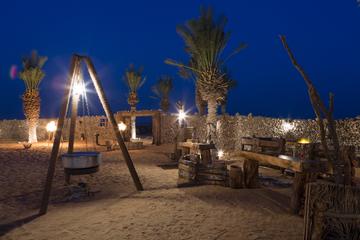 Eat and sleep under the starry desert sky at a Bedouin-inspired camp on this overnight experience from Dubai! After traveling through Dubai Desert Conservation Reserve by open-roof vintage Land Rover, settle in for an evening of traditional Emirati food and entertainment in the grounds of a royal residence. Enjoy local music, cultural entertainment, cookery demonstrations and a falconry demonstration; get a henna tattoo and ride a camel; and relax during a 4-course banquet under the stars …
… see all Dubai Outdoor Activities
» Dubai Private & Custom Tours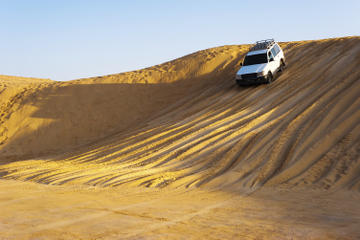 Get a taste of the Arabian desert on this private 4x4 safari from Dubai. With a private driver, travel through the desert in a comfortable 4x4 to the oasis village of Falaj Al Mualla. Delve into the Hajar Mountains on route to a hidden 'wadi' - Arabic for riverbed - and enjoy a picnic lunch at an oasis. Then, stop to see famous Camel Rock and its nearby marine fossils, a throwback to when the desert was covered by ocean. Receive the in-depth attention of your guide on this private tour …
… see all Dubai Private & Custom Tours
» Dubai Shore Excursions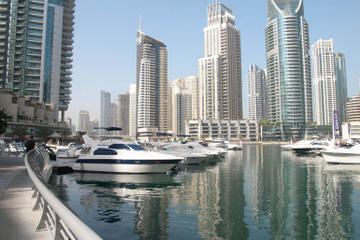 Leave your cruise ship behind at the Port of Dubai and head out to see the city highlights on a private 4.5-hour sightseeing tour! While enjoying personalized attention from a private guide, see top Dubai attractions such as Burj Al Arab, one of the world's tallest hotels. Explore the neighborhood of Jumeirah, and then visit Dubai Museum at the Old Al Fahidi Fort. Before returning to port, travel by traditional water taxi to two legendary Dubai markets: Dubai Spice Souk and the Gold Souk •
… see all Dubai Shore Excursions
» Dubai Shows & Concerts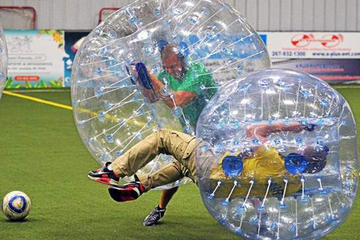 Experience latest sports craze - Bubble Soccer during this 1-hour session in Dubai. Climb inside an inflatable bubble and challenge your colleagues, friends or family with this hilarious and unique twist on the traditional soccer game. Get set for some bubble soccer fun and experience the latest sports craze as it arrives in the United Arab Emirates in Dubai. Climb into an inflatable bubble and smash into each other, rolling across the grass, and bouncing around in teams of 6 to 12 participants …
… see all Dubai Shows & Concerts
» Dubai Sightseeing Tours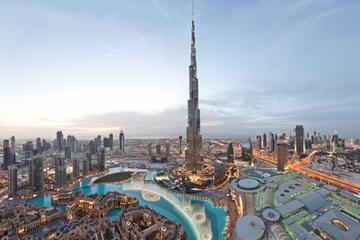 Dubai Top 5 Tour is a non-comparing tour of luxury through the most attractive sightseeing in Dubai ( Burj Alarab, Palm Jumeirah, Dubai Marina, Dubai Mall , Burj Khalifa and Dinner at Armani Hotel). Top attractions you have to visit in Dubai in just one Tour. Four different tours in Just One Tour (City Tour , Marina Cruise , Burj Khalifa Ticket & Dinner at Armani Hotel). Be ready for spectacular Burj Khalifa where you can enjoy a magnificent, unobstructed 360 degree view of the city, desert and the Gulf at the top of Burj Khalifa's 124 Floor …
… see all Dubai Sightseeing Tours
» Dubai Spa Tours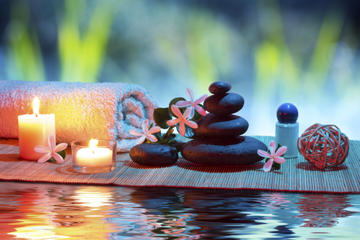 Delight in three indulgent, Arabian-inspired aromatic treatments with this desert beauty ritual (for women only) at Dubai's Spa CORDON. After a hotel pickup, experience three ultra-pampering treatments using the healing scents and spices of Arabia. Following a revitalizing steam, whirlpool, sauna or cold rain shower, luxuriate in a 45-minute oriental bathing experience, a muscle-melting 1-hour massage with nine essential oils, and a customized 75-minute facial, including a cold stone eye treatment …
» Dubai Theme Parks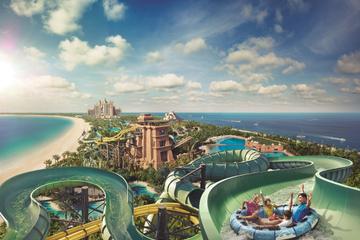 Dive into the water slides of the Aquaventure Waterpark at Atlantis The Palm in Dubai with an all-day entrance-only ticket. How you spend your time there is up to you: whizz down near-vertical slides, tackle the corkscrew Aquaconda tube and waft along the rapids. Let the kids explore the Splasher's Play Area, and stop to rest and refuel at the beach and restaurants. If you want even more from your day, upgrade to include entry to The Lost Chambers aquarium, home to sharks, rays and exotic fish galore …
» Dubai Tickets & Passes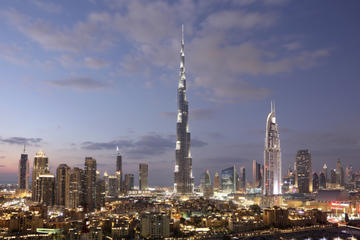 Witness Dubai from the Burj Khalifa's highest observation deck with this 'At the Top SKY' premium experience. After Arabic coffee and dates in an exclusive SKY lounge, ride a dedicated elevator to Level 125 — a floor above the main 'At the Top' observatory. Behold the 360-degree views here before riding to Level 148, the world's highest observation deck. Ogle the views from the lounges and outdoor terrace, hear fascinating facts about the tower, and then visit the ground-floor SKY exhibition to chart the Burj's history …
… see all Dubai Sightseeing Tickets & Passes
» Dubai Transfers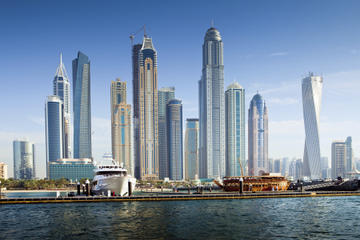 Faced with a layover at Dubai airport? Check out Dubai's highlights on a 4.5-hour private layover tour, with round-trip airport transfers included. Travel in a private vehicle with your own guide and admire spectacular landmarks including the sail-shaped Burj Al-Arab, Burj Khalifa and more. Plus, see the city's old wind-tower houses, visit Dubai Museum, cross Dubai Creek on an 'abra' water taxi, and visit the Spice and Gold Souks. With a flexible itinerary and just five miles (3 km) between the airport and the city, it's an ideal stopgap between flights …
» Dubai Walking & Biking Tours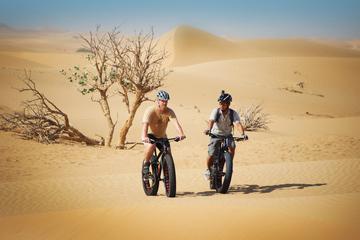 Fat Bike ride through the Dubai Desert Conservation Reserve in search of local flora and fauna. Stop for a gourmet breakfast inside the reserve. High level of fitness required and minimum height requirement is 130cm. Fatbikes are versatile all terrain mountain-bikes that allow avid cyclists to explore rugged landscapes previously off limits. Your Guide will equip you with a high quality Fatbike and helmet as you embark on an adventure through the Dubai Desert Conservation Reserve …
… see all Dubai Walking & Biking Tours
» Dubai Water Sports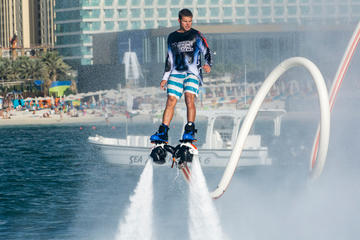 Learn to fly above water on a 30-minute Jet Blade experience in Dubai. Use your balance to control your elevation. Powered by a Jet Ski, the Jet Blades twin jet nozzles propel you through the air to have fun on the water in a new way. Experience the latest watersport craze to hit Dubai with a 30-minute Jet Blade session. Head to Jumeirah Beach for an adrenaline thrill like never before! Learn to fly above water like Iron Man, or swim like a dolphin while doing fun tricks, such as backflips …
• All Dubai Tours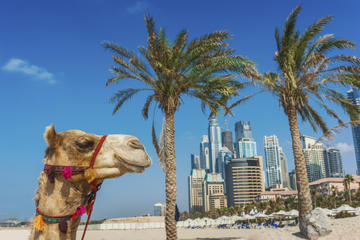 If you would like to view a complete list of all Dubai Tours, Travel & Activities, you can search for great things to do by category, location, traveller reviews or price to plan the perfect magical journey.
Click here for ALL Dubai Tours, Travel & Activities

« Home • Africa & Middle East • U.A.E. • Tours & Travel • Dubai