» BRAZIL • Tours & Travel • Northeast Brazil • Fortaleza
Fortaleza Tours, Travel & Activities
Considering its isolation on the Brazilian map, Fortaleza is a surprisingly large and sprawling city. In fact, it rivals Recife as the Northeast's most important fishing port and commercial center above Salvador. Its attractions are packed along the beaches and the rest of the city is endlessly residential. The beaches are not as attractive as you might hope, yet with its wild party atmosphere Fortaleza deserves at least a short visit.
» Fortaleza Day Trips & Excursions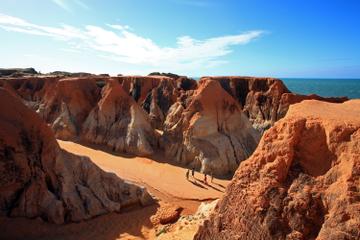 Travel to the district of Beberibe on a full day guided tour from Fortaleza and discover the stunning coast of Ceara! Lined with red and white sand dune cliffs that offer an amazing backdrop to the beautiful seashore and ponds, the stunning tropical scenery will amaze you. Take off on an exciting buggy ride that takes you through the dunes and grottos along the Ceara seashore …
» see all Fortaleza Day Trips & Excursions
» Fortaleza Food, Wine & Nightlife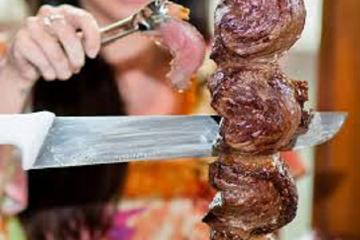 Enjoy at the Brazilian Rodizi the best grilled meat you can have and than we go to the most famous bar in Fortaleza, Pirata Bar! First we start at a famous Brazilian Rodizio restaurant where you will have dinner at all you can eat style. Rodizio Grill, The Brazilian Steakhouse, offers over a dozen rotisserie grilled meats, perfectly seasoned and carved table side by Rodizio waiters. Help yourself to the vast array of freshly made traditional Brazilian hot dishes, exotic salads …
» see all Fortaleza Food, Wine & Nightlife
» Fortaleza Outdoor Activities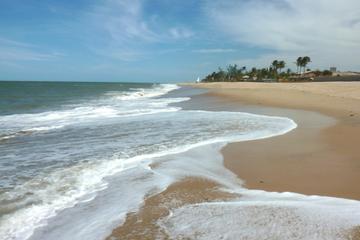 Take a day trip to the beautiful beach of Cumbuco from Fortaleza! Take part in some of the adrenaline pumped activities or relax on the white sands of the secluded beaches. Discover the stunning scenery and explore the many bars and restaurants before finishing off this spectacular day with a refreshing swim in the Parnamirim pond. With enough activities to entertain everyone, this family friendly excursion is a must do when visiting Brazil! …
» see all Fortaleza Outdoor Activities
» Fortaleza Sightseeing Tours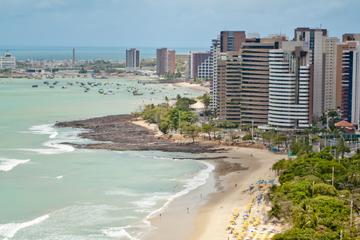 Discover the history and story behind the city of Fortaleza on a two hour guided tour! Visit beautiful and historic buildings such as the Metropolitan Cathedral, the President Castelo Branco Mausoleum and the Center of Tourism. A fun and educational way to discover the history behind Brazil's architecture and lifestyle! Fortaleza, the capital city of the State of Ceará, has been for decades one of the most popular destinations for tourists …
» see all Fortaleza Sightseeing Tours
» Fortaleza Theme Parks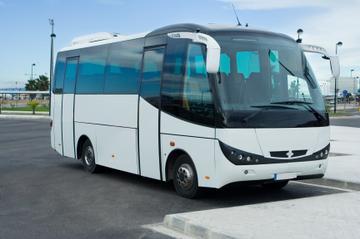 Come and have fun at Beach Park and have an unforgettable time with all the comfort and safety that only the largest and biggest equipped water park in Latin America can provide, with its water slides, water currents, pools with hot water and much more. The Aqua Park is a guaranteed fun for all ages, with water slides, waterfalls, artificial river and two unique attractions in Brazil. The 'Insane', the highest water slide in the world with a radical descent of 41m, and the Tsunami, the largest wave pool in Latin America …
» see all Fortaleza Theme Parks
» Fortaleza Transfers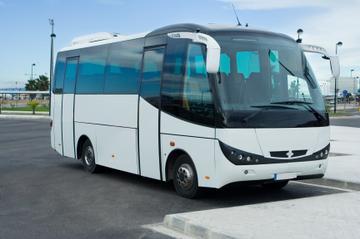 Be prepared for a smooth and easy trip to Fortaleza by booking your airport transfers in advance! Don't waste your time trying to arrange taxis or public transportion and book your transfers today to ensure you get the most out of your vacation time! You'll be collected from the airport and taken to your hotel and then returned back to the airport for your departure flight! You'll be met at Fortaleza Airport by an English-speaking guide and transferred directly to your hotel …
• All Fortaleza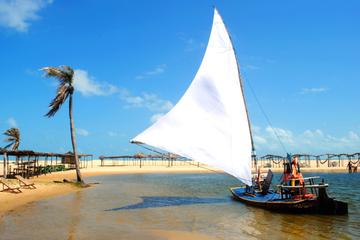 If you would like to view a complete list of all Fortaleza Tours, Travel & Activities, you can search for great things to do by category, location, traveller reviews or price to plan the perfect magical journey.
» Click here for ALL Fortaleza Tours, Travel & Activities
» BRAZIL • Tours & Travel • Northeast Brazil • Fortaleza