« NEW ZEALAND • Tours & Travel • North Island • Rotorua
Rotorua Tours, Travel & Activities
Observe bubbling mud pools and steaming geysers at the Whakarewarewa Thermal Reserve. And a visit to Rotorua is just not complete without participating in a traditional Maori Hangi and Feast. No other dining experience offers such an evening to remember.
» Rotorua Air, Helicopter & Balloon Tours
Imagine taking a helicopter flight over an active volcano - Well, here is your chance to do just that on a sightseeing tour of Rotorua by helicopter. You'll spot marine life from the air, have the option of landing on one or two islands and see New Zealand's magnificent scenery from above. Your flight takes you east over views of lakes, forest and the volcanic fault line …
… see all Rotorua Air, Helicopter & Balloon Tours
» Rotorua Cruises, Sailing & Water Tours
Discover Rotorua on a unique 90 minute sightseeing adventure onboard a WWII amphibious vehicle able to travel on land and water! Join us on this fascinating journey of discovery that begins in town where Rotorua's rich history unfolds before you as you tour local landmarks and share stories and legends of the past. Highlights include Lake Rotorua, Mokoia Island …
… see all Rotorua Cruises, Sailing & Water Tours
» Rotorua Cultural & Theme Tours
Complete your adventure through Rotorua with a traditional Maori "hangi" feast. You'll travel by coach to Tamaki Maori Village where your local guide will escort you on a cultural journey to the "marae" (Maori village), the life force of New Zealand's indigenous people. Take the opportunity to engage in an evening of local customs …
… see all Rotorua Cultural & Theme Tours
» Rotorua Day Trips & Excursions
Depart Rotorua in the morning and travel over the scenic Mamaku Ranges as the tour heads west to Waitomo. As you leave Rotorua, the coach will pass through the Fitzgerald Glade, a section of the highway where the native bush grows right up to the roadside and the trees form a canopy overhead like a tunnel …
… see all Rotorua Day Trips & Excursions
» Rotorua Food, Wine & Nightlife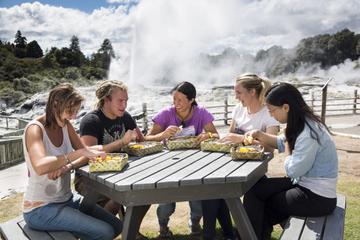 'How would you like that cooked?' will never sound the same after lunch in Te Whakarewarewa Geothermal Valley. Enjoy a meal cooked over steam vents, an ancient Maori technique that is still used today. As your lunch is being prepared, enjoy a 2.5-hour guided tour of Te Puia, the New Zealand Maori Arts and Crafts Institute, to gain insight into the traditional Maori lifestyle
… see all Rotorua Food, Wine & Nightlife
» Rotorua Outdoor Activities
Take a unique half-day journey through Rotorua's geothermal parks on a morning trip led by a local naturalist guide. You'll watch the Lady Knox Geyser erupt and see boiling mud pools and hot springs at Wai-O-Tapu. Your morning eco tour takes you through forestry and farmland to New Zealand's largest boiling mud pool and a series of colorful hot springs
… see all Rotorua Outdoor Activities
» Rotorua Shore Excursions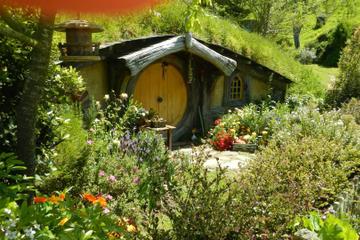 This tour combines a visit to Hobbiton AND Rotorua all in one day. We take a 2-hour guided tour of the Hobbit movie set and see the stunning scenery in this hidden valley. Then on to Te Puia in Rotorua for geysers, boiling mud, a Maori cultural performance plus weaving, carving and the kiwi bird. Stand under the party tree, walk past the Hobbit holes, imagine yourself among the characters. Nestled deep in the rolling hills of the Waikato, this location was chosen for it unblemished landscape …
… see all Rotorua Shore Excursions
» Rotorua Sightseeing Tours
Explore the stunning lakes district south of Rotorua on this small-group eco tour. Visit Lake Tikitapu (Blue Lake) and view Lake Rotokakahi (Green Lake). These amazingly clear and colorful lakes are a favorite stop for visitors. Learn about their history and enjoy the scenery. Tour continues with a drive to picturesque Lake Tarawera. Learn the history and legends …
… see all Rotorua Sightseeing Tours
» Rotorua Theme Parks
Experience a theme park like no other, where the rides are more like extreme sports. Located just minutes from central Rotorua, Agroventures is an adrenaline junkie's paradise. Not for the faint-hearted, these rides have one thing in common - extreme, heart-thumping, blood-pumping fun. Be prepared to take it to the next level, with edge-of-your-seat thrills, chills and adrenaline-charged, non-stop action. Choose just one of the following activities or select one of the great-value combination packages …
» Rotorua Tickets & Passes
Like rain in England, leprechauns in Ireland and moose in Canada, there's one thing most people associate with New Zealand - sheep! That's why no trip to Rotorua would be complete without a visit to The Agrodome and the chance to interact with New Zealand's friendliest animals. The Agrodome is a 640-hectare (160-acre) sheep and beef farm …
… see all Rotorua Tickets & Passes
» Rotorua Transfers
Let the drivers collect you from the Rotorua Airport and drop you off at your accommodation doorstep. They'll even help you with your luggage. Super Shuttle keeps fares rock-bottom by picking up or dropping off other air travelers en route to or from the airport. They don't have meters, so even if the traffic is heavy, you won't have to worry …
» Rotorua Water Sports
Experience the thrill of white water rafting on the Rangitaiki River. Rapids are mostly grade 3 with one grade 4 rapid. The trip consists of fun bouncy rapids running through a beautiful river valley featuring stunning views of native and plantation forest. The rapids require good team work from you but 15 - 20 minutes of training is given
… see all Rotorua Water Sports
• All Rotorua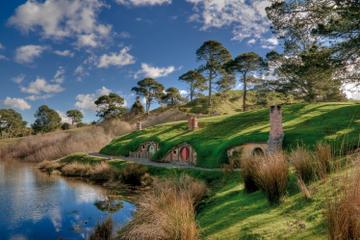 If you would like to view a complete list of all Rotorua Tours, Travel & Activities, you can search for great things to do by category, location, traveller reviews or price to plan the perfect magical journey.
Click here for ALL Rotorua Tours, Travel & Activities

« NEW ZEALAND • Tours & Travel • North Island • Rotorua