« BELIZE • Tours & Travel • Belize City
Belize City Tours, Travel & Activities
Full of history and culture, Belize City is the largest in all of Belize. Its natural beauty and Caribbean feel make this a great place to spend a few days of your vacation. Whether you are visiting to see amazing reefs, the relaxing Belize River, ancient Mayan ruins surrounding the area, wildlife or even just the colonial houses lining the streets, you won't have time to be bored with so much to see and do.
» Belize City Air & Helicopter Tours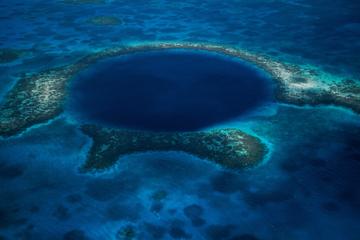 See the Blue Hole of Belize from a bird's-eye view on a private helicopter flight! This 4-passenger aerial tour takes you above the Turneffe Atoll and the UNSECO World Heritage-listed Blue Hole, allowing you to experience these amazing natural attractions as few people have. Prepare to take in breathtaking sights as you soar over the largest ocean sinkhole in the world. With complimentary hotel pickup and drop-off by minivan, enjoy a land tour of Belize City highlights on your return from the heliport …
» see all Belize City Air & Helicopter Tours
» Belize City Cultural & Theme Tours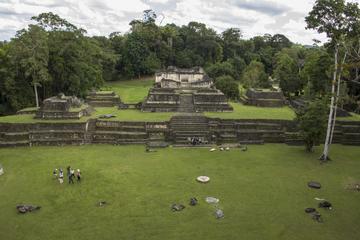 Adventure through Belize on this tour of the Maya Ruins in the ancient city of Caracol. This guided tour explores jungle archaeological sites including pyramid temples, plazas and monuments. Journey to the Mountain Pine Ridge with stops at Rio On Pools and Rio Frio Cave for a refreshing swim in the crystal waters. Enjoy a homemade Belizean style picnic lunch with soft drinks and rum punch. This tour includes guide, entrance fees, lunch with drinks and round-trip transportation …
» see all Belize City Cultural & Theme Tours
» Belize City Day Trips & Excursions
Imposing temples and exotic animals! Is it the latest Hollywood action movie? No, this time it's real and you're the star. Travel Belize by a hand-cranked ferry, see stunning Mayan ruins, and marvel at the majesty of the Belizean rainforests. And the wildlife? You'll see unique indigenous species in their natural habitat at the Belize Zoo. Departing Belize City, you'll travel along the scenic Western Highway enroute to the Cayo District and the impressive Mayan site of Xunantunich …
» see all Belize City Day Trips & Excursions
» Belize City Multi-Day & Extended Tours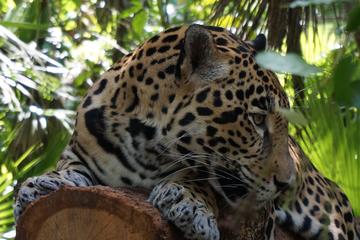 This multi-day package involves some of the best Belize activities, such as world-class snorkeling along the coral reef, zip-lining through the rain forest canopy, tubing through a caves branch system, river and lagoon wildlife cruising. You'll also be exploring the ruins of ancient Mayan cities and have other activities to experience the beauty of the tropical ecology in Belize. Our tour will take place in the tropical rain forests where abundant wildlife, fascinating Mayan monuments, awesome underground caves …
» see all Belize City Multi-Day & Extended Tours
» Belize City Outdoor Activities
Soar like a bird through treetops and float through limestone caves on this private adventure in the tropical jungle of Belize! Zipline across the Jaguar Paw rainforest canopy and rappel down a steep wall of Crystal Cave, and then go cave tubing through ancient Mayan caverns along the Caves Branch River. If you've only got time for one activity, or if you want to do them on different days, you can book separately. If you choose the combo option, your half-day adventure includes a traditional Belizean lunch at the on-site café …
» see all Belize City Outdoor Activities
» Belize City Private & Custom Tours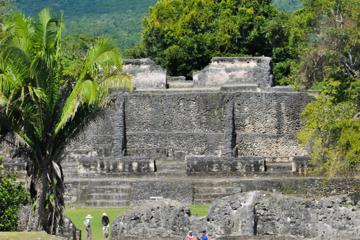 Xunantunich sits just on the Western border of Belize. Before reaching the entrance of this ancient city, your party will board a 19th-century hand-cranked ferry which takes you across the Mopan River. The ruins are actually located on one of the highest plateaus in the area and it is possible to climb to the top of "El Castillo", the largest of the temples at this site. From this vantage point, one gains a panoramic view of the Cayo District and nearby Guatemala …
» see all Belize City Private & Custom Tours
» Belize City Shore Excursions
See both the city and wildlife of Belize on this half-day shore excursion! Take a tour around Belize City, the capital of the country. Then, head to the Belize Zoo, home to more than 150 animals all native to Belize. If you're looking for a fun and educational experience to enjoy with your family, this is the perfect shore excursion for you! We will ensure your timely return to the Belize City port for this activity …
» see all Belize City Shore Excursions
» Belize City Sightseeing Tours
Take a half-day tour of Belize City for a fascinating mix of old and new. From the mystic Mayan city of Altun Ha to the resurgence of modern Central America, much has happened in Belize City. More than 1,000 years of history has taken place here, and you'll see all the highlights in just a few hours. This half-day tour focuses on the contrast between the ancient Mayan city of Altun Ha and modern-day Belize City, highlighting 1,000 years of development in this former British Colony …
» see all Belize City Sightseeing Tours
» Belize City Tickets & Passes
Explore Belize's culture, architecture and diverse wildlife on a guided tour of Belize City and its distinguished zoo. You'll see a wide variety of Central American animals and experience the ancient civilization of the Maya. Add this exciting adventure to your Belize itinerary for a day of real Central American fun! An incredible array of Central America's wildlife can be found just a short scenic drive away from Belize City at the Belize Zoo …
» see all Belize City Sightseeing Tickets & Passes
» Belize City Transfers
For an economical airport arrival transfer, book this shared-ride, door-to-door transportation service from Philip S. W. Goldson International Airport near Belize City to your San Ignacio hotel. Enjoy a stress-free transfer to San Ignacio, an approximate 1.5-hour drive from the airport. This easy and efficient shuttle transfer picks up from the airport and takes you directly to your San Ignacio hotel …
» see all Belize City Transfers & Ground Transport
» Belize City Water Sports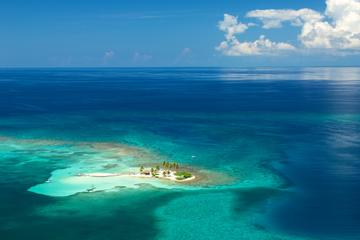 Barrier Reef Snorkeling and Beach Break at Goff's Caye, Belize is arguably the best day trip option available for cruise ship passengers calling on the Belize Cruise port. The tour is a four hour tour that is catered for small groups ensuring personalized service. Travel time is only 30-minute by speed boat from the Belize Cruise Port in Belize City to beautiful sun-kissed Goff's Caye, located on the Belize Barrier Reef, a UNESCO World Heritage Site …
» see all Belize City Water Sports
• All Belize City
If you would like to view a complete list of all Belize City Tours, Travel & Activities, you can search for great things to do by category, location, traveller reviews or price to plan the perfect magical journey.
» Click here for ALL Belize City Tours, Travel & Activities

« BELIZE • Tours & Travel • Belize City