» BRAZIL • Tours & Travel • Southeast Brazil • Paraty
Paraty Tours, Travel & Activities
Whether it's relaxing on the shores of nearby remote islands, exploring colonial architecture in the town's Historic Center of Paraty, or wandering scenic trails that wind through the steep mountain passes of the lush Serra da Bocaina National Park, a trip to Paraty is filled with options. History lovers can spend the day immersed in culture while divers explore the depths of the Atlantic, but it's still the pristine beaches that continue to draw travelers to this coastal town.
» Paraty Cruises & Water Tours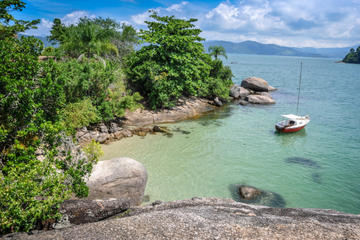 Spend a leisurely day at sea wending your way through the flawless reefs of Paraty! This schooner cruise in Paraty Bay takes different routes each day of the week, stopping in four prime locations for a spectacular snorkel tour with your guide. Observe schools of tropical fish at Ilha Comprida, coined 'nature's aquarium' by the locals. Sail to four spectacular spots among more than 1,000 offshore islands, where you'll have the option to don your provided mask and snorkel, and dive into warm, crystal-clear waters …
» see all Paraty Cruises & Water Tours
» Paraty Cultural & Theme Tours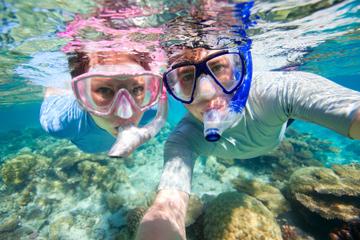 Visit the charming fishing village of Trindade and explore four spectacular beaches on foot during a 6-hour tour from Paraty. You'll take a guided trek through rainforest and sand to Caixa d'Aço (Steel Box), a natural swimming pool with excellent snorkeling opportunities. Round-trip hotel transport and snorkel equipment are included! The hike to the fishing village takes 50 minutes, passing through beautiful natural mountain forests and glades within Bocaino Mountains National Park …
» see all Paraty Cultural & Theme
» Paraty Multi-Day & Extended Tours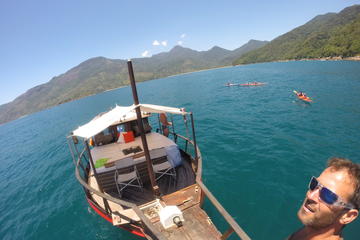 Experience this multi-day activity on-board of the Gurdian and enjoy outdoor nights under the starts. Hop on a boat with your friends or family, and meet people from all over the world. Be prepared to explore in style! Swim, kayak, stand up paddle, snorkel, surf, hike, eat the best local food, relax at the beach, check out great mountain views and party in Paraty. The advantage of being on a boat enables us to explore the most beautiful parts of Paraty, getting out of the beaten path to find the gems of this pristine region …
» see all Paraty Multi-Day & Extended Tours
» Paraty Outdoor Activities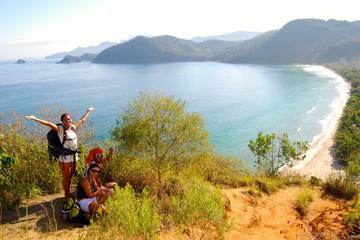 Hike to Ponta Negra fishing village via Sono beach, Antigos beach, Antiguinhos beach and Galhetas waterfall. Meet the guide in Paraty at 9am. Take the bus to Laranjeiras and hike to Ponta Negra fishing village for late lunch, and return by boat to the starting point of the hike, followed by a bus back to Paraty. The Ponta Negra hike explores the open water shoreline of the peninsula, visiting pristine beaches accessible only by dingy boats or trails …
» see all Paraty Outdoor Activities
» Paraty Sightseeing Tours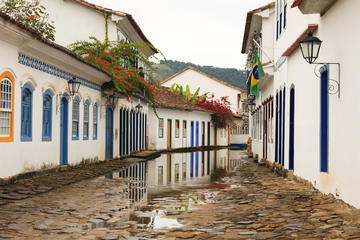 Follow an experienced guide for a 2-hour city sightseeing tour of Paraty - a Portuguese colonial town along the Gold Trail (Caminho do Ouro). You'll walk cobbled streets in the historic center, open only to bicycles and pedestrian traffic. View churches, museums and colonial homes in the charming town, situated on the Bay of Ilha Grande along Brazil's Costa Verde (Green Coast). Head to the Casa da Cultura (House of Culture), a colonial mansion housing a permanent exhibit that documents the local culture through photos and video …
» see all Paraty Sightseeing Tours
» Paraty Water Sports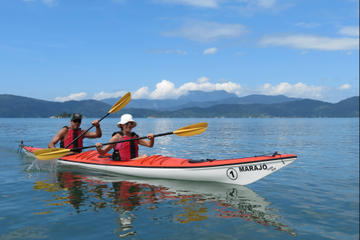 Kayak the warm, sheltered waters of the bay of Paraty on this guided kayak trip to islands and beaches. Swim, snorkel, see wildlife in the Mangrove and escape the boat-tripping crowds! Meet your guide early in the morning in Jabaquara beach and get ready for this adventure! After safety instruction on the beach from 9am, you will paddle with your guide to islands and beaches in the bay of Paraty in double kayaks …
• All Paraty
If you would like to view a complete list of all Paraty Tours, Travel & Activities, you can search for great things to do by category, location, traveller reviews or price to plan the perfect magical journey.
» Click here for ALL Paraty Tours, Travel & Activities
» BRAZIL • Tours & Travel • Southeast Brazil • Paraty