» BRAZIL • Tours & Travel • Southeast Brazil • Sao Paulo
Sao Paulo Tours, Travel & Activities
Few cities of its size are as underrated as Sao Paulo. Many visitors to Brazil know it as the primary international gateway and connection point for more famous beach destinations, but those same visitors are missing out on an exhilarating, culture-rich metropolis that offers a diverse and award-winning gastronomic scene and stellar 24-hour nightlife.
» Sao Paulo Cultural & Theme Tours
If you've got a fondness for architectural design, then this private architecture tour of São Paulo is for you! This eclectic city features a range of styles - from colonial Portuguese buildings to art nouveau edifices to the modernist structures of Oscar Niemeyer. Learn about them all - and more - on this three-hour tour with an expert guide, exploring the city by private vehicle. You'll see buildings such as the Unique Hotel and the São Paulo Museum of Art …
» see all Sao Paulo Cultural & Theme
» Sao Paulo Day Trips & Excursions
Take a São Paulo day trip to the city of Santos, famous for its coffee exports, and hang out at several island beaches in nearby Guarujá. With round-trip transport by private vehicle, your expert guide will take you past the Santos Port on a tour of the Coffee Palace, site of Brazil's coffee stock exchange and museum. Then, ferry to Guarujá for a fabulous afternoon beach tour, including great surf, soft sand and gorgeous views! …
» see all Sao Paulo Day Trips & Excursions
» Sao Paulo Food, Wine & Nightlife Tours
Experience the culinary culture of Brazil as you explore some of São Paulo's greatest food markets on a three-hour private tour with an informative guide. Find every kind of food your palate desires as you walk through the famous Municipal Market of São Paulo as well as a typical street market. Enjoy a feast for the senses as you pore over an array of tropical fruit and your guide enlightens you about the gastronomic secrets to some of Brazil's favorite dishes! …
» see all Sao Paulo Food, Drink & Nightlife Tours
» Sao Paulo Outdoor Activities
Venture into Brazil's Mata Atlântica (Atlantic Forest) on a half-day eco-tour from São Paulo. Traveling to Cantareira State Park by private vehicle, you'll catch a breath of fresh air in the dense forest landscape that surrounds the city - declared a São Paulo City Green Belt Biosphere Reserve by UNESCO! As you hike the trails with a local guide, enjoy plenty of bird-watching opportunities along with breathtaking views of the sprawling city below …
» see all Sao Paulo Outdoor Activities
» Sao Paulo Private & Custom Tours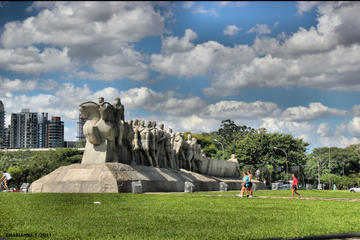 If you want to see São Paulo's top attractions and you've only got a few hours to spare, you'll cover a lot of ground with this private city tour by vehicle and on foot! Your informative local guide will accompany you on a walk through São Paulo's historical downtown, and take you on a scenic drive through several city neighborhoods. Enjoy guided commentary on 10 or more major landmarks and choose from a 3 or 5-hour tour (select option), including hotel pickup and drop-off …
» see all Sao Paulo Private & Custom Tours
» Sao Paulo Shows & Sports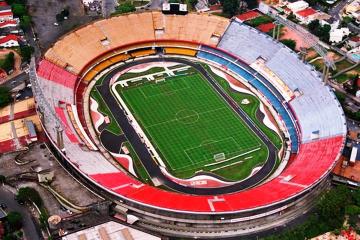 Experience Brazilian history and appreciate the Football Museum, an interactive place where it's possible to learn about Brazil's football culture and journey beyond Brazilian life. You will also have a panoramic view of Allianz Park - Palmeiras Football house, and we will stop at the famous and historic S˜o Paulo FC Morumbi Stadium. The tour will start with a pick up from your hotel for Allianz Park and its panoramic view, founded by Italy as "Palestra Italia" …
» see all Sao Paulo Shows & Sports
» Sao Paulo Sightseeing Tours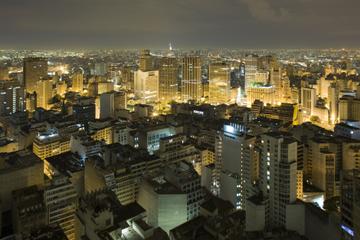 Experience the exciting nightlife of São Paulo with an expert local guide who will reveal the best venues! Sip a cocktail in the stylish Skye Bar or throw back a few beers with the locals at Bar Brahma, a classic nightclub. Whether you're taking in sweeping city views atop the Unique Hotel or listening to live music from a bar stool downtown, you'll get a taste of the nightlife so characteristic of São Paulo. Your tour includes round-trip transport by private vehicle and a private guide …
» see all Sao Paulo Sightseeing Tours
» Sao Paulo Transfers
For a hassle-free way to begin your vacation or business trip in São Paulo, book a private airport arrival transfer. Avoid public transportation or long taxi lines with this convenient, door-to-door transportation service, which takes you from Guarulhos International Airport to your São Paulo hotel. Transfer services are available 24 hours, seven days a week. This private transfer is for individuals or private groups of up to 8 people …
» Sao Paulo Walking & Biking Tours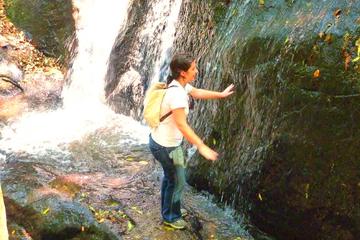 The Atlantic Rainforest remaining in the world represents only 7% of its original size. São Paulo city has the biggest rainforest park within its metropolitan area. With a specialist tour guide you can visit this forest, so walk into the rain forest to observe the species of plants and possibly animals of the Atlantic Brazilian Forest. You can refresh yourself in the natural shower of beautiful cascades, observe butterflies, flowers and the historical machines of the old water-house …
» see all Sao Paulo Walking & Biking Tours
• All Sao Paulo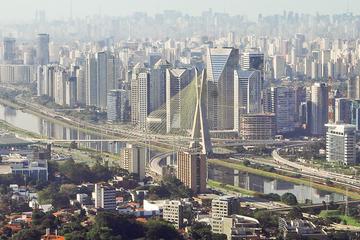 If you would like to view a complete list of all Sao Paulo Tours, Travel & Activities, you can search for great things to do by category, location, traveller reviews or price to plan the perfect magical journey.
» Click here for ALL Sao Paulo Tours, Travel & Activities
» BRAZIL • Tours & Travel • Southeast Brazil • Sao Paulo