« ARGENTINA • Tours & Travel • Patagonia • Ushuaia
Ushuaia Tours, Travel & Activities
The frigid Beagle Channel provides a watery highway for the world's southernmost city, Ushuaia, en route to the icy Antarctic. The strait separates Argentina's Isla Grande de Tierra del Fuego, to the north, from remote Chilean islands like Nueva, Picton and Navarino to the south of the channel. Boat cruises cast off from Ushuaia to visit the lighthouse and islands that are home to penguin and sea lion colonies in the strait.
» Ushuaia Cruises & Water Tours
Discover the vast white continent of Antarctica - largely unchanged since early explorers and whalers first landed - on a spectacular 15-day voyage, round-trip from Ushuaia! This once-in-a-lifetime expedition takes you by cruise ship to a world of drifting icebergs, teeming wildlife and a pink-lit midnight sky. You'll cruise through the Beagle Channel and the Drake Passage, and cross the Antarctic Circle. Explore the South Shetland Islands and the Antarctic …
» see all Ushuaia Cruises & Water Tours
» Ushuaia Day Trips & Excursions
Get outdoors and soak up the gorgeous scenery and natural beauty of Tierra del Fuego on this full-day eco-adventure from Ushuaia. Professional guides take you canoeing for 2 hours down the Lasiphashaj River and the Beagle Channel, or you can opt to drive straight to Estancia Harberton to tour the historic homestead and unique museum. Then ride a Zodiac boat to Isla Martillo and walk among Magellanic penguins before lunch and a 1.5-mile hike over beautiful Gable Island …
» Ushuaia Day Trips & Excursions
» Ushuaia Multi-Day & Extended Tours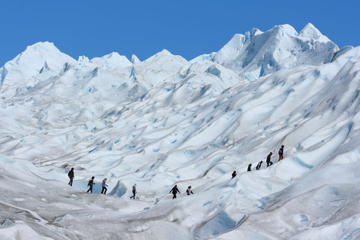 Travel to the end of the world!! Join us in this adventure and get to know the most southerly capital city in the world, Ushuaia. Be astonished by its landscape littered with dense forests, snow-capped mountains, lakes and millenary glaciers. Visit the world-famous Los Glaciares National Park, situated near the town of El Calafate. These are two of Argentina's tourist attractions that you simply cannot afford to miss …
» see all Ushuaia Multi-Day & Extended Tours
» Ushuaia Outdoor Activities
Spend a day outside of Ushuaia, discovering the natural wonders of the Tierra del Fuego province and learning about the culture and history of the region. On a catamaran cruise, you'll go island-hopping through the famous Beagle Channel and marvel at the stunning flora and fauna, including penguins and sea lions. Then visit Estancia Harberton, the oldest ranch in the Argentinian Tierra del Fuego …
» see all Ushuaia Outdoor Activities
» Ushuaia Shore Excursions
Take advantage of your time in Ushuaia by booking a private tour of Tierra del Fuego, a nearby archipelago whose stunning natural scenery will amaze you. Explore the mountains and valleys of Tierra del Fuego National Park, the southernmost national park in the world, and enjoy several scenic hikes along picturesque Patagonian lakes with your private guide. When your cruise ship arrives at the Ushuaia port, you'll be picked up by your professional guide …
» see all Ushuaia Shore Excursions
» Ushuaia Sightseeing Tours
See top attractions in Ushuaia on a 1-hour sightseeing tour aboard a London-style double-decker bus. Become acquainted with this charming Patagonian town, located on the coast of the Beagle Channel at the southernmost tip of Argentina's Tierra del Fuego. Observe old homes and government buildings on your way to Le Martial Glacier and pass the old prison, lighthouse and several museums on your return. Enjoy personal attention from your guide on this small-group tour …
» see all Ushuaia Sightseeing Tours
» Ushuaia Tickets & Passes
Ushuaia, the capital of Tierra del Fuego, is located on the coast of the Beagle Channel and surrounded by the stunning Le Martial Mountains. Its unique location in Patagonia offers a beautiful combination of mountains, sea, glaciers and forests found nowhere else on Earth. While this scenery is what makes Ushuaia such a wonderful destination, the city itself has its own charm …
» see all Ushuaia Sightseeing Tickets & Passes
» Ushuaia Transfers
Travel from Islas Malvinas airport to your Ushuaia hotel worry-free and without a hassle. Transfers are available 24 hours a day, 7 days a week and coincide with your flight's arrival. Start your trip off right with stress-free airport transportation. A representative will greet you at the Ushuaia airport holding a customized sign with your name on it …
» Ushuaia Water Sports
Discover Tierra del Fuego National Park on an outdoor adventure that includes a 3-hour hike, picnic lunch and 1.5-hour canoe paddle. With a specialized guide you'll explore Patagonia's national park, where mountains, freshwater rivers and lakes are all accessible near the coastal sea. During this day trip from Ushuaia, hike through the woods and row your boat over Lapataia Bay - a must-do activity while in Tierra del Fuego! Numbers are limited to 12 people …
» see all Ushuaia Water Sports
• All Ushuaia
If you would like to view a complete list of all Ushuaia Tours, Travel & Activities, you can search for great things to do by category, location, traveller reviews or price to plan the perfect magical journey.
» Click here for ALL Ushuaia Tours, Travel & Activities

« ARGENTINA • Tours & Travel • Patagonia • Ushuaia