North Island Tours, Travel & Activities

The North Island of New Zealand is warm, with scenery ranging from sandy beaches, through rolling farmland to active volcanic peaks. Although it is smaller than the South Island, it is more populous, with half of the New Zealand population living north of Lake Taupo, in the middle of the island.
• North Island Tours & Activities
» Auckland Tours, Travel & Activities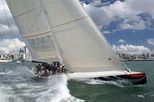 See first hand why Auckland is known as the 'City of Sails' as you enjoy a tour through the Westhaven Marina, home to thousands of yachts and also through the America's Cup Village. Visit the famous Auckland landmark of Mount Eden, a dormant volcano whose summit offers excellent panoramic views …
» see all Auckland Tours & Activities
» Bay of Islands Tours, Travel & Activities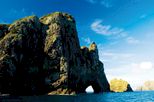 See the spectacular Black Rocks, unusual volcanic formations found only in two places in the world. Meander in and out of the many picturesque bays, calling on the locals, delivering their stores and mail as Fullers has done for over 100 years. The leisurely pace means you'll get up close to wildlife …
» see all Bay of Islands Tours & Activities
» Rotorua Tours, Travel & Activities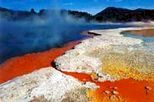 Observe bubbling mud pools and steaming geysers at the Whakarewarewa Thermal Reserve. And a visit to Rotorua is just not complete without participating in a traditional Maori Hangi and Feast. No other dining experience offers such an evening to remember. For thrill seekers there are a variet of options …
» see all Rotorua Tours & Activities
» Wellington Tours, Travel & Activities
Discover a treasured Maori art tradition that spans three centuries. Walk along Wellington's beautiful waterfront and hear legends of sea monsters, Maori warriors and fearsome storms. Take an extraordinary insight into the rich arts, culture and natural history of this fascinating country …
» see all Wellington Tours & Activities
• More Resources for North Island Tours
» New Zealand with Do Something Different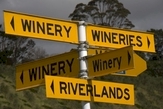 DoSomethingDifferent.com is the UK's most comprehensive resource for travellers looking for inspiration on 'what to do', once in their chosen destination. Exhilarating and attention grabbing Worldwide Attractions, Experiences, Activities and Attraction Tickets. For travellers everywhere …
» New Zealand with DoSomethingDifferent.com
» New Zealand Tours with Isango!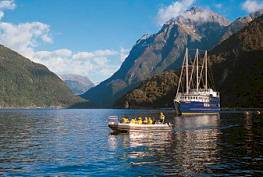 Isango! a the leading provider of destination experiences and experience-driven holidays - historic tours, sightseeing trips, romantic activities, family holidays, activity holidays, theme park visits, guided historical attractions and much more. 5000+ things to do in more than 60 countries …
» New Zealand Tours & Activities with Isango!
• North Island Holidays
» North Island with Virgin Holidays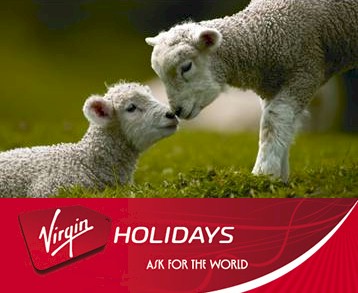 New Zealand's North Island is a land of diverse and wonderful landscapes. From the green hills of Wellington to the metropolitan buzz of Auckland; from the smoking craters of the Central Volcanic Plateau to the subtropical rainforest of the Bay of Islands, it's an ever-changing, constantly captivating experience. North of Auckland is subtropical Northland, where you can visit the Bay of Islands, a group of 144 islands providing an aquatic playground with myriad secluded beaches …
» North Island, New Zealand with Virgin Holidays
» New Zealand with Contiki Holidays for 18-35's
Travelling in New Zealand is about adventure, big backdrops, and new faces. Some of the best sights in the world, fresh air, and time to chill too. If you've ever flirted with the idea of a bungy jump, climbing a glacier, hiking, or extreme white water rafting, you'll get to over-indulge here - New Zealand and adventure go together like Tony Hawk and his skateboard. Up close, the Southern Alps, Milford Sound, Queenstown and the forests and lakes are even more stunning than you see in Lord of the Rings, and the little towns will make you think you've gone back in time …
» New Zealand with Contiki Holidays