HOME • CHILE •

CHILE TOURS & TRAVEL
CHILE TOURS, TRAVEL & ACTIVITIES
From salty-desert top to glacier-crowded bottom, Chile is a jaw-dropping reminder of nature's beauty and power. This narrow trickle of a country is jammed with enough geysers, mountains, beaches, forests and volcanoes to keep adventure nuts slavering for a lifetime.
Quick Links

Santiago Tours

Patagonia Tours

Northern Chile

All Tours

CHILE TOURS & TRAVEL: Northern Chile, Patagonia, Santiago,
CHILE TOURS, TRAVEL & ACTIVITIES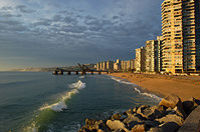 SANTIAGO Tours, Travel & Activities


The first port of call for most visitors to Chile is to the capital Santiago, and whether your stay here is short or long, you simply must do a tour. You'll visit all the places that make this such a cosmopolitan city - the Plaza de Armas, the Parque Forestal and see the magnificent views from San Cristobal Hill ...
---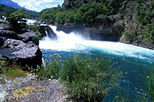 PATAGONIA Tours, Travel & Activities


Remote and rugged, Chile's southernmost region is one of the country's most historically and geographically fascinating. Region XII, considered the heart of Patagonia, takes in all of the country's territory beyond about 49° S, including the western half of the Isla Grande de Tierra del Fuego ...
---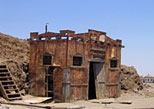 NORTHERN CHILE Tours, Travel & Activities


Norte Grande features the Pacific Ocean, the starkly desolate but unique Atacama Desert with its deeply incised canyons, and the Andean altiplano with its volcanic summits. The region's great mineral wealth has given it a special role in Chilean history; most cities in the Atacama, such as Iquique and Antofagasta ...
---

CHILE HOTELS & ACCOMMODATION
---
---
HOME • CHILE •

CHILE TOURS & TRAVEL
Looking for something specific?
---
---